NBA Draft Rumors: Grizzlies 'Locked' on Ja Morant over RJ Barrett at No. 2 Pick
May 15, 2019
Rob Carr/Getty Images
It looks like Ja Morant is heading to Memphis. 
According to Jonathan Givony of ESPN, the Grizzlies intend on selecting Morant with the No. 2 overall pick in this year's NBA draft, assuming he isn't taken with the top overall pick:
Jonathan Givony

@DraftExpress

Source: Barring the unexpected, Memphis Grizzlies front office and ownership appear to have locked in on selecting Ja Morant with the No. 2 pick in the 2019 NBA Draft, and are informing parties in Chicago of such. That clears the way for R.J. Barrett to fall to the Knicks at #3.
Morant is all but guaranteed to be on the board at No. 2, with Zion Williamson universally regarded as the top player in this year's draft and a potential generational talent.
But Morant is quite the consolation prize. He was spectacular in his sophomore season at Murray State, averaging 24.5 points, 10 assists and 5.7 rebounds per game while shooting 49.9 percent from the field and 36.3 percent from three.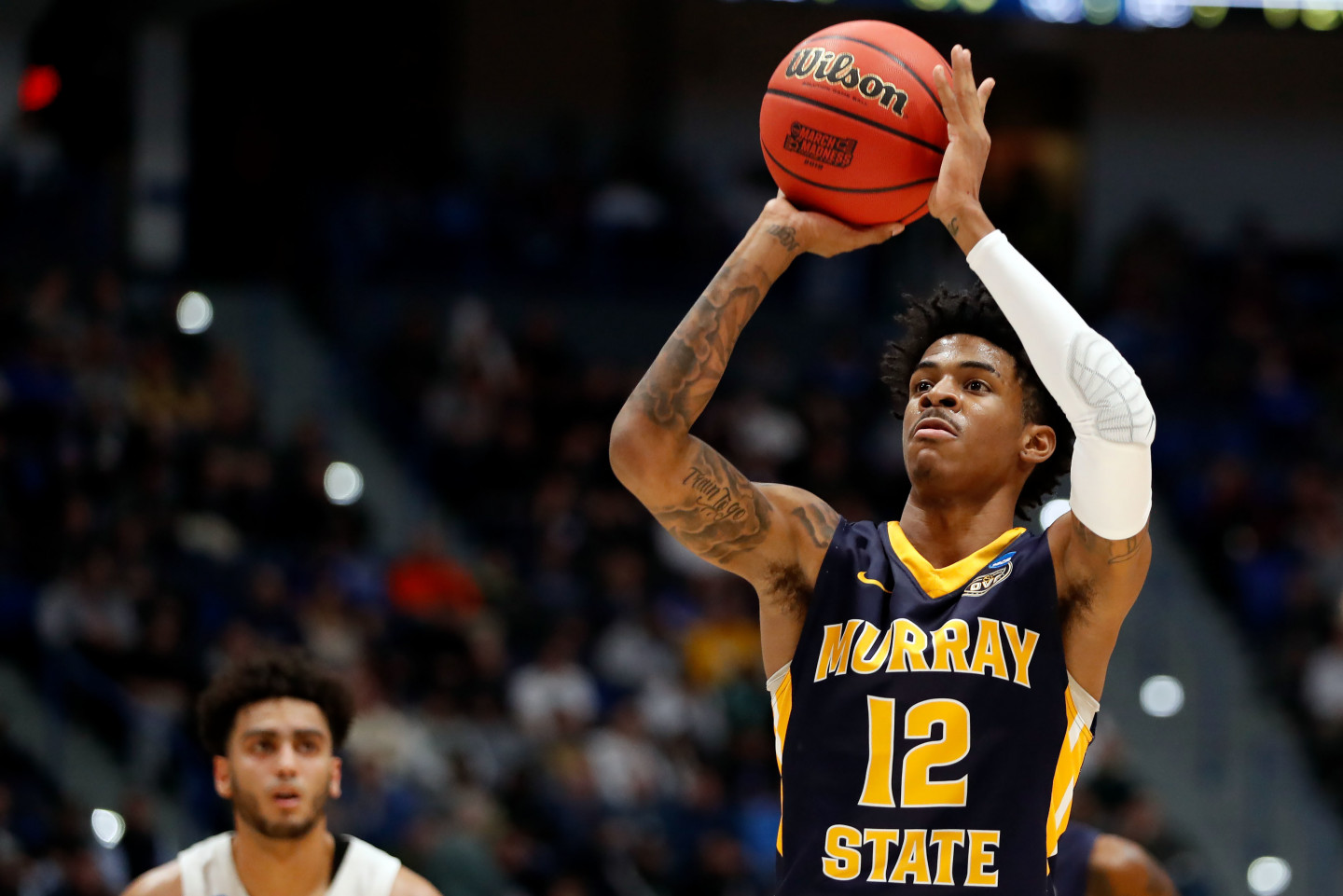 McCollum and the Blazers Snapped Postseason Losing Streak for "Jennifer"

Stars Invest in Plant-Based Food as Vegetarianism Sweeps NBA

The NBA Got Some Wild Techs This Season

Jarrett Allen Is One of the NBA's Hottest Rim Protectors

Wade's Jersey Swaps Created Epic Moments This Season

Westbrook Makes History While Honoring Nipsey Hussle

Devin Booker Makes History with Scoring Tear

29 Years Ago, Jordan Dropped Career-High 69 Points

Bosh Is Getting His Jersey Raised to the Rafters in Miami

Steph Returns to Houston for 1st Time Since His Moon Landing Troll

Lou Williams Is Coming for a Repeat of Sixth Man of the Year

Pat Beverley Has the Clippers Stealing the LA Shine

LeBron Keeps Shredding NBA Record Books

Young's Hot Streak Is Heating Up the ROY Race with Luka

LeBron and 2 Chainz Form a Superteam to Release a New Album

Wade's #OneLastDance Dominated February

Warriors Fans Go Wild After Unforgettable Moments with Steph

Eight Years Ago, the Nuggets Traded Melo to the Knicks

Two Years Ago, the Kings Shipped Boogie to the Pelicans

ASG Will Be Competitive Again If the NBA Raises the Stakes
Morant's playmaking should make him an instant impact player, as B/R's Jonathan Wasserman noted in his latest mock draft, though he won't hit the NBA as a perfect prospect:
"Nifty ball-handling, vision and ambidextrous passing skill fuel elite playmaking potential for Morant, the nation's assist leader. Even if he struggles to improve as a shooter, his ability to set up teammates is a strength Memphis can bank on. 
"He also led the country in transition points, and with explosive speed, he should continue to put pressure on defenses both in the open floor and off ball screens in the half court.
"Shooting will be a swing skill that affects his NBA trajectory, and he'll likely have trouble early with decision-making, turnovers and defense."
Morant will give the Grizzlies another young, foundational piece alongside Jaren Jackson Jr., and the pick-and-rolls between that duo should be electric. But his selection should also have an interesting impact on the rest of the NBA, as Memphis may put veteran point guard Mike Conley on the market to ensure Morant sees as much playing time next season as possible. 
For the rebuilding Grizzlies, Conley should fetch a few assets. That's all the more important since the Grizzlies owe the Boston Celtics a future first-round pick, either next year if it falls outside of the top six or an unprotected first-rounder in 2021 if it hasn't conveyed by then. Moving Conley for young pieces or draft picks could alleviate the loss of that selection.
For years, Marc Gasol—now on the Toronto Raptors—and Conley were the inside-outside punch that led the Grizzlies on a number of postseason runs. Now, it appears as though the team will be banking on Jackson Jr. and Morant to reprise those roles.