Jrue Holiday Trade Rumors: Suns Are 'Top Contender'; Bulls, Magic Have Interest
April 20, 2019
Matthew Stockman/Getty Images
The Phoenix Suns are reportedly a "top contender" should the New Orleans Pelicans make point guard Jrue Holiday available for trade during the 2019 NBA offseason.
Although new Pelicans executive vice president of basketball operations David Griffin said he "absolutely" thought the guard would remain with the team moving forward Wednesday, other teams are still showing interest.
Sean Deveney of Sporting News reported the Suns' status as a potential favorite Saturday before noting the Chicago Bulls and Orlando Magic could also become involved.
Griffin must first decide how to handle the ongoing Anthony Davis saga. The superstar power forward made a trade request in January—which led to a $50,000 fine from the NBA—and he didn't back away from his desire to leave the franchise following the regular season.
"It's hard to say that when they're looking for a GM," Davis told reporters. "Not sure what the new GM is thinking or what they plan to do but as soon as the Pelicans appoint a GM then those questions will definitely be asked."
Trading both Davis and Holiday would likely signal a full-scale rebuilding effort by New Orleans. Those projects are usually multiyear endeavors with a lot of losing in order to acquire the high draft picks necessary to land the star power required to compete in the modern NBA.
While keeping Davis might not be possible, holding on to Holiday would give the Pelicans a chance to avoid an extended period in the league's abyss.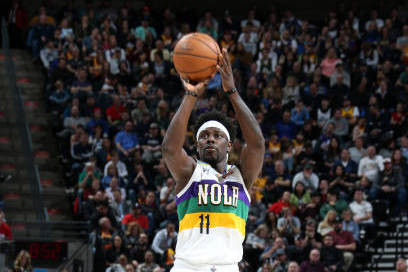 McCollum and the Blazers Snapped Postseason Losing Streak for "Jennifer"

Stars Invest in Plant-Based Food as Vegetarianism Sweeps NBA

The NBA Got Some Wild Techs This Season

Jarrett Allen Is One of the NBA's Hottest Rim Protectors

Wade's Jersey Swaps Created Epic Moments This Season

Westbrook Makes History While Honoring Nipsey Hussle

Devin Booker Makes History with Scoring Tear

29 Years Ago, Jordan Dropped Career-High 69 Points

Bosh Is Getting His Jersey Raised to the Rafters in Miami

Steph Returns to Houston for 1st Time Since His Moon Landing Troll

Lou Williams Is Coming for a Repeat of Sixth Man of the Year

Pat Beverley Has the Clippers Stealing the LA Shine

LeBron Keeps Shredding NBA Record Books

Young's Hot Streak Is Heating Up the ROY Race with Luka

LeBron and 2 Chainz Form a Superteam to Release a New Album

Wade's #OneLastDance Dominated February

Warriors Fans Go Wild After Unforgettable Moments with Steph

Eight Years Ago, the Nuggets Traded Melo to the Knicks

Two Years Ago, the Kings Shipped Boogie to the Pelicans

ASG Will Be Competitive Again If the NBA Raises the Stakes
It could also give the front office more options on the trade market, with veteran players likely to be more appealing if they have a franchise cornerstone in the 28-year-old guard.
"Not even a little bit," Holiday said in February when asked whether he was concerned about his future in NOLA. "Unless I hear something from upper management where I'm going to be traded or something like that, I plan to keep trying to win every game that I step on the court wearing a Pelicans jersey."
Holiday averaged a career-best 21.2 points along with 7.7 assists, 5.0 rebounds, 1.8 threes and 1.6 steals across 67 appearances for New Orleans during the 2018-19 season. He ranked fifth among NBA point guards in ESPN's Real Plus-Minus.
It's no surprise teams are keeping tabs on the situation, but Griffin's comments make it seem unlikely he will become available.