Mike D'Antoni: Lakers Can't Defend James Harden Even If They Use Their Hands
December 14, 2018

Bob Levey/Getty Images
Houston Rockets guard James Harden had a 50-point triple-double in his team's 126-111 win over the Los Angeles Lakers on Thursday. Lakers players, frustrated by referees' foul calls during the game, at times kept their hands behind their backs on defense as a protest.
On Friday, head coach Mike D'Antoni discussed how tough it is to defend the 2017-18 NBA MVP, per Jonathan Feigen of the Houston Chronicle, and said of the Lakers' keeping their hands behind their backs: "We've done it a couple times. That's cute. Doesn't mean anything. You're not going to be able to guard him with your hands out or with your hands behind you. Put them anyplace you want. It's not going to happen."
L.A. point guard Lonzo Ball, who was one player tasked with defending Harden, had some issues with the officiating, per Dave McMenamin of ESPN.com.
"You can't touch them," Ball said. "I was just trying not to foul today. They were calling it tight today, so I was just trying to get my hands out of there. ... It's very tough staying in front of [Harden] with your hands like that."
Regardless of anyone's feeling regarding how officials treat Harden, the Rockets guard's night was spectacular.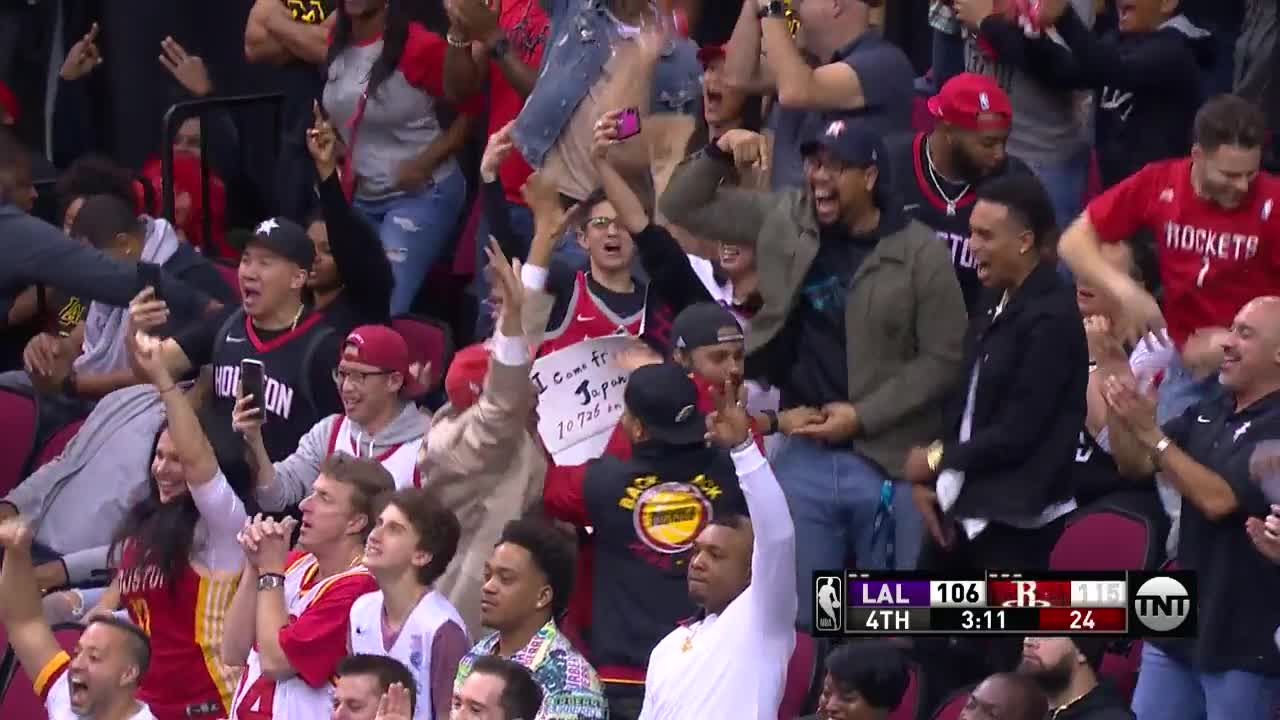 McCollum and the Blazers Snapped Postseason Losing Streak for "Jennifer"

Stars Invest in Plant-Based Food as Vegetarianism Sweeps NBA

The NBA Got Some Wild Techs This Season

Jarrett Allen Is One of the NBA's Hottest Rim Protectors

Wade's Jersey Swaps Created Epic Moments This Season

Westbrook Makes History While Honoring Nipsey Hussle

Devin Booker Makes History with Scoring Tear

29 Years Ago, Jordan Dropped Career-High 69 Points

Bosh Is Getting His Jersey Raised to the Rafters in Miami

Steph Returns to Houston for 1st Time Since His Moon Landing Troll

Lou Williams Is Coming for a Repeat of Sixth Man of the Year

Pat Beverley Has the Clippers Stealing the LA Shine

LeBron Keeps Shredding NBA Record Books

Young's Hot Streak Is Heating Up the ROY Race with Luka

LeBron and 2 Chainz Form a Superteam to Release a New Album

Wade's #OneLastDance Dominated February

Warriors Fans Go Wild After Unforgettable Moments with Steph

Eight Years Ago, the Nuggets Traded Melo to the Knicks

Two Years Ago, the Kings Shipped Boogie to the Pelicans

ASG Will Be Competitive Again If the NBA Raises the Stakes
Harden made 14 of 26 field goals and went 18-of-19 from the free-throw line. He also scored 14 points in the final 4:04 of the fourth quarter to turn a three-point lead into a 15-point win.
ESPN Stats and Info also tweeted that Harden now has the most 50-point triple-doubles in league history with four.
Harden has been on fire over his past three games, averaging 38.0 points on 50.7 percent shooting and 7.7 assists. While the Rockets have struggled with a 13-14 record, this recent stretch (and the season as a whole) proves why Harden is still one of the game's hardest players to defend.
He ranks fifth in player efficiency rating among full-time starters, per Basketball Reference. Furthermore, the 10-year pro is hitting 37.1 percent of his three-pointers, which is his best mark since 2017-18. His 30.8 points per game this season is a career-high.
Harden will look to continue his recent stretch of excellent play in a tough road matchup against the Memphis Grizzlies, who allow the second-fewest points per game. Game time is Saturday at 8 p.m. ET.