Gerald McCoy Comments on Jameis Winston's Leadership Role with Buccaneers
July 27, 2016
Joe Robbins/Getty Images
Tampa Bay Buccaneers defensive tackle Gerald McCoy has seen enough out of quarterback Jameis Winston to anoint him as the team's top leader entering the 2016 season.  
McCoy spoke about the second-year signal-caller on Wednesday in advance of Thursday's first training camp practice, per ESPN.com's Jenna Laine:
Me and Jameis had a private conversation about what he feels this team needs me to be as a leader. He's an intelligent guy. Young or not, [he's] very mature...very intelligent. He sits back, he watches and analyzes and he [saw] something that I could do to help this team be better. It's not hard to do. It's just a matter of me doing it.

[...] You guys are used to seeing me do things a certain way. That's going to change because the face of the franchise came to me and said, 'Hey, listen. If we're going to win, we need you to do this, OK?' Our quarterback said this is what he needs, so this is what I'm going to do.
An outspoken player who backs up his chatter by his performance on the gridiron, McCoy is letting Winston take the reins of the locker room. He's already gotten close with the young QB as well.
"I love Jameis, man," McCoy said, per Laine. "The day after he got drafted, I went to both his parents and told them, 'I'm going to take care of him. Don't worry about him. When you get on that plane and go home, I got him.' I love him, man. He's like my brother."
Most notable among McCoy's comments was his mention in passing of a championship.
"[I'm] passing the torch. Ronde [Barber] gave me the torch. I didn't ask him for it. He passed it to me. So, 'Here you go, Jameis. Go take us to the Super Bowl,'" McCoy said.
McCoy has been a Pro Bowler in each of the past four seasons, yet his dominance hasn't translated to any winning seasons for the Buccaneers in that span. The team went 6-10 this past season with Winston under center and learning the ropes of the professional game.
Bleacher Report's Chris Simms touted Tampa Bay as an under-the-radar playoff contender for 2016 despite what happened last season, citing Winston's progress throughout his first year as a pro: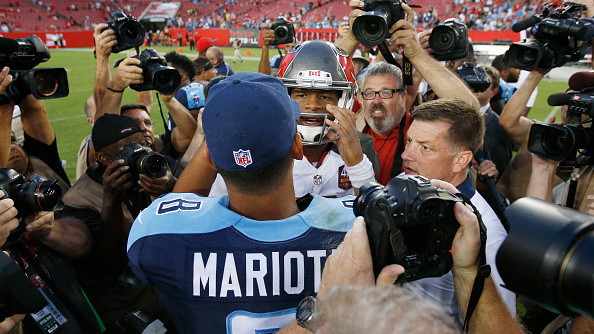 OBJ's Trade to Cleveland Has the Browns Hyped

Le'Veon's Power Move Pays Off After Signing Massive Deal with Jets

Friends to Foes, Ex-UGA Teammates Meet in Super Bowl

Cooks Gave a Super Gift to This Rams Employee

Mahomes Loves Ketchup as Much as Torching Defenses

Bears Hoping to Ride Club Dub to the Super Bowl

The Worst Fantasy Football Punishments for Last Place

NFL Players Bring Soccer Traditions to the NFL

JuJu Is a Man of the People

Bills Superfan 'Pancho Billa' Continues to Inspire

Happy 26th Birthday to OBJ 🎉

Mahomes Is 'Showtime' Off the Field Too

Thielen's Ride from Underdog to Record-Breaking WR

Shanahan and His Son Carter Are Hyped for Carter V

Browns Winning Off the Field with Community Service

Conner's Journey from Beating Cancer to Starting RB

Does Donovan McNabb Deserve Your 2019 Pro Football Hall of Fame Vote?

B/R Fantasy Expert Matt Camp Gives His Picks for Keep or Release After Week 2

Does Hines Ward Deserve Your 2019 Pro Football Hall of Fame Vote?

Shaquem Griffin Starting for Seahawks in Week 1
Despite the scrutiny he faced as a Heisman Trophy winner, national champion and No. 1 overall pick, Winston fared rather well as an NFL rookie, throwing for 4,042 yards with 22 touchdowns to 15 interceptions with an 84.2 passer rating.
According to Winston's father, as reported by Laine, he dropped 20 pounds this offseason and should be in great shape to handle the demands of the 2016 campaign.
The Bucs haven't made the playoffs for the past eight seasons, so there's considerable pressure on Winston to take a big step and lift Tampa Bay into postseason contention.
McCoy is prepared for Winston to guide the Bucs to a Lombardi Trophy. It's a tall order, but Winston has the tools and permission from McCoy to take full command.