Fall Classic or Not, Boston Should Pursue These Five Free Agents This Winter
August 11, 2009
Coming off a four game sweep at the hands of the Yankees, the weak points of the Red Sox have been magnified and placed on a podium for all to see. Now that the Red Sox magic has stopped working its wonders on Nick Green, Jason Bay and even David Ortiz, this looks very different from the team that won 95 games last year.
The matter is very simple: the Red Sox have a good team, but not a good enough one. This season is starting to look more like 2006 by the day. Injuries and ineffectiveness have stricken the team like the Black Plague.
Extra base hits and clutch hitting is a thing of the past with these Red Sox.
Now that the magic has worn off, Nick Green is playing like the Minor League infielder the Red Sox signed this winter. Jason Bay is playing like he did in 2007; hitting .247 with 21 home runs. Brad Penny and John Smoltz have one Major League pitch each: a fastball and slider, respectively.
After a respectable start, Penny is getting lit up every fifth day, like Smoltz had been from the beginning. No word of trade talk other than potential suitors for Smoltz, recently designated for assignment, who may be headed to Pawtucket to transition into a reliever.
David Ortiz is hitting like it's April, and looked as helpless at the dish this weekend in the Bronx as he did one spring weekday series in Anaheim.
With everyone riddled in a bad funk, it takes four or five innings for anyone in the lineup to figure out the opposing pitcher and break through with a single. Continuing the pattern of the last few days, it's followed up by a walk, and then Jason Varitek or David Ortiz will come in and kill any rally that may have been getting started.
With the Red Sox currently sailing in choppy waters with no end in sight, I decided to take a look ahead to this winter's free agent crop and noticed a lot of players that fit what the Red Sox need to a T.
Hopefully Theo pulls the trigger, because building around an aging core with clearance aisle free agents and assorted reclamation projects is no recipe for success.
Infielder Felipe Lopez, signed 1-yr, $3.5 million (2009)
After signing with the Arizona Diamondbacks this past offseason to shore up their infield in the wake of losing Orlando Hudson to the Dodgers, Milwaukee has since traded for this versatile utility man to lighten the loss of Rickie Weeks.
Lopez primarily plays second base, but can also be used at shortstop and third base.
Lopez would be a breath of fresh air for the Red Sox, as it would provide a stable backup infielder at second or third base, who would likely also serve as the starting shortstop.
Additionally, between the Diamondbacks and Brewers, Lopez has hit .303 with six home runs, 31 RBI, six stolen bases, and drawing 42 walks to contribute towards a healthy .366 on-base percentage.
The Scott Boras client took a cheap contract to play for this season, which both Arizona and Milwaukee have found as a bargain. To sign on with Boston, it would probably take a one or two-year deal in the range of five to eight million dollars.
Outfielder Matt Holliday, signed 2-yr, $23 million (2008-09)
This Boras client is due for a huge payday this winter, but if missing out on Mark Teixeira taught the Red Sox anything last winter, it's a deal that needs to be done as soon as possible.
While playing for Oakland and St. Louis this year, Holliday has hit .312 with a robust .397 on-base percentage. With lower than normal power numbers (15 HR and 69 RBI), the former Colorado Rockie has made up for it with 14 steals, 53 walks, and 65 runs.
Jason Bay has become quite popular in Boston, but it would be a better idea to let him walk if it would mean signing Holliday. Bay has already turned down two great contract offers following his white-hot start to the season.
If he turned down more money than he was worth while playing in a level above his head, he must not have Scott Boras as a financial adviser, as his second half has destroyed any leverage he had in terms of contract negotiation.
Holliday is the right man for the job, as he is all around a great player. In his breakout 2007 campaign, he had a National League-leading 137 RBI, a .340 batting average, 50 doubles, and 216 hits to go along with 36 round trippers and 11 thefts.
Holliday's production dropped off a level in 2008, as he was walked more and made less contact, but his other numbers show that he's not exactly a fluke. In 2008, Holliday made up for his power shortage by stealing 28 bases and maintaining a .409 on-base percentage, higher than the year before.
Now, hitting next to Albert Pujols, Holliday is hitting .466 with four home runs and 15 RBI in 15 games with the Cardinals.
The Cardinals are going to try to do everything in their power to lock him up, but if he does hit the free agent market, Theo Epstein and the Red Sox need to be all over this guy.
Starting pitcher Erik Bedard, signed 1-yr, $7.75 million (2009)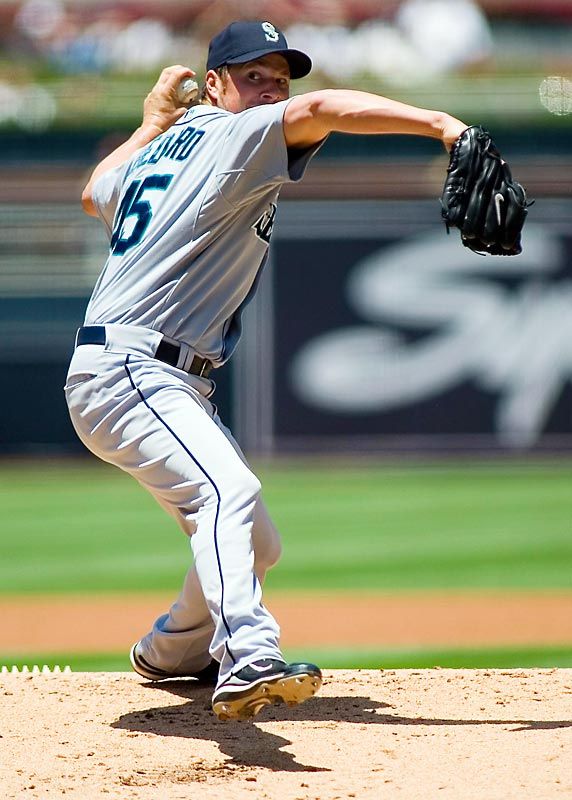 After signing a $7.75 million tender to avoid arbitration with the Mariners heading into this season, the status of talks between the two parties for a contract extension is unknown.
It is well known that Bedard is an injury prone player, but like fellow free-agent to be Rich Harden, when Bedard is healthy, he is as good a pitcher as they come.
After going 13-5 and notching 221 strikeouts with the Orioles in 2007, he was traded to Seattle for a king's ransom of prospects. With Adam Jones, an All-Star, and Chris Tillman, possibly a future All-Star sent to Baltimore in the deal, it's not hard who to tell who the clear-cut winners are.
Now that Bedard has passed the last of his arbitration years, the 30-year old is set to be eligible for free agency the first time of his career. Despite pitching two injury-shortened seasons with Seattle, I believe he is a pitcher the Red Sox should take their chances with on a two year deal.
Combining his shortened '08 and '09 seasons, one could get a decent projection of a full season for Bedard.
Combined 2008-2009 statistics: 11-7, 3.24 ERA, 162 K, 164 IP. Given his typically high strikeout rate, Bedard would easily be able to reach the 200 strikeout plateau if he were to come closer to the innings pitched range of 180-200.
Because of his constant injury battles, a contract to Bedard should probably include a decent sum of guaranteed money (around four million per each year of contract) with most of the money to be made with incentives.
Given the Red Sox' renowned conditioning and rehabilitation programs, injuries may not play as big a role with Bedard's work if he were to sign on with the Red Sox. He would also be a lot more fun for fans to watch than Brad Penny or John Smoltz.
Outfielder Scott Podsednik, signed 1-yr, $0.8 million (2009)
After re-upping with one of his former teams, the Chicago White Sox, this year, the Red Sox need to explore their options and try to add the former third-round draft pick as a fourth outfielder.
Granted there is a good chance Podsednik is re-signed by the southsiders, he is a player that the Red Sox need to keep tabs on if he hits the free agent market.
Podsednik is a speedy player with great contact skills. This year he has hit .297 while stealing 17 bases and scoring 51 runs to go with a .352 on-base percentage. Podsednik can play all over the outfield, but fields best in left and center field.
Podesdnik would replace the oft-injured Rocco Baldelli as the primary fourth outfielder, and would likely spell J.D. Drew when he is too tender to be of any use on the field. He would also serve well as a pinch-runner or defensive substitute in the later innings.
If offered a one-year deal, Podsednik could probably command one to three million dollars.
Relief pitcher Rafael Soriano, signed 2-yr, $9.0 million (2008-09)
After being injured and missing the better part of the 2008 season, the 29 year old Soriano has seen his way into 52 games this year, saving 17 for the Atlanta Braves. In those 52 games, Soriano is sporting a 2.42 ERA while managing an 11.9 K/9.
While also sporting a .96 WHIP with a 69-18 strikeout-to-walk ratio in 52 innings, Soriano is in line for a good pay day in terms of relief pitchers. Showing that he can stay healthy and perform as a closer, Soriano can now market himself as a versatile relief pitcher who can be used as a bridge to the closer or actually as a closer.
Obviously Soriano wouldn't see too many save situations with the Red Sox so he would likely be taking less money than if he signed elsewhere as a closer, but a five or six million dollar deal would be a good offer to make to Soriano, as Takashi Saito and Hideki Okajima are free agents this winter as well.
Other relief pitchers the Red Sox should at least consider for this spot are Mike Gonzalez, Octavio Dotel, or Rafael Betancourt.