Arizona Cardinals 2014 Mock Draft with Player Scouting Profiles
February 3, 2014

LM Otero/Associated Press
Between filling team needs and the philosophy employed by general manager Steve Keim—taking the best player available in each round—the Arizona Cardinals sit in a perfect spot at No. 20 overall in Round 1 of the 2014 NFL draft.
Sitting at No. 20 could be the league's next big thing at tight end, left tackle, cornerback or at a host of other key positions. The Cardinals are not guaranteed a perennial Pro Bowler at the spot, but depending on how the chips fall, they could be in a great position to nab an immediate impact player when their time on the clock arrives.
Head coach Bruce Arians said last week that upgrading the left tackle position is not the team's most glaring need this offseason, much to the disagreement of NFL.com writer Kevin Patra. In his report, Patra drew attention to Arizona's poor grades handed out by statistics giant, Pro Football Focus:
To curtail the optimism, we will point out that Pro Football Focus ranked the Cardinals' offensive line dead last in pass blocking efficiency. The group ranked third-worst in sacks allowed (33) and hurries (161), fourth-worst in QB hits allowed (48) and second-worst in total pressures allowed (242).
Is left tackle the team's biggest need? Maybe, and maybe not. What is certain is that Arizona can improve its blindside blocker better through free agency than through the draft. But will they?
We will explore that and more over the course of this mock draft.
Round 1 (20): Darqueze Dennard, CB, Michigan State
Height: 5'11"
Weight: 197
Pro Comparison: Joe Haden
In a perfect world, Oklahoma State cornerback Justin Gilbert would fall to No. 20. This, as we know, is not a perfect world, so the Cardinals will have to "settle" for the next-best option.
A physical cornerback, former Michigan State standout and Thorpe Award-winner Darqueze Dennard possesses everything needed to be a shutdown defensive back in the NFL. He is average in size, but nothing about his game is average.
Dennard is the type of cornerback you put on an island with a receiver, allowing him to play man-to-man coverage all afternoon. Pair him with Patrick Peterson and nickel corner Tyrann Mathieu, and Arizona's safeties could pretty much do whatever they wanted—they almost wouldn't be needed except to provide help against the run.
The senior cornerback excels in press coverage because of his physicality, but he can play the finesse game as well. He put his instincts on display against Ohio State in the Big 10 title game, taking a touchdown reception away from receiver Devin Smith.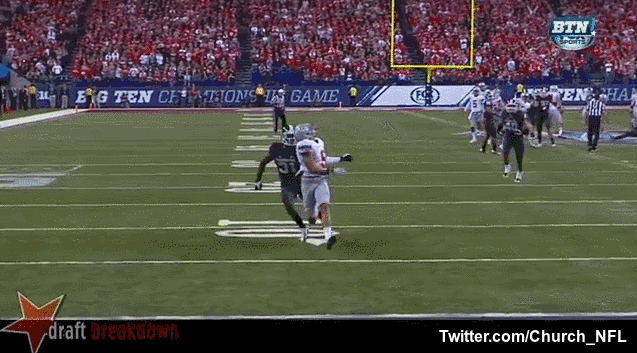 DraftBreakdown.com
In addition to a combination of physicality and finesse in coverage, the winner of the Jack Tatum Award plays solid run defense, often initiating contact with a receiver when he recognizes a run is coming rather than letting the receiver get into his body and push him off the ball.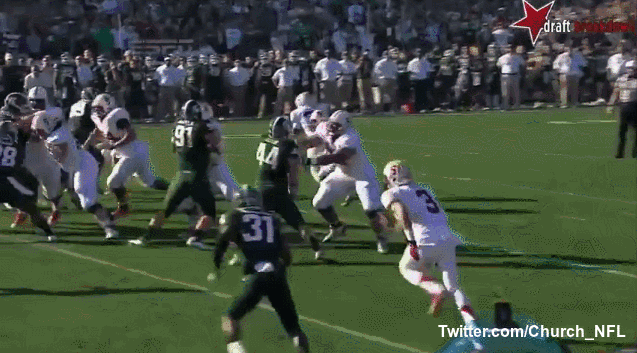 DraftBreakdown.com
This pick also provides some insurance in the (highly unlikely) event that Peterson ends up on another team in the next couple years. Dennard has the talent to cover No. 1 receivers—though perhaps not as dominantly as Gilbert soon will—and would have no issue settling into the No. 1 cornerback role should Peterson leave.
Round 2 (52): Austin Seferian-Jenkins, TE, Washington
Height: 6'6"
Weight: 276
Pro Comparison: Marcedes Lewis
Don't be put off by the notion that Austin Seferian-Jenkins is first and foremost a blocking tight end. That's not necessarily true, though he definitely excels as a run-blocker.
As a sophomore in 2012, Jenkins was given the task of blocking a soon-to-be top-10 pick out of LSU, defensive end Barkevious Mingo, by himself. Battles were won, battles were lost, but all-in-all, Jenkins held his own against the pass-rushing monster that is Mingo.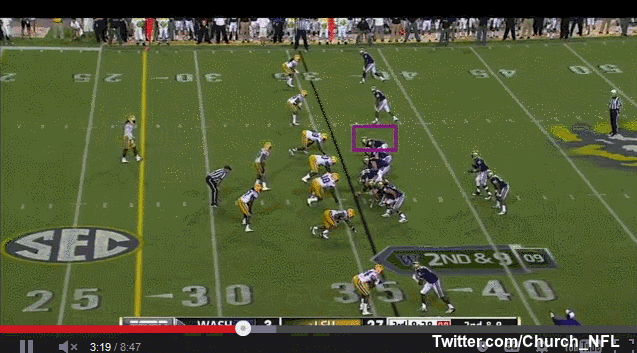 DraftBreakdown.com
In 2013, Jenkins won the John Mackey Award as the nation's most outstanding tight end. He did so by hauling in 36 receptions for 450 yards (12.5 yards per catch) and eight touchdowns. His catches and yards are the fewest by a Mackey winner since the award's inception in 2000.
The voters of the award clearly understand that despite football becoming more and more about passing, being a tight end is about more than just receiving. While Jenkins possesses large hands that swallow the ball and allow for the occasional highlight-reel one-handed catch, he is currently at his best as a run-blocker with the threat of beating a linebacker down the seam.
Given the choice of Jenkins or the uber-athletic Eric Ebron out of North Carolina, the Cardinals should go with Jenkins every time. Jenkins has better hands and is a far superior blocker. While blocking technique can be taught, having the natural ability and strength to maul defensive ends and linebackers while clearing a running lane cannot be taught.
It's a rare trait for a collegiate tight end, and Arizona cannot pass on this type of talent.
Round 3 (84): Zach Mettenberger, QB, LSU
Height: 6'5"
Weight: 235
Pro Comparison: Philip Rivers
Had he not tore his ACL late this season, Zach Mettenberger may have been a late first- or early second-round pick. Because he may not be cleared to participate in football activities until potentially midway through the 2014 NFL season, and because no one knows how he will be after recovering from said injury, he could drop right into the Cardinals' laps at No. 84.
That would suit Keim and Co. just fine, because Mettenberger possesses the prototypical big arm an NFL quarterback should have and a toughness about him that reminds some of Pittsburgh Steelers quarterback Ben Roethlisberger.
B/R NFL Draft Lead Writer Matt Miller had this to say of Mettenberger in a mid-November piece:
The LSU senior looks like a player out of central casting. He's tall and strong and has the big arm to back it up. […]

His upside is perhaps the biggest advantage to his game. Mettenberger is still quite raw as a quarterback, and if his improvement in [offensive coordinator Cam] Cameron's system is any indication, he's poised to improve by leaps and bounds in the NFL. […]

A good quarterback coach will slightly alter Mettenberger's wide throwing mechanics, but like Philip Rivers, that may end up being a minor issue that teams aren't looking to change.
His deep ball is a sight to behold, and his intermediate accuracy is good enough to hold down the fort as a backup while he improves his sometimes wavering technique—that is, he drops his arm and throws side-armed at times, especially on short to intermediate routes, a la Matthew Stafford.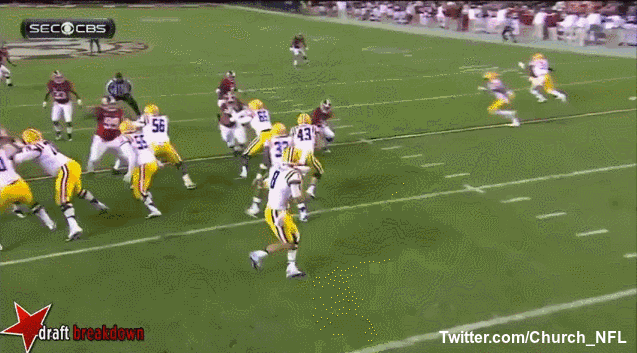 DraftBreakdown.com
How much is he willing to do to help his team win? Against No. 1 Alabama this season, Mettenberger threw a block on fellow future draft pick, outside linebacker Adrian Hubbard, after executing a toss to running back Terrence Magee. While Mettenberger is a large man himself, Hubbard is 6'6" and 251 pounds.
The senior quarterback likely will have to sit out his rookie season while rehabbing the knee, with the hopes of competing for the starting job in 2015. Carson Palmer is an aging veteran with a year left on his contract and a team option for the 2015 season. But he would turn 36 during that season, and there's no guarantee he will still have it by then.
It feels like a perfect situation for both player and team, referring to Mettenberger to the Cardinals at 84th overall. Third-round picks are not expected to be Day 1 starters, and with first-round talent, Mettenberger provides a long-term option for Arizona after Palmer is done doing what he does.
Round 4 (116): James Hurst, OT, North Carolina
 Height: 6'7"
Weight: 305
Pro Comparison: Riley Reiff
James Hurst was Jonathan Cooper's teammate for three years at North Carolina. Watching Hurst's 2012 tape, you can tell he and Cooper worked well together. They knew the system in and out, and they both employed it to near perfection.
Like Cooper, Hurst was a four-year starter at UNC, so he has plenty of experience (he tied a Tar Heels record by starting 48 games). Unlike Cooper, he would not enter his rookie season as a starter. He will have to get stronger and add perhaps 10 pounds of muscle before he's ready to start.
Hurst, who was twice named to the All-ACC first team, is athletic enough and has the footwork necessary to beat pass-rushers to the edge. But if he were to start Week 1, he could have issues stopping a powerful NFL defensive end. While getting to the edge is one thing, effectively stopping a 290-pound defender from pummeling the quarterback is another thing entirely.
Finding that combination of athleticism and strength is difficult, and it's why the Cardinals have struggled on the blindside for so long. Levi Brown was strong enough to stop pass-rushers, but he wasn't quick enough to get there in the first place.
Ever wonder why former seventh-round pick Nate Potter moved from tackle to guard in 2013? You guessed it. He isn't strong enough to hold off edge-rushers.
That's not to say Hurst will end up at guard because he's not strong enough; he's a better prospect than Potter was as a draft pick and will be just fine—and for a long time—once he's ready to start.
Round 5 (148): Weston Richburg, C, Colorado State
Height: 6'4"
Weight: 300
Pro Comparison: John Sullivan
Being compared to one of the best centers in the NFL is a high honor, and Weston Richburg earned that comparison by mauling defenders in the run game. He is nasty in the trenches.
He's also good enough in space to help on running back screens.
DraftBreakdown.com
Richburg has the agility to play guard at the next level, and if we know one thing about Keim and Arians, it's that they love versatile offensive linemen.
The thinking here is that Richburg would replace Lyle Sendlein at some point. Sendlein has been good enough through the years to have the starting center spot locked down until he calls it quits or his performance declines. That could be as soon as after the 2014 season or later. He's under contract through the 2015 season.
Giving Richburg two years to develop as a pass protector at center could work to Arizona's advantage. In the meantime, he could fill in at guard when needed. And who knows, he could develop into a starting guard while waiting for Sendlein to retire. We all know the right guard position is far from settled right now, so having that option is a good thing.
Round 6 (180): Alden Darby, SS, Arizona State
Height: 5'11"
Weight: 195
Pro Comparison: N/A
Alden Darby is an instinctual safety who flies to the ball and hits hard when he gets there—most of the time. On occasion, he seems to take a play off, which could be off-putting if you're looking to replace a potential Hall of Famer in Adrian Wilson.
The Cardinals released Wilson last offseason and replaced him with veteran Yeremiah Bell, who is older than Wilson and less of an athlete.
Finding a long-term solution at the strong safety position could prove tricky if Keim overlooks top prospects like Washington State's Deone Bucannon and Baylor's Ahmad Dixon. But Darby is an interesting pick because when he wants to be, he can be one of the best players on the field—that's just the thing, though: when he wants to be.
He is lightning quick to react when he sees something pre-snap, at times showing a Tyrann Mathieu-like ability to diagnose plays and blow them up. Other times, he will see a play before it happens and react as though he's about to destroy it, but when it comes down to it—as you will see below—he ends up making a mistake.

DraftBreakdown.com
This play from Oregon State is designed for receiver Malik Gilmore, who runs a quick slant from the slot. Before the snap, Darby is already looking in that direction, as though he knows that's where the ball is headed.

DraftBreakdown.com
He's right, and as you can see, Darby breaks toward the play as Gilmore makes his cut inside. Quarterback Sean Mannion stares down Gilmore in the process, convincing Darby he's made the right choice to come up and attempt taking away the slant.

DraftBreakdown.com
As Gilmore makes the catch, Darby has an opportunity to make a bone-crushing hit and potentially jar the ball loose. At the very least, his tackle would save valuable yards. Instead, Darby lets up for an unknown reason, allowing Gilmore an extra three yards.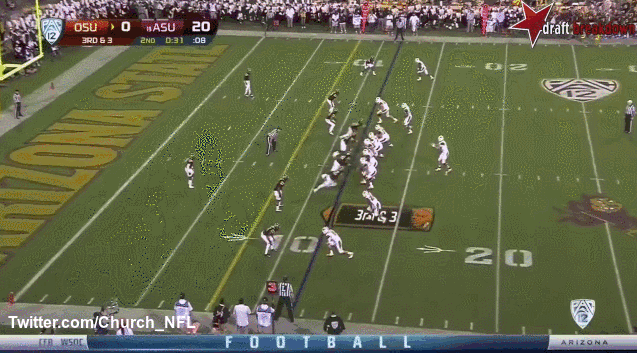 DraftBreakdown.com
Darby may not be a Day 1 starter for defensive coordinator Todd Bowles, but he has the potential to develop into a solid strong safety with some fine tuning and development.