Breaking Down NFL Running Back by Committee Situations for 2012 Fantasy Football
June 27, 2012

Al Messerschmidt/Getty Images
If you like the made-up football game like I do, you've noticed that running back-by-committee is now a staple of many NFL teams. Teams want to specialize. Why have one guy who is going to wear down with 25 carries, five receiving targets and pass-blocking duties when you can spread that pain out between two or three backs?
It makes sense in real football, but in fake football, we don't get to draft the New Orleans Saints RBBC, we get to decide between all the possibilities, and for the most part we will be incorrect. But that's why this game is fun! When we are correct, we win, and get to laugh at the losers.
So let's take a look at some committees and see if we can decipher what might happen this season.
The Panthers are possibly the most spread out committee system in the NFL. With Cam Newton getting 126 carries compared to Jonathan Stewart's 142 and DeAngelo Williams' 155 last season, and the offseason signing of Mike Tolbert, you know you have a lot of mouths to feed.
I don't believe Mike Tolbert will be used extensively with those three superstars ahead of him. He will be used as a fullback more than anything, but of course there is a chance he could eat into some stats. Tolbert has been an effective goal-line running back in the past and he could easily get some work there, which would hurt Cam Newton more than anyone. Newton on the option and play action near the goal line is an incredible threat, though, and I don't see the Panthers giving up that option easily.
The numbers between the two running backs are close, but favor Jonathan Stewart due to his usage in the passing game. Stewart's a more complete back than DeAngelo Williams and is who I would rather own for his upside, but as things are now, there is no easy answer to this dilemma.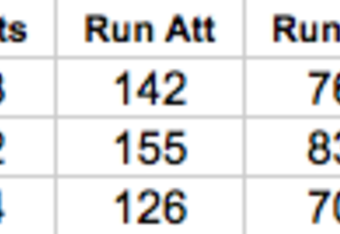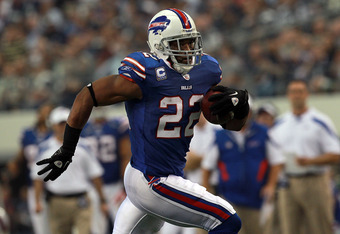 Ronald Martinez/Getty Images
The Bills' running back situation from last season is a tale of two halves. Fred Jackson was a beast until he broke his leg. He only played in 10 games, but still finished as the No. 12 fantasy running back. But he did break his leg and in came C.J. Spiller.
Spiller did much better than most expected from him, ranking as the fourth-best fantasy running back over the last six games. So that brings up the big question, how will they use Spiller and Jackson together?
Last year, while Jackson was starting, Spiller barely saw the ball. He only had 24 touches to Jackson's 209. But that split will be hard to maintain after Spiller's breakout end of the season. And that is unfortunate for fantasy owners because predicting touches will be difficult.
We should see them on the field together much more often than last season, with Spiller in on passing downs. Both have high ceilings if the other is injured, but Jackson should remain the lead back, but with less leeway than he had last season.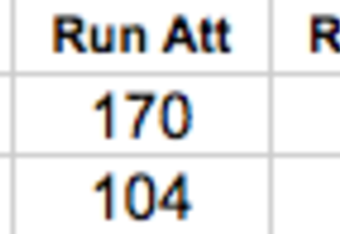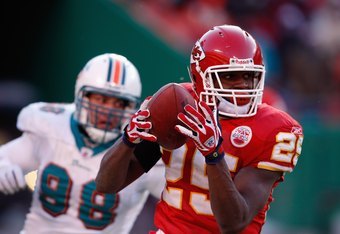 Jamie Squire/Getty Images
After Jamaal Charles went down in the second game of last season, there was a huge void that was never filled for the Chiefs. So with that in mind, they went out and got Peyton Hillis to tandem up with Charles this season.
The timing of Charles' injury was good for his recovery, but it wasn't a hang-nail. He'll be eased back with the inclusion of Hillis into the backfield. The good news is that Charles has succeeded in the two-back system before.
I am wary, but Romeo Crennel likes to run the ball, and with two good backs, he should do just that. But Charles is by far the superior player and if he's healthy, it will show.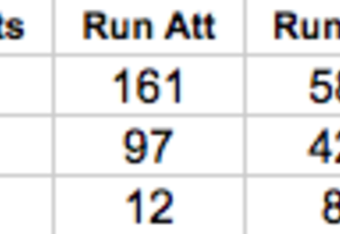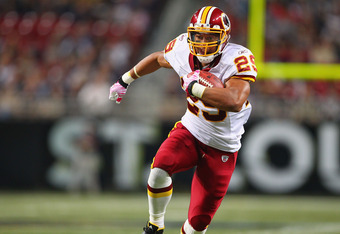 Dilip Vishwanat/Getty Images
Watching Roy Helu rush for 100-plus yards in three consecutive games and catch 14 passes in one game got all us fake football players all in a tizzy. Tim Hightower is a veteran, and everybody in Washington seems to like him, but he's not a dynamic player by any means, and now, he is recovering from ACL surgery.
We've all been "Shanahan'd" before, but for the most part, he truly does want one lead back running through his zone blocking scheme. And if there is anyone on the Redskins capable of being the lead back, it's Helu.
I won't be drafting Tim Hightower this year. His ceiling is limbo-low. Helu is risky, but at least there's a possibility for big rewards.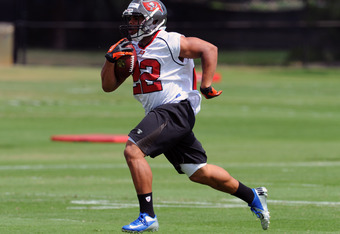 Al Messerschmidt/Getty Images
Last season was a huge disappointment for LeGarrette Blount. After a big rookie year, he had trouble with ball protection and couldn't play effectively on passing downs.
With that in mind, the Buccaneers went out and drafted Doug Martin. Martin is already being praised by coaches for his pass protection, which is a good sign he could be an every-down back.
Martin is the better all-around back, in theory, but we can't completely forget about Blount. He is still going to get the ball, but if Martin can prove himself, he has the path to the elusive "Three-down Running Back" moniker.
I'd rather take my gamble on Martin.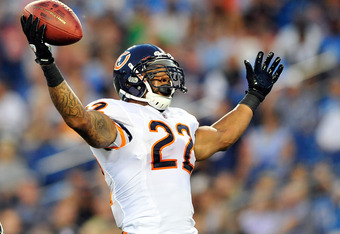 Grant Halverson/Getty Images
Let's assume that Matt Forte will play this season, because I think he will. Forte was great last year for the first half of the season, but then slowed down some and then slowed down a lot due to injury. As insurance, the Bears brought in Michael Bush from the Oakland Raiders.
Bush is a good short-yardage running back and Matt Forte is not.  Last season, Forte didn't rush for a touchdown inside the five yard line in five attempts. Michael Bush had seven touchdowns in 17 tries inside the five.
So what exactly will Bush be stealing from Forte? In the last three seasons, Forte has scored three touchdowns in 33 attempts inside the five-yard line. He hasn't been scoring at the goal line as it is, so Bush steals no goal-line touchdowns.
He may take away a few carries here and there, but Forte is still a much better open field runner and pass-catcher. I'm still high on Forte this season.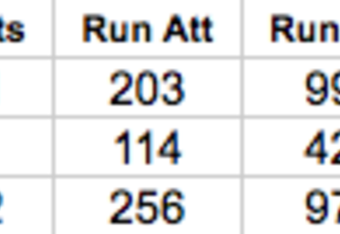 New Orleans Saints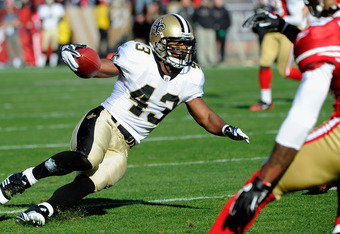 Thearon W. Henderson/Getty Images
Darren Sproles is in a class unto himself. How many running backs finish the season with 86 receptions and 87 rushing attempts? Not many! But that leaves quite a few touches for some other guys like Mark Ingram and/or Pierre Thomas.
As a rookie, Ingram was poised for big things in the high-powered Saints offense, but he couldn't stay on the field. His injuries stacked up and his stats didn't.
Is it too early to give up on Ingram? Of course it is, but that doesn't mean you shouldn't be cautious. This offseason, he's had a "minor" knee scope and toe surgery.
Those injury concerns do leave an opening for Pierre Thomas. Thomas has elite skills, but has had some injury trouble himself and trouble getting enough touches to stay fantasy relevant. Even with Darren Sproles having an amazing 86 receptions, Thomas finished with 50. So it's not like he wasn't used, he just needs to be used a bit more to be consistent.
So in the end, we are choosing between Ingram and Thomas since Sproles is an easy choice. And for my money I'd lean Thomas, especially at where you can get him in drafts.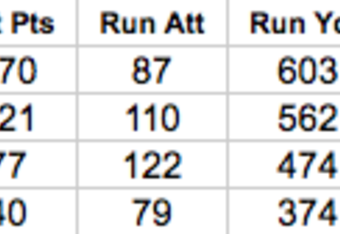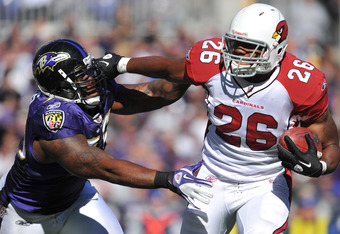 Larry French/Getty Images
The first question is, will there be a running back-by-committee in Arizona? Beanie Wells finally proved himself as a capable running back last season, even though he still missed a couple games due to injury, while Ryan Williams suffered a severe injury to his patellar tendon in preseason.
So much depends upon a red wheel, uh, I mean, Ryan Williams' recovery. If he is full speed, he should challenge Wells for passing down work, while Beanie would remain the early down, goal-line back.
At the moment, Williams is too risky for me, and I believe Wells proved himself to Coach Whisenhunt and will be the starter from day one.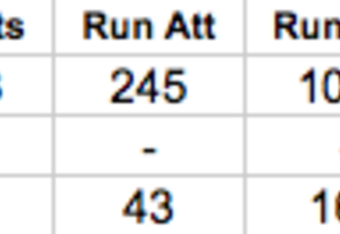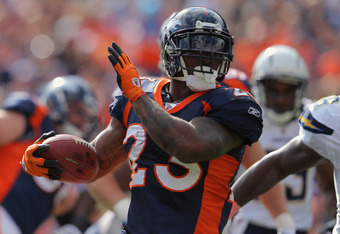 Doug Pensinger/Getty Images
The fight for starting running back for the Broncos is actually one that we should pay close attention to. In the recent past, Peyton Manning led teams did not have stud fantasy running backs, but that was not always the case. Edgerrin James and Joseph Addai had very good fantasy years with the Colts. And with John Fox at the helm, you know running the ball will still be in the cards.
So at the moment it looks like a competition between Willis McGahee and rookie Ronnie Hillman. Coach Fox has always been a supporter of veterans, and McGahee is no doubt a veteran. Hillman is skilled enough that he should contribute, and I could see him splitting work (i.e. DeAngelo Williams and Jonathan Stewart) fairly soon into the season.
The situation is not at all easy to decipher, but in this case, I am going to lean with the proven veteran in McGahee.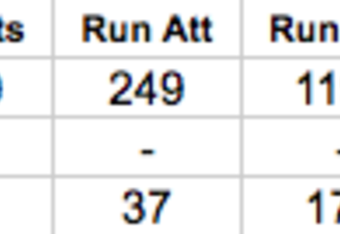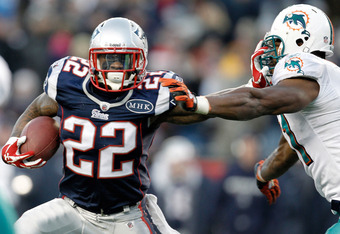 Winslow Townson/Getty Images
If I ever could have a heart-to-heart with Bill Belichick, I'd punch him in the gut. Is it a fool's errand trying to pick a fantasy running back out of the Patriots' roster? I'm afraid the answer is yes. Are we as fake football players going to stop trying? I'm afraid the answer is no.
BenJarvus Green-Ellis put up good touchdown numbers, and that's about it, but often in fantasy, that's all you need. So who will get the ball across the line this season? Both Shane Vereen and Stevan Ridley are skilled players and either are good choices, but we have to choose.
Let me get my Magic 8-Ball out here. OK. Jiggle-shake-bake, and the answer is "It is decidedly so." Woo-hoo!! Oh wait, I should have asked it a question. I'll retroactively ask it, "is Stevan Ridley the back to own in New England?"
OK, there you have it. It is decidedly so.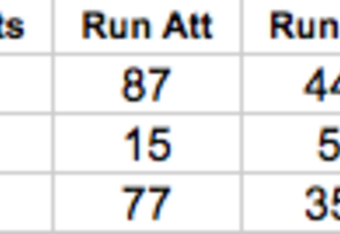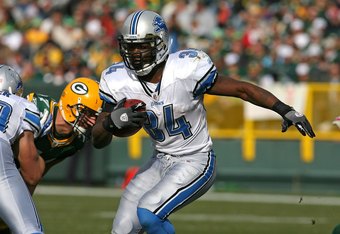 Jonathan Daniel/Getty Images
The Lions seem to be modeling their offense off the New Orleans Saints. That's a good thing for us fake footballers. But their running backs just can't stay healthy or out of police custody.
So who to own on your team? In all fairness, Mikel LeShoure, Jahvid Best and Kevin Smith each have upside coming out their backside. Right now at Fantasy Football Calculator, Best is going in the sixth round (RB28), LeShoure in the ninth round (RB40) and Kevin Smith in the 13th round (RB54).
So Best is going to take a valuable pick to own. Is his concussion history worth the headache that early? Probably not. If healthy, he is the Lions' Sproles. He was on pace for 72 receptions before he was shut down last season, but he is extremely risky. But as you can see, there are plenty of receptions to be had for running backs in Detroit.
But let's take another look at the oft-injured Kevin Smith. Last season, in sevenish games, he had 535 yards and seven touchdowns on 94 touches and now finally has a healthy offseason, and he's still just 25 years old AND you can get him in the 13th round!
If the Lions have their druthers, Mikel LeShoure will be the early-down, goal-line back (after his two game suspension) and Jahvid Best will be the third-down/slot back. But we know the ways of the Lions' running backs do not go as planned.
I will most likely be drafting one late in many of my drafts. They have too much potential not to.