Miami Marlins: A String of Bad Moves and Decisions Coming Back to Bite Franchise
June 21, 2012

Bob Levey/Getty Images
The Miami Marlins are vying to head into territory they haven't reached in nearly a decade, a territory which has been kind to them each time they've set foot in it, the postseason. 
They reached it in 1997 and 2003, winning World Series titles each time, but now their longest drought is ongoing at eight seasons. 
Now in 2012, they are trying to break that drought in a new era of baseball down in South Florida. We all know what they pulled off in the offseason and what they were famous for before that (firesales) but the latter is a lasting effect to their current state. 
Nevermind that the Marlins as a team are flawed in their current state, suffering through another abysmal month of June, but that they are a team whose foundation is being exposed and is breaking apart in pieces after loading up at the higher levels. 
Contract Extensions 
The Marlins were never known to give out contract extensions in the early part of their existence, they couldn't support it. But recently, they have changed their stance and pulled the trigger on them basically out of necessity. 
Hanley Ramirez came first and was signed to a six-year $70 million contract in 2008, an extension that showed commitment in keeping their prime franchise player after jettisoning many others in previous years. 
They moved on with Josh Johnson (2009), who signed a four-year $39 million contract and Ricky Nolasco (2010) who inked a three-year $26.5 million deal.
What have the Marlins gotten from those lone extensions? Not much lately, simply put.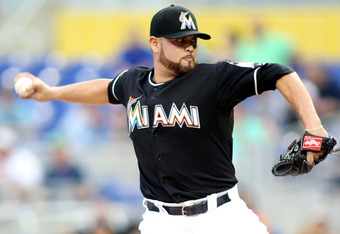 Marc Serota/Getty Images
Hanley Ramirez arguably has lived up to his extension the most with his tremendous 2009 campaign in which he won the NL batting title. However, he has tailed off in the previous two seasons after being hampered by injuries, and hasn't seen a .300 batting average since his last plate appearance in 2010. 
Josh Johnson was dynamite through his first 37 starts (14-7, 2.14 ERA) of his new deal before a shoulder injury ended his 2011 campaign. Now in 2012, Johnson hasn't been nearly the same pitcher he was before the injury, allowing 10.3 hits per nine innings pitched. 
As for Ricky Nolasco, the Marlins thought they could see him regain his 2008 form. After all, despite having an inflated ERA season after season, he had a respectable 54-39 career record, which in their minds was a basis for an extension. Nolasco also posted a very solid 7.36 K/9 average through his first five major league seasons. 
Fast forward to 2012, Nolasco's win-loss record has tilted more towards the loss column and the K/9 rate has dropped dramatically, now hovering just below 6 per nine innings. 
The contract extensions have to give the front office an epiphany, they simply haven't worked out like scripted. 
What's more gut-wrenching is the fact the Marlins have jettisoned players (Miguel Cabrera and Dan Uggla) who have lived up to their own contract extensions received by the teams the franchise has traded them to. 
By simply signing Cabrera to a Longoria-like extension in 2004 or 2005 or by giving Uggla an extra year on the extension he wanted, this franchise could have maintained its core and be getting the most bang for its buck.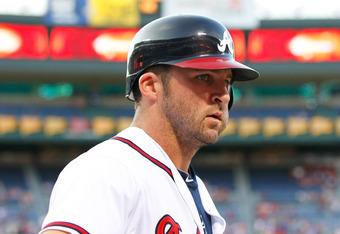 Kevin C. Cox/Getty Images
But the reality is that for wanting to be penny-pinchers during the Florida Marlins era, the franchise just isn't receiving the most bang for its buck, not even in the year where payroll is at its highest level ever. 
Free-Agent Signings
As fans, complaining about the Marlins spending is absurd because this what we wanted them to do for once in their existence; to go out and sign guys to help the team win and not make the under-the-radar signings or upgrades through non-roster invitees. 
It's very early in the process, but how's it worked out for the Marlins? They are barely ahead of a crippled Philadelphia Phillies roster which is without their star first baseman Ryan Howard, star second baseman Chase Utley, and has lost a couple of its elite starting pitchers (Roy Halladay and Cliff Lee) to injuries at points this season.
In the offseason of 2010, the Marlins elected to sign catcher John Buck (three years, $18 million) off a single feel-good season in Toronto over a more proven commodity in A. J. Pierzynski, who happily resigned with the White Sox for two years and $8 million. 
The result? Buck is hitting .168 with 5 home runs, 14 RBIs this season while Pierzynski is hitting .286, 12 home runs, and 41 RBIs. 
This past offseason, the Marlins went on a shopping spree reminiscent of a lottery winner, eye-balling everything and everyone. They landed a closer in 34-year-old Heath Bell on a three-year $27 million deal, a franchise-first in terms of signing a reliever to a multi-year contract.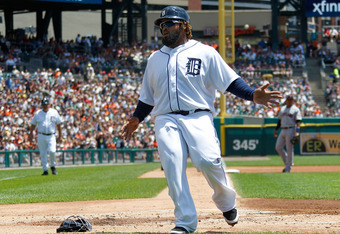 Gregory Shamus/Getty Images
The Marlins also landed All-Star shortstop Jose Reyes on a six-year $106 million deal; the first signing for the franchise over the $100 million mark. 
Mark Buehrle was the lone free-agent starter signed by the Marlins (four years, $58 million) but considering his career numbers, consistency and pedigree, this was the Marlins' best signing.
The signings were recent so the jury is still out on them. Heath Bell made fans yearn for JC Oviedo back in April and May but has since settled down. 
Jose Reyes was the Marlins' best signing and while his batting average and OPS is below his career norms, he has more time to prove himself worthy of his deal.
However, what is baffling in all of this is the Marlins electing to pay for speed and saves rather than power and wins. You can't blame them for trying on Albert Pujols and CJ Wilson, who both shunned them on the basis of no-trade clauses and home-town love respectively. 
But they never chose to go the Prince Fielder route and neither did they elect to give Cuban phenom Yoenis Cespedes his preferred deal. Both would have made immediate differences and brought game-changing potential to the lineup. 
Instead? The Marlins are actively pursuing outfielders on the trade market in part because of the immense struggles of Gaby Sanchez at first base and the injury to Emilio Bonifacio. And this is a franchise who is thin on talent in the farm system at the upper levels (AAA and AA). 
You hate to look upon the upcoming offseason because it says you're done this season, but can the Marlins really be in the hunt with the countless issues the Marlins have right now?
The hope is the Marlins could redeem themselves in a more loaded free-agent market that includes ace starting pitchers (Cole Hamels and Zack Greinke) and talented outfielders (B.J. Upton and Josh Hamilton). 
Scouting 
Perhaps the most underlying reason why the Marlins haven't broken through despite all the talent they've had is the scouting. 
Of their current starting staff, only Josh Johnson is home-grown, and in their bullpen only Steve Cishek is a home-grown guy. These probably don't mean much but when you are a franchise such as the Marlins who doesn't usually spend lavishly, you want to be able to build up your own talent. 
The Marlins have had better success with positional talent, bringing up Giancarlo Stanton, Logan Morrison, among a few others. 
Credit the front office for landing certain pieces from outside the organizational roots (i.e. Hanley Ramirez). There is no doubt they are one of the best in the business led in this area, by Larry Beinfest and Michael Hill. But even though they are one of the best when it comes to trades (don't count the Cabrera deal), the draft has been a major thorn in this franchise's side.
In fact, not a single player the Marlins have drafted since 2002, when this current regime arrived, is on their 25-man roster, not one. 
Jeremy Hermida (2002) was productive in his first few seasons but began to fall off in 2008, Jeff Allison (2003) had drug abuse problems and never made it to the majors, Taylor Tankersley (2004) started as an effective bullpen option but fell off in 2008.
The 2005 draft was even worse, considering the Marlins had five draft picks between the first and sandwich rounds. Not a single selection is currently with the Marlins, which includes Chris Volstad who was dealt to the Cubs for Carlos Zambrano last offseason. 
From 2006 to 2009, the Marlins continued the pattern of making bad selections (Brett Sinkbeil, Matt Dominguez, Kyle Skipworth, and Chad James) and for perspective missed out on Ian Kennedy, Jason Heyward, Brett Lawrie, and Mike Trout respectively. 
Lately, the Marlins have had success in the first round, landing Jose Fernandez (2011) and Christian Yelich (2010), but time will tell if they live up to the talent expected of them. 
State of the Franchise 
Marlins owner Jeffrey Loria is refusing to buy into the notion anything is wrong with his team, recently telling fans in a nutshell: "Relax, we're going to be fine, I see nothing but Miami sunshine." Perhaps he was referring to his afterlife?
Nevertheless, the Marlins indeed have a long way to go. As the 2003 squad proved, its not how you start, it's how you finish. Yet, an alarming statistic figures to keep fans on alert about whether this team is truly worthy of contention. 
Through Wednesday, the Marlins have a -59 run differential which is 2nd worst in the National League, and 3rd worst in the Major Leagues (ahead of Minnesota's -78 and San Diego's -80). The Marlins have also been shutout 8 times this season. For perspective, here is a season-by-season look at the shutouts against the Marlins in previous seasons:
2003: 9, 2004: 8, 2005: 8, 2006: 7, 2007: 9, 2008: 9, 2009: 8, 2010: 9, 2011: 12 
The Marlins are on a pace for 20 shutouts against them which is an alarming number no doubt, but clearly shows a glaring weakness, one that has shown itself this particular month of June.
No fault on the front office entirely, this can't be put on them, or can it? They couldn't have seen the outrageous numbers put up by both Gaby Sanchez or John Buck or that Hanley, Johnson, or Nolasco wouldn't be performing to their contracts, or that Heath Bell would implode and Jose Reyes would be having a subpar year. Nope, they didn't see it. 
Whether its just purely bad luck or the result of the past actions, the foundation isn't stable. The Marlins may be built to entertain the fans, appease the outsiders, but are they are a certified contender? In it's current state, no, and things had better be done to save the franchise from what will be a major disappointment after exceptions were sky-high nestled near a beautiful Miami sunshine, or so says Loria.