How to Fix the New York Giants' Running Game
May 29, 2012

Jim McIsaac/Getty Images
The New York Giants had the worst running game in the NFL last year, averaging a league-low 89.2 yards per game and 3.5 yards per carry during the regular season. And since they still won the Super Bowl, some might say they don't need a good running game to keep the ball rolling in 2012.
But there are two flaws to that argument. 
First, the Super Bowl champion pretty much always has to get better and improve on weaknesses if it stands any chance of repeating.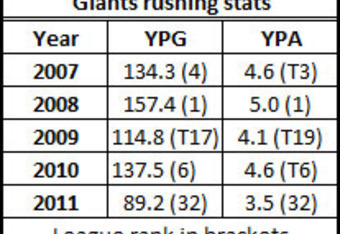 Second, the Giants running game was actually half-decent when the team went on its Super Bowl run in December, January and February. And since you can't turn these things on and off like a light switch, that's an indication that they'll have to rely on more production in that area throughout the 2012 season.
The team has made two clear-cut moves in an attempt to add a jolt to the running game. They drafted lightning-bolt Virginia Tech running back David Wilson in the first round of April's draft, and they waved goodbye to the always inconsistent and often unreliable Brandon Jacobs.
Beyond that, here are three things the Giants will have to do to fix their problems on the ground from the get-go in 2012:
1. Keep Ahmad Bradshaw fresh
The team's top back struggled with injuries in 2011, following up an impressive 1,235-yard 2010 campaign with an incredibly disappointing 659-yard season that lacked explosiveness.
Bradshaw fixed the fumble problem that plagued him in previous seasons, but the 26-year-old wasn't able to break free in 2011. He might have been approaching runs with a more conservative approach to avoid turnovers, but I think the crux of the problem was that a notoriously brittle back didn't have enough support.
Jacobs—Bradshaw's top complementary option—saw his yards-per-carry average drop from 5.6 to 3.8 on almost the exact same number of carries from '10 to '11, which put more pressure on Bradshaw. 
A lingering back issue held Bradshaw back in the lead-up to the season, and a foot injury cost him four games and prevented him from reaching his full potential for the majority of the regular season and the playoffs.
The G-men can't let that happen again. They should reduce Bradshaw's reps early and give Wilson a chance to become Jacobs circa 2010. And if that fails, they have to try out big DJ Ware or second-year man Da'Rel Scott.
2. Keep David Diehl on a short leash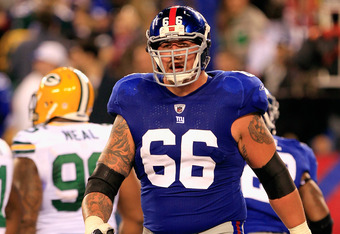 Chris Trotman/Getty Images
I was surprised and disappointed that the Giants failed to address the offensive line more aggressively in the draft. They took tackles in Rounds 4 and 6, which was probably necessary, but I think the interior offensive line could cause problems on the ground this season.
You might have noticed that the running game picked up some steam after left tackle Will Beatty went down for the season in November. Some think that means Beatty was detrimental to the team's success on the ground, but it should also be noted that that improvement was directly correlated with left guard David Diehl's move to the outside to cover for Beatty.
No one believes that Mitch Petrus or Kevin Boothe are stud guards, but both might be capable of stronger and more consistent performances than those delivered by Diehl last season. Pro Football Focus called him "an accident waiting to happen" whose play in 2011 was "unacceptable."
If he struggles again early, the Giants can't be afraid to ditch Diehl in favor of either Boothe or Petrus.
3. Maintain confidence
I hate seeing coordinators ditch the running game too early. Last year sucked for Bradshaw, Jacobs and the line, and thus, we saw the Giants run significantly less often on first down, according to Football Outsiders.
And according to Pro Football Focus, the team's pass-run ratio rose from 56-44 in 2010 to 62-38 in 2011.
Yes, they were more successful overall in 2011, but Eli Manning's sack total also shot up 75 percent from 16 to 28 during the regular season, which isn't ideal.
It's important that a team with a target on its back gets some balance back this year in order to keep defenses guessing.
Prior to last season, the Giants had ranked in the top six in the league on the ground three times in Kevin Gilbride's four seasons as offensive coordinator. Last year, it was Murphy's Law for the running game, but Gilbride and Tom Coughlin should be able to fix things by applying those three strategies. 
I wonder if they're reading....