2012 Defensive Preview: Scheming Around the Weaknesses with a Strong D-Line
May 27, 2012

Jeff Zelevansky/Getty Images
For the first time in what feels like years, the Jets actually have some depth on defense that will allow for real rotation to keep the linemen fresh and versatile schemes to confuse the offense—that is, if everything goes according to plan.
The biggest question mark for the Jets defense will be in the pass-rush and in the back end. The Jets' plan is to create a more balanced pass rush by keeping linemen fresh to tie up opposing offensive linemen and seeing if they can create space for Aaron Maybin, who is fighting to carve out more then just a role as a pass-rusher.
In the back end, at safety, the Jets are relying on a healthy LaRon Landry at free safety and Yeremiah Bell to start the year at strong safety. There are a plethora of concerns with this idea, but we'll discuss it deeper in the article.
The Front Three
When the Jets play with their base 3-4 defense, you'll likely see a combination of different fronts on the defensive line. The most likely combination involves Quinton Coples-Sione Pouha-Muhammad Wilkerson (from left to right). Mike DeVito and Marcus Dixon will rotate in, with both likely being used more on running downs.
DeVito has been one of the league's better five-tech run defenders on a yards-per-carry basis, but his inability to command double teams, tie up linemen and/or rush the passer (along with one year left on his deal) led to the Jets' decision to draft a more diverse end in Coples. DeVito will be an early-down player and a goal line performer.
Marcus Dixon has been a project player with some pass-rushing upside, but the Jets' main source of pass-rushing will come from Coples and Wilkerson, who are now expected to anchor the exterior of the Jets defense. Wilkerson had a very solid rookie season. The Jets were third-best in the league on a yards per carry basis in runs at Wilkerson (RG-RT), according to Football Outsiders.
Wilkerson and Coples may be the two most important players on the team this year when it comes to pass-rushing. Sione Pouha is an outstanding run defender. The Jets were once again one of the top defenses defending interior runs, and the stout 6'3'', 325-pound nose tackle continues to do a great job in the middle clogging running lanes and tying up interior linemen.
But Pouha isn't athletically gifted, and it limits him in pass-rushing situations. It's usually enough for one linemen to tie him up on passing downs, and it has limited the Jets' ability to properly blitz. Wilkerson was compared favorably to Haloti Ngata upon leaving Temple, and Coples looks like Calais Campbell. Can you imagine a defense with arguably the two best 3-4 defensive ends in football on it?
That's the idea the Jets were getting at. Pouha is irreplaceable in the running game, and Kenrick Ellis is no guarantee to command double teams on pass-rushing downs, so use Coples and Wilkerson to do the dirty work on the outside and free up Maybin, Pace and Thomas—Maybin in particular. It seems almost undeniable that next offseason, the Jets are going to look to add one more pass-rusher. Bryan Thomas is coming off of a torn Achilles and signed just a one-year deal, while Calvin Pace is a likely cap casualty next offseason that would save the Jets over eight million dollars.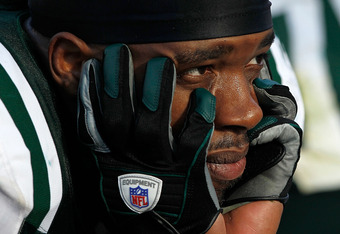 Mike Ehrmann/Getty Images
The Jets also are likely to get solid rotational play on running downs from either Martin Teveseau or Damon Harrison (likely Teveseau), but they have to be expecting a contribution from Kenrick Ellis this season after he serves 45 days in prison as part of a plea deal for an ongoing assault charge. He will not miss any part of mini camp, but will likely miss part of the first week of training camp.
Ellis is a much better pass-rusher and athlete than Pouha and will be expected to spell him on passing downs as the season progresses on. Ellis could carve out a role for himself as a pass-rushing nose tackle this season after limited playing time as a rookie. If Ellis is able to effectively command double teams in conjunction with Coples and Wilkerson, it will continue to open up opportunities for the linebackers. This is a big if, though, and requires Ellis to take a big leap forward.
The Jets are going to once again rely on this being the best part of their front seven, but the difference this year is the added depth and versatility to the line that should create better results—if Coples' rookie year can somewhat mirror Wilkerson's.
Other Fronts
On pure passing downs in sub-packages, it's likely that Coples and Wilkerson will both kick inside early in the season while Pace and Maybin line up at end. The force of Coples and Wilkerson inside could be utterly devastating, with teams likely to pay more attention to the 315-pound Wilkerson, who can push the pocket back while Coples acts as more of a finesse rusher against guards. If Kenrick Ellis emerges as a better pass-rusher, it's likely that Wilkerson and Ellis will play inside on pass-rushing downs with Coples and Pace playing end while Maybin comes off the edge as a linebacker.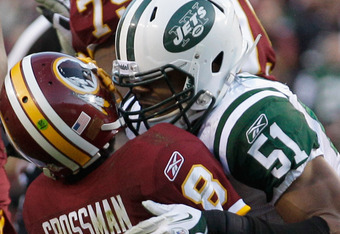 Rob Carr/Getty Images
Another option would be dropping Pace into coverage and using Maybin at end, but even with Maybin's weight gain, I don't believe that Ryan and Pettine are going to abandon their most valuable speed rusher getting locked into play with a tackle.
Versatility is the name of the game. It's the key to success for the Jets defense as a whole in 2012.
Getting the Most Out of the Linebacking Corps
A few short years ago, when Calvin Pace was at the top of his game and Bryan Thomas was a fully healthy exterior run defender, you could argue the Jets had one of the more dynamic linebacker corps. in the game. Bart Scott was a fully functioning three-tool linebacker who could play the run, pass-rush and cover, while David Harris was emerging as one of the league's great young run defenders.
Now, things are very different. While David Harris has fully developed into an outstanding linebacker, Bart Scott has been relegated to early downs only, Calvin Pace has lost his ability to pass-rush, and Bryan Thomas has probably lost his starting job thanks to a devastating Achilles injury last season.
David Harris and Bart Scott playing behind a deep group of nose tackles on rushing downs is still a recipe for success, but Scott can't be trusted in coverage or rushing the passer anymore.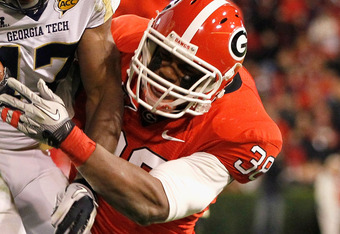 Kevin C. Cox/Getty Images
Enter third-round pick Demario Davis. There will be a learning curve for Davis in the Jets defense, but his role is simple early in his career: own the passing downs. Davis is athletic and instinctual enough to find early success, but anytime you're relying on small-school rookie contribution in any capacity there is cause for concern.
If Bryan Thomas is healthy, then on clear running downs, it's likely going to include a linebacker corps (from left to right) of Thomas-Scott-Harris-Pace. However, Thomas' injury was devastating for a player like him late in his career, and he may not even show enough in training camp to make the team. Unless Maybin shows enough in camp to win a starting job, though, it seems highly unlikely Thomas gets released before the season starts. Even then, Thomas would be an excellent situational run defender if healthy.
The Jets also have to hope for some contribution from linebacker Ricky Sapp. They signed him off of the practice squad last season. Sapp is a speed-rusher who was extremely productive in college, but injury concerns dropped him out of a possible first-round pick into the fifth round in 2010. Sapp is a long 6'4'', 252-pound linebacker who could be a sleeper in 2012.
So how do you get the most out of this group of linebackers? In the 3-4, linebackers need to be able to rush the passer (and most outside linebackers are converted from defensive end). In Ryan's 3-4, with all the exotic blitz schemes, it seems almost impossible to succeed without all four linebackers being able to at least blitz in some way. This is a cause for concern this year. Pace, even in one-on-one situations has shown that he's lost a step as a pass-rusher. Thomas also had lost a step, and now with his injury, is well on his way to becoming a one-dimensional run defender. Bart Scott has been regressing in this department since day one, and it all blew up last season. Aaron Maybin has shown that he's got a better motor then most thought and displays the speed and athleticism that we all knew he had, but he's still a gigantic question mark.
Maybin's lateral agility isn't as good as advertised and often is the reason he can't finish off quarterbacks when he gets into the pocket. Obviously, Maybin still lacks pass-rushing moves and the prerequisite strength to make many of those moves. He's most dangerous when defensive linemen can tie up opposing tackles and free Maybin up for a shot at the quarterback. While Maybin has added weight (he's over 240 pounds now) to try and get into the base defense, we still don't know if he's going to be able to perform in the running game. If everything pans out for Maybin and the Jets defense, they'll have a good system for funneling quarterbacks straight at a freed-up Aaron Maybin. If it doesn't, there are still going to be a lot of problems.
When you look at the other reserves, like Garrett McIntyre and Josh Mauga, you see two guys who are likely special teamers. One of them may not even make the team, as former Georgia and North Alabama linebacker Marcus Dowtin could seriously challenge him for a roster spot.
The bottom line: The Jets need Aaron Maybin to turn into an every-down player for this group to succeed. If not, they're going to be easy to game plan against.
Cornering the Opposition
As a top three, Darrelle Revis, Antonio Cromartie and Kyle Wilson are about as deep as it gets. They are all former first-round picks, and each has a particular set of skills that makes them quite dangerous. Revis has a reputation that precedes him, and the numbers back him up in 2011. Though Revis fell off a little bit in the second half of the season, his overall body of work still makes him one of the best, if not the best, cornerback in pro football.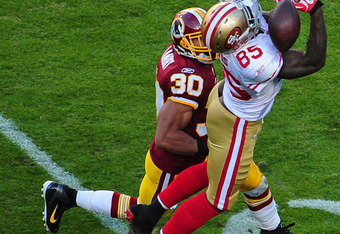 Scott Cunningham/Getty Images
With Antonio Cromartie, the Jets are glad to have a player of his skill set and talent, but nobody benefited more from New York than Cromartie. He went from being a gambler at corner to one of the better coverage corners in the league. Part of this is from great coaching, and another part of this is from Cromartie not having free safety help over the top to permit him to continue gambling.
Kyle Wilson is one of the more underrated players in the league. He's still not a great tackler, but in pure coverage terms, he picked up off a strong second half of his rookie season and continued to improve in 2012. Statistically, his coverage metrics were middle of the road, but he continues to show progression mirroring receiver routes and in his back pedal. Having such a deep group of corners is of big benefit to the Jets, as they continue to be one of the strongest passing defenses in the NFL without much of a pass-rush.
Last season, the Jets allowed the fourth-lowest opposing completion percentage and had the fifth-lowest yards per attempt against. The Jets were also one of three teams to hold opposing quarterbacks to an overall rating of under 70. Tom Brady had two excellent games, Ryan Fitzpatrick had a good one and Michael Vick had a great performance. They combined for nine touchdown passes, which is 60 percent of the passing TD's the Jets defense allowed in 2011.
The Jets will likely carry six corners, but could carry as many as seven (Rex loves his defensive backs). You will likely see limited contributions at corner from Josh Bush (as well as safety), Ellis Lankster and Isiah Trufant in dime-and-quarter packages. The Jets may only choose to carry five corners because Josh Bush played safety and corner at Wake Forest. In this case, Trufant, Lankster, Julian Posey, Royce Adams and rookies D'Anton Lynn, Donnie Fletcher and Ryan Steed will be battling for the last two (maybe three) corner spots. Trufant and Lankster both have an inside edge based on playing time last season.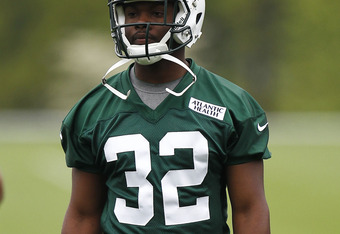 Jeff Zelevansky/Getty Images
After that, it's going to be a tough battle, with my money on they physical Ryan Steed.
Put Me In...Centerfield
The Jets defense is weak in certain spots. Running the football, they struggle on the edges because of outside linebacker play and a lack of speed overall on defense. In coverage, the middle of the field is usually open because of bad linebacker coverage and safety play, and while there is a chance the linebacker play may change this year, the biggest concern on the Jets defense is at safety.
Though the Jets are currently anticipating LaRon Landry to play free safety and Yeremiah Bell to play strong safety, there are some obvious concerns.
First and foremost, Landry has yet to participate in any OTA's, and Rex Ryan hinted that Landry may not be healthy. The Patriots also passed on Landry due to concern about his injured Achilles.
So let's assume for a moment here that Landry is healthy. What does that mean?
Well, a combination of Landry and Bell isn't exactly the dream tandem when it comes to coverage. Bell is exclusively an in-the-box safety who will add very little in coverage. Entering his age 34 season, Bell's last two seasons he's been both a liability in coverage and has been making fewer and fewer plays on the ball. Landry's production in pass coverage has suffered also, but more due to injury than anything else. It also doesn't help that Mike Shanahan and Jim Haslett basically played Landry like a linebacker in Washington—asking him to play a lot in-the-box and add weight.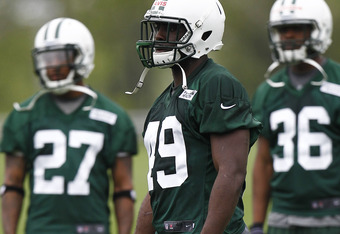 Jeff Zelevansky/Getty Images
There are far too many question marks here to hope for success, and even if Landry is healthy, it seems more likely that Landry would find real success at strong safety as an in-the-box run defender and a short area coverage man.
So that means that the reserves who make the team are exceptionally important, and it's likely the Jets will carry five safeties this year. Eric Smith will play a rotational role in-the-box and pass-rushing in exotic blitz schemes. Antonio Allen will likely be the direct back-up to Yeremiah Bell, having played a hybrid linebacker/safety role in college. Josh Bush is the most likely candidate to start sometime this year. As wild as it seems, he's the most productive playmaker (six interceptions his senior year at Wake Forest) and the best pure cover safety on the team from a talent standpoint. Either that means he was severely undervalued in the draft, or Jets fans should be very, very concerned.
There is no real center fielder on this team, even with the addition of Landry. There is not enough speed in the safety corps. To help make this scheme function properly, the Jets are going to need the linebackers to step up in pass-rushing, which, in turn, means they need their deep defensive line to truly produce and open things up for the pass-rushers.
If they don't, the whole defense could unravel because of bad safety play. If everything comes together, the Jets defense has dominant potential and will be difficult to game plan for. But the question marks at linebacker and the flaws at safety must be covered up by the defensive line.
Final Thoughts
Quinton Coples, Aaron Maybin, Demario Davis, LaRon Landry. These four players all will have important roles carved out, and they need to excel. It's a lot to ask from two rookies, a revitalization project and the oft-injured Landry. But if they find success, or someone can in their stead, the Jets defense is going to be stellar again. If you add Kenrick Ellis into the mix, you have five players whose success could turn the Jets defense into an elite unit—a championship-caliber unit. The potential is there, and I'd wager that at least one of them is going to find some form of success, but betting on all five wouldn't be smart.
The Jets still lack a pass-rusher who commands the attention of double teams, which is why they've schemed to make their defensive line so important—because that's where the depth is. Keep Wilkerson and Coples fresh and they might be able to do enough damage to help Aaron Maybin, and maybe even Ricky Sapp can do some damage. If the Jets linebacking corps does its job, it will be almost impossible to throw against the corners and also will provide enough protection that no team will be able to use the deep ball against the questionable safety corps.
Projected Depth Chart
To see the depth chart on offense as well as my preview of the 2012 offense, click here.

LDE: Quinton Coples, Mike DeVito, Marcus Dixon
NT: Sione Pouha, Kenrick Ellis, Martin Tevesau
RDE: Muhammad Wilkerson, Mike DeVito, Marcus Dixon
LOLB: Aaron Maybin, Bryan Thomas
LILB: Bart Scott, Demario Davis
RILB: David Harris, Marcus Dowtin
ROLB: Calvin Pace, Ricky Sapp
LCB: Darrelle Revis
NCB: Kyle Wilson
DCB: Isaiah Trufant
QCB: Ellis Lankster
RCB: Antonio Cromartie
Reserve Corners: Josh Bush
FS: LaRon Landry, Josh Bush, Eric Smith
SS: Yeremiah Bell, Eric Smith, Antonio Allen 
In a previous article discussing how the rookies would fit in New York, I projected the likely practice squad. This is what it looked like:
QB G.J. Kinne
WR Scotty McKnight (non-rookie)
OL Matt Kroul (non-rookie)
OL Dennis Landolt (non-rookie)
DL Brett Roy
CB D'Anton Lynn
CB Donnie Fletcher
S Tracy Wilson (non-rookie)
Now I'm going to change it to...
QB G.J. Kinne
OL Matt Kroul (non-rookie)
OL Dennis Landolt (non-rookie)
DL Bretty Roy
LB Josh Mauga (non-rookie)
LB Garrett McIntyre (non-rookie)
CB D'Anton Lynn
CB Ryan Steed