2012 NBA Playoffs: Why the Knicks Must Blow Up the Blue Prints
May 8, 2012

Jeff Zelevansky/Getty Images
For Carmelo Anthony and the rest of the New York Knicks, Sunday's 89-87 victory over the Miami Heat to remain alive this season (Miami leads 3-1) still doesn't validate the current game plan heading back to South Beach.
Last Thursday night's 87-70 loss speaks more to the truth of how concerning the Knicks' future is. Anthony went 7-for-23 (30.4 percent) from the field, Iman Shumpert crumpled to the ground and big-man Amare Stoudemire punched his hand through a fire extinguisher casing. This required several stitches across his hand that caused him to be limited in Game 4, despite scoring 20 points.
For a franchise that once held the blue prints of a premier scorer at his prime as the focal point offense, and a post man with offensive talents and capabilities as a pick-and-roll option, the road is coming to an end as New York must find its identity as a team on the court and an organization in the offices.   
Regardless of what happens throughout the rest of the series, the Knicks are heading for a serious decision-making period. They must decide if they want to be a team that requires a premier scorer—in Carmelo—who demands his touches, as he did Monday when he poured in 41 points off 29 shot attempts.
If it's the question of Anthony versus Stoudemire, you'd figure that New York would have to the take the first superstar choice: he's a scorer who can drop 30 points on any given night. He's showed up in crunch-time in parts of the regular season, showed it in Game 4 by scoring seven of his 41 points in the final quarter.
When was the last time Stoudemire played at an elite level? Before Anthony's arrival, he was the offensive option. Now he's barely the second, if not the third.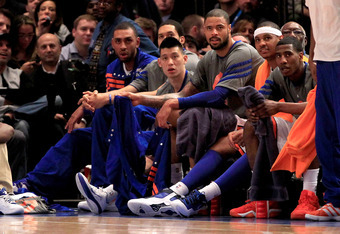 Chris Trotman/Getty Images
And then there's Jeremy Lin.
Turning into the month of February, the Knicks finished January losing nine of their last 11 games and were teetering on the edge of self destruction. New York was left searching for answers after losing its premier scorer and offensive big-man to injuries to compound that same stretch of losing.
Then comes Lin, who pouts in 36 to defeat the Las Angeles in front of a packed Madison Square Garden crowd, ultimately playing up to the much-anticipated, highly-debatable and outstandingly-overanalyzed lead-up to the Friday night show in mid-February.
Sadly, Lin's knees are robbing him in at his finest hour. After suffering knee problems in a March 24 win against the Detroit Pistons, he soon opted to have surgery to repair a torn meniscus, costing him the rest of the regular season and possibly the entire series.
Head coach Mike Woodson mentioned early Monday that he "isn't counting on Lin to play" in Game 5 Wednesday.
The Knicks are in for a heap of decisions to make this summer. With Anthony, Stoudemire and Lin all getting high-profile attention, no story is a bad one in New York, even at the expense of others.
Management needs to put an image—or a face—behind its product on the court; Who's the guy that is going to take us to the next level? Who can come up in crunch-time? Send the crowd to their feet in applause? Who is going to give us a real chance to win?
These are tough questions to ask as a basketball team, but hey: it's the NBA for a reason.