Boston Red Sox: Latest on Bobby Valentine and Kevin Youkilis Drama
April 16, 2012

Jim Rogash/Getty Images
Well, it hasn't taken long for the Bobby Valentine experiment in Boston to take an interesting turn.
The manager raised a few eyebrows in the Boston clubhouse—and frankly, probably around the league—when he questioned the physical and emotional commitment of third basemen Kevin Youkilis.
From Gordon Edes of ESPNBoston.com:
Valentine's comments were made in the dugout before Boston's win Sunday over Tampa Bay and were aired on WHDH-TV's "SportsXTra."

"I don't think he's as physically or emotionally into the game as he has been in the past for some reason,'' Valentine said. "But [on Saturday] it seemed, you know, he's seeing the ball well, got those two walks, got his on-base percentage up higher than his batting average, which is always a good thing, and he'll move on from there."
Not surprisingly, Youkilis met with Valentine privately (and noted what was discussed between the two would remain private; now there's a concept...) and also with general manager Ben Cherington on Monday morning. He had the following to say regarding the incident, via WEEI.com:
Responded Youkilis: "That's not what I see. I go out every day and play as hard as I can. I take every ground ball in the morning, take every at-bat like it's my last. I don't think my game has changed at all. I still get upset with myself and still get mad. That's just not how I go about my game of baseball. Never have, never will."

Asked if the comments were upsetting, Youkilis said: "I'm more confused than anything, because I think everyone knows I go out and play the game as hard as I can. That's just my style of play. I never was blessed with the raw tools … so I've always had to use playing the game as hard and with full effort my whole life. I don't know any better, so that's just the way I play."
Things got interesting when Dustin Pedroia—one of the team leaders and most passionate players in baseball, period—spoke up on behalf of his teammate.
"I really don't know what Bobby is trying to do," Pedroia said Monday. "That's not the way we go about our stuff around here. He'll figure that out. The whole team is behind Youk. We have each other's backs here."

Pedroia was then asked whether he thought Valentine perhaps was trying to light a fire under Youkilis, who is hitting .200 on the young season.

"Maybe that works in Japan," Pedroia said, referring to Valentine's successful stints as a manager in Japan.
For the record, Valentine did apologize to Youkilis when the two met according Gordon Edes of ESPNBoston.com:
Valentine, speaking before Boston's 11 a.m. ET Patriots Day game against Tampa Bay, said Youkilis approached him Monday morning. Valentine said he "totally apologized."

"I don't know if he accepted my apology. It was sincere," he said.
Whether that apology was enough for Youkilis or not remains to be seen. One thing is certain, however: His agent, Joe Bick, was none too pleased with Valentine's comments (via the Boston Herald):
"I will not dignify his quotes by responding to something so far off base on so many different levels," said Bick.

Asked if he thought the remarks would serve as a distraction to Youkilis, Bick said, "I have all the faith in the world in Kevin Youkilis. I'm not the least bit worried about Kevin."
Surely, his agent chipping in has nothing to do Youkilis being in the last year of a 4-year, $41.25 million contract, or the fact that the club holds a $13 million option for 2013. Surely, this has nothing to do with this sort of critique being levied at Youkilis in future contract negotiations with the team.
No, his agent wouldn't be worried about that.
Here's your video wrap-up of the "ordeal," including a fairly awkward Valentine at a press conference.
Fun.
But the question remains: Is any of this a bad thing?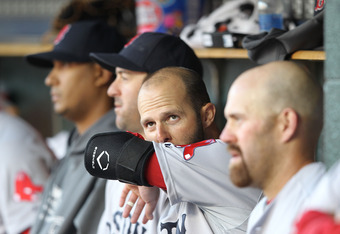 Leon Halip/Getty Images
Did Pedroia just draw a line in the sand this early in the season between the Red Sox players and Valentine? Did he just send the message to his manager keep things in-house or risk losing the clubhouse?
My first instinct is that this is not a good thing. I wasn't sure if Valentine was the right fit for a veteran club with a lot of ego in the first place, and this sort of move seems to justify that concern.
Calling a guy out this early in the season whose commitment hasn't been questioned in the past (at least not publicly) and who started slow last season before turning it on seems like a poor move on Valentine's part. Could you imagine Terry Francona pulling the same stunt?
No, of course not.
But maybe that's what this Red Sox team needs, a bit of a jolt, someone who will challenge them, push them, get in their faces a little bit. Maybe they need someone who will make a bit of a scene, make them publicly accountable, make them squirm. They had the player's manager, and things fell apart last season.
Maybe a new voice is what this team needs.
I wrote it, but I'm not convinced it is true. This team flopped last year more because the pitching was decimated than because of any "chicken and beer in the clubhouse" culture that stole all of the headlines after the season.
And if there is one thing we know this team will do, it is hit the baseball. Pitching remains the concern.
For now, I remain unconvinced that Bobby Valentine is the right fit for this club. I guess I'm in Curt Schilling's camp on this one. And it would appear Kevin Youkilis and Dustin Pedroia are in that camp as well, at least for the time being.
It could be a moot point in a month. Or it could become a distraction that casts a shadow over the clubhouse all season long.
Let the drama begin.
Hit me up on Twitter—my tweets light the lamp like Danny Briere.