WWE: Why It Is Impossible to Rally Behind John Cena's Character
April 9, 2012

Here is a professional wrestler that essentially does everything the right way.
He makes numerous Make-A-Wish visits every week, he has stayed out of trouble his entire career in World Wrestling Entertainment, to the best of our knowledge he's never tested positive for steroids and yet he enters the arena on a nightly basis to a loud chorus of deep-voiced boos. 
The deep-voiced aspect comes from the amount of 18-34-year-old males that seemingly detest everything about John Cena. 
What is different, at least from my perspective is, I have nothing wrong with Cena the person. Those things I have mentioned above are just a small sampling of what makes Cena a great person. He loves the business, he loves wrestling and he centers his life on it.
Yet when I "hear those horns" and the familiar "My Time is Now" theme music, myself, much like those other 18-34-year-old fans, boo. But why?
What makes us boo an otherwise great person, someone who is competent in the ring and busts his ass for the business? 
It is simple: His character is impossible to rally behind. 
Where Cena's character took a turn for the worse is when he essentially became an emotionless dud with absolutely no reality in his character. 
He became utterly and completely unfazed about what was going on around him. 
Jim Ross, Jerry Lawler and the announcers continually called him a controversial champion, made light of the fans making fun of him and wondered why they'd boo such a great man.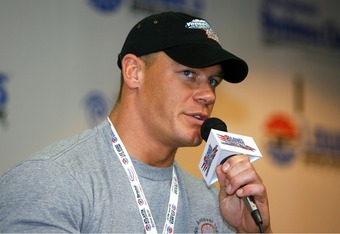 Rusty Jarrett/Getty Images
Eventually the announcers, the WWE and Cena himself succeeded and simply became content with fans and wrestlers alike disrespecting him.  
A normal man would likely be upset that an arena full of people are yelling that he sucks. Cena shrugs it off and says, "Yeah, its okay... you're allowed to have your opinion." 
Cena will lose the largest prize in modern professional wrestling and walk out the night after with his matching shirt and hat, smile and crack some jokes.
It does not seem to faze him. 
While this is may be something admirable for the younger demographic that the WWE so covets due to Mattel action figure deals and a glut of merchandise sales headed by Cena himself, the older demographic is left with an emotionless dud of a character.
It has been said that much of the Cena hate comes from the fact he is seen as unbeatable by the WWE, but I do not think that plays into it at all.
Of course it is irritating that Cena wins a lot, but Cena is no different than Hulk Hogan, Bret Hart or Shawn Michaels before him. Cena is the biggest star in the WWE and he should be pushed as such. 
The difference between most of our childhood memories of Hogan, Hart or Michaels is that each of those characters seemed to care. Hogan got mad and showed emotion.
Hart was always one to speak of revenge and tried to get respect from those he felt were not showing it. Fans can rally behind that.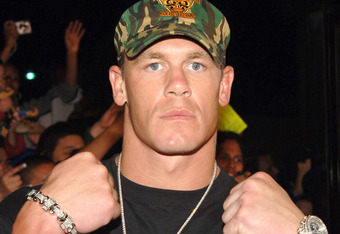 John Sciulli/Getty Images
Fans can get behind someone like that. Why should they get behind Cena? 
Nothing seems to affect Cena. He bounces from feud to feud but without any real barring.
When The Rock came from Hollywood and launched an anti-Cena campaigned fueled entirely by making light of Cena's character, persona and merchandise, what did the fearless leader do? 
Well of course, he made fun of The Rock for arbitrary things like writing notes on his wrist and reminded the WWE Universe that The Rock left them and ran away to Hollywood.
In an entertainment avenue where 18-34-year-olds need to suspend disbelief, there is simply no reason to cheer Cena's character.
If Cena was a character in an action movie, we still wouldn't have respect for him. 
If Batman merely shrugged The Joker off and concluded that he has the right to whatever opinion he would like, The Dark Knight would have had far less impact than it did. 
We rely on our movie and television show characters to have strong opinions, not merely turn the other cheek, as we have to do so often in our actual lives.
I have often wondered why the WWE expects fans to care about their performers, their wins, their losses and title victories and losses when their largest star does not seem to care. 
The times where Cena has cared—most notably ECW One Night Stand 2006, Money in the Bank 2011 and his program with Edge in 2006—all proved the difference between a Cena with realistic emotion versus the standard, mild-mannered Cena.
One might admire Cena's ability to shrug off and move on from adversity, but it is simply not realistic. 
It is especially not realistic in professional wrestling, which relies upon increased, over-the-top emotion to draw fans to arenas to watch fake fighting. 
We are not filling the seats to respect the person behind the character (although this does often happen) but rather we're there to cheer the characters and the wrestlers. 
Cena presents absolutely nothing any 18-34-year-old would admire. His ability to "Rise Above Hate" is worthless to this generation whose entire wrestling existence is based around hatred. 
There is nothing wrong with Cena the person. In general, Cena does not suck—it is his emotionless, un-relatable character that does. 
This column also appears on VoicesofWrestling.com. Follow Rich Kraetsch on Twitter: @richkraetsch