Yu Darvish: Grading Every Element of Phenom's Pitching Arsenal
March 14, 2012

Kevork Djansezian/Getty Images
With all the hype—on a worldwide level—following Yu Darvish's outings, it's hard to believe that we've only seen him in two starts.  
But since Darvish has now thrown in two games—with one great outing and one not so good—we've had a chance to evaluate his wide assortment of pitches.   
We can also take a closer look at the intangibles that make up Yu Darvish: his command, composure, etc.   
What he throws—the "plus to plus-plus" offerings:
One of the exceptional things about Darvish is the amount of movement he gets on all of his pitches. You hear the word "electric" used often to describe his offerings. Darvish gets the natural movement more commonly associated with a left-handed pitcher.
Many scouts feel that Darvish has four to five above-average major league pitches at the ready. Above average, on the scouting scale of 20-80, is characterized by anything that grades-out above a 50, which is termed as "plus" in the scouting vernacular. 
Three of his offerings are seen as well above average or "plus-plus." These three are his fastball, slider and splitter.    
Fastball* – In spring training thus far, Darvish's heater has sat in the 91-93 MPH range and topped out at 95 MPH on occasion. As Darvish continues to get into Opening Day form, don't be surprised if his velocity improves slightly.
The late jump and and atypical movement are what makes this a plus-plus pitch. Darvish's clean mechanics and repeatable deliver make the pitch "explode" out of his hand. 
In other words, it gets on you in a hurry—especially when he uses his complementary arsenal to set it up.
Grade: A+
Splitter – Sitting in the low-to-mid 80s, Darvish's splitter is a true "out" pitch.  
The "trick" to the splitter is the pitcher's ability to conceal its approach by properly disguising it as a fastball. The splitter is generally out of the strike zone, so if the batter can pick up on it, it's usually a ball.
Once again, Darvish's clean mechanics and repeatable arm slot execution hide this pitch well.  It comes in like a four-seamer, then nose-dives at the final moment.  
It's got a ton of "swing and miss" in it when its on.
Grade: A
Slider – This is Darvish's main, go-to, out pitch. He throws two variations of his slider.
His hard "wipeout" slider usually registers in the mid- to high-80s and has outstanding lateral movement. It's the type of pitch that looks like it'll get the fat part of the plate when the swing is engaged, then ends up on your hands and snaps your bat like a twig.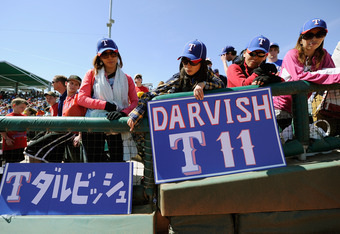 Kevork Djansezian/Getty Images
The other variation of Darvish's slider is a slower version that looks more like a "slurve," which is a slower slider with more of a curveball break. The apex is higher and the lateral movement isn't quite as dramatic.  
Regardless, Darvish's slider—when it's on—is going to miss a ton of major league bats.
Grade: A+
Complementary arsenal:
Curveball – I've noticed that Darvish will occasionally twirl a high-60s curveball. He uses this mainly as a "show pitch"—something to take the batter off of his fastball. Darvish certainly excels at giving the batter plenty to think about.
As mentioned above, Darvish also throws a curveball with more velocity that most scouts tend to dub a slurve.
Grade: B
Changeup – He has only thrown a changeup on a few occasions. In terms of velocity, it's been in the mid- to high-80s range.
The key to the changeup—a true "feel" pitch—is throwing it with the same arm speed as the fastball. Darvish has done this well, and the changeup has quality fade and deception.
It's a pitch with promise. Not one of his best, but there are more than several pitchers who would love to have Darvish's changeup.
Grade: B-
Cutter – I've only seen him throw his cutter a handful of times. The velocity was slightly lower than his fastball and sat in the high 80s, touching the low 90s occasionally.  
Darvish uses this pitch as a "forced contact" offering—meaning that it's difficult for the batter to hit cleanly and can induce a ground out when a situation dictates the necessity.
Grade: B+ 
Gyroball – I'm just kidding. To Darvish, a "gyro" is not a pitch, it's a burrito-like sandwich from Italy.  
Grade: D (for delicious...mmm) 
(*I use "fastball" as a blanket term that encompasses Darvish's two-seamer as well as his four-seamer.)
Everything else about Darvish
Composure
As noted prior, now that we've seen Darvish cruise through one start and struggle in another, you can compare and contrast how Darvish handled each scenario. He never seemed to "panic" when things went bad, and he didn't get overconfident with his pitches when he was cruising.  
Composure isn't going to be a problem for this 25-year-old.
Grade: A
Command
Bingo. This is the only area of concern I have for Darvish. In his second start on Tuesday, he was wildly inconsistent and couldn't hit his spots. It wasn't just one pitch either; he had trouble commanding all of them at different times.  
The bottom line is that he gets enough natural movement on everything, which allows him to miss his spots and still get outs.
However, this isn't the Japanese League. If he is wildly inconsistent in location, he will be get hammered in the big leagues, no doubt.
Grade: C+
Overall Evaluation
From what I've seen, Darvish has all the raw tools and talent to be a true No. 1 pitcher in the major leagues.  
At worst, when his command isn't there, think of A.J. Burnett (or perhaps C.J. Wilson). In other words, he's always going to be electric, but if his command isn't honed, he'll be frustrating at times.
Best-case scenario: You could be looking at a Justin Verlander type of innings-eater. One with lights-out stuff and the ability to will his team to wins.  
The reality is that Yu Darvish will probably end up somewhere in between—he'll be better than Wilson. I see him as a pitcher capable of toting the burden of "staff ace" with the potential to contribute 15 to 18 wins per year.
Final (Overall) Grade: A-