Forgotten Champion: Tim Sylvia's Desperate Ploy to Get Back in the UFC Octagon
February 28, 2012
In some sports, former champions live forever as heroes. Even complete mediocrities—think Super Bowl-winning quarterback Trent Dilfer—spend their days and nights in an alternate universe where they are always the conqueror.
Coworkers genuflect and look on with awe. Men who were bounced from their jobs, even in disgrace, are always referred to, reverently, as "coach," even decades after they last held a clipboard.
Nostalgia reigns in the world of sports. But not in the UFC. The sport of MMA, like boxing before it, eats its own. There is no graceful return to glory for the sport's former champions.
Ask Ken Shamrock, still competing in his 40's to make ends meet. Ask Don Frye, the UFC tournament winner still waiting for a call welcoming him back to the fold as part of the UFC Hall of Fame.
And ask Tim Sylvia, the former UFC heavyweight champion who wants so desperately to return to the Octagon that it makes me hurt for him.
"I'm sick and tired of watching a bunch of bums fight in the UFC," the 35-year old Sylvia said. "Guys that I know I can beat... They told [manager Monte Cox], 'Tim needs to keep winning. Keep putting wins together.' I've done that and nothing happened. And there are guys in there I think are absolutely horrible...Yeah, I've got an attitude about it. I'm tired of it. I've got to make my own destiny."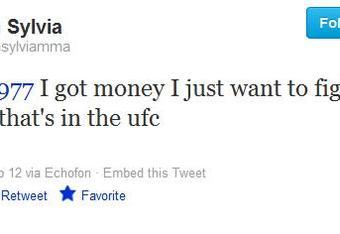 Sylvia has launched a Twitter campaign, hoping to get UFC President Dana White's attention. The desperation is palpable as Sylvia begs for fans to write to White, then retweets dozens of the messages—every single one of them.
"I'm very surprised how many fans have supported me through this process. And it won't be done until it happens," Sylvia said. Despite literally hundreds of messages, White has been uncharacteristically silent on the matter.
"I don't expect it right off," Sylvia continued. "It's only been a week. I think after this goes on weeks, and weeks, and weeks, and weeks, I think something is going to happen. The fans are speaking right now. If the UFC wants to give the fans what they want, it's going to happen."
In some ways, this public cry for help is unseemly. It's one thing for football player Emmitt Smith to spend his last season with the Arizona Cardinals instead of his beloved Dallas Cowboys. It would be quite another for him to go on Twitter to ask for a shot at a team's practice squad.
Of course, Smith made millions in his NFL career and has the luxury of a retirement package and benefits. As a fighter, Sylvia has none of that. This is his only chance to make a living in the sport. And the clock is ticking.
"I truly believe if I was given the opportunity, I could go all the way to a title shot. There's no doubt in my mind," Sylvia said. "I could put five or six wins together in the UFC right now...But the fans need to keep doing what they are doing. Be on my side."
Poor Tim Sylvia. He's always wanted to be loved. In his heyday, he was champion twice between 2003 and 2006. He would often seek out fans in Las Vegas casinos, looking for the same kind of adoration he saw heaped out in huge doses to his contemporaries like Chuck Liddell.
But no one loves Goliath.
Every fighter knows fans are fickle. They will turn on a fighter with alarming speed. For Sylvia, a loss to Fedor Emelianenko in just seconds was the beginning. A weight gain that landed him in the super heavyweight division for several fights made things worse. Soon, a fighter who once ruled the UFC's heavyweight division became a laughingstock.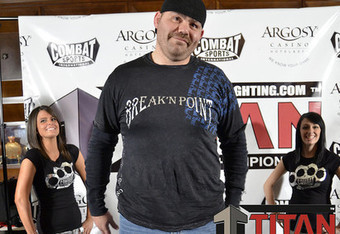 There were jokes aplenty on message boards and plenty of funny Photoshops. That hurt. Even White and UFC owner Lorenzo Fertitta—men Sylvia felt he had a good relationship with when he was the company's world heavyweight champion in the mid-2000's—have seemingly turned their backs on him.
White, apparently, doesn't look back on Sylvia's reign with any nostalgia at all, calling the division at the time "sh*tty." When the criticism comes from people you know personally, the knife cuts even deeper.
"Absolutely [it hurts]. It's very irritating. He never said that when I was there...I thought I had a great relationship with everybody in the UFC," Sylvia said. "It is hurtful. I busted my a** for years in his fights to become champion, not once, but twice...it's not my fault the UFC didn't bring in better guys to the division when I was there. That's got nothing to do with me. I fought who they put in front of me. I never declined anybody."
Sylvia has heard the speculation that he's being used as an object lesson for others in the company. After all, he left the UFC to fight for competing organizations. He cashed some giant checks for fights outside of the promotion—but when Affliction went out of business, Sylvia was left without a home.
Is he part of a broader plan to strike fear into fighters' hearts? To prevent them from ever considering leaving the UFC to fight elsewhere, knowing they will never be welcomed back? Sylvia doesn't know for sure, but he does know the UFC has absolute power over whether or not he and others can earn a living in the fight game.
"I don't know the thought processes of the head honchos at the UFC. But it's swaying that way," Sylvia said. "Look at [deposed former UFC champion Josh] Barnett. He's been top five in the world since he left. Since he beat Randy [Couture]. I don't think he's left the top ten. But he hasn't been in the UFC."
To Sylvia, the answer to all of these complex problems can be found in 140 characters. Twitter can rescue his career from the fringes of the sport. If only fans will continue to work with him.
"Keep tweeting Dana White and Lorenzo Fertitta. They say they aren't, but I know they are seeing all these tweets," Sylvia said. "Just keep supporting me. I love you guys. In the past I've told fans, 'If you don't like me, to hell with you.' But you know what? If you're a fan of MMA, I love you no matter what."