Players All-Star Classic: Rosters, Start Time, TV Schedule and More
February 1, 2012
The Players All-Star Classic is a new college football All-Star game that will showcase a number of talented young men who are hoping to be selected in the 2012 NFL Draft.
These competitors can come from any level of college football, which is why you will see players from powerhouses like Michigan side-by-side with players from tiny schools like Montclair State (NJ).
Regardless of who wins or loses, this game will give plenty of potential prospects another chance to shine, or perhaps give scouts a first glance at some players.
It's going to be a great game, with a ton of solid talent on the field, so keep reading to find out how you can watch and who will be participating.
Where: War Memorial Stadium, AT&T Field, Little Rock, AR
When: Saturday, February 4, at 4:00 p.m. EST
Watch: Comcast/Charter Sports Southeast (CSS), Cox Sports Television (CST)
Listen: 103.7 The Buzz – Little Rock
Rosters
NORTH
QB Dominique Davis, East Carolina/Boston College
QB Alex Tanney, Monmouth (IL)
QB Matt Blanchard, Wisconsin-Whitewater
RB Derrick Coleman, UCLA
RB/RT Lampford Mark, Nevada
RB Michael Smith, Utah State
FB/RB Darryl Whiting, Fordham
FB/RB Joe Martinek, Rutgers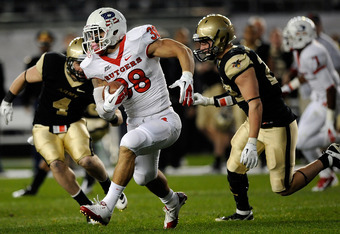 Patrick McDermott/Getty Images
WR/RT Derek Moye, Penn State
WR Phillip Payne, UNLV
WR Derek Carrier, Beloit College
WR Michael Willie, Arizona State
WR Marcus Rivers, Buffalo
TE Anthony Miller, California
TE James Hanna, Oklahoma
TE Garrett Celek, Michigan State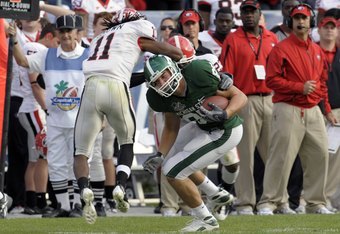 Al Messerschmidt/Getty Images
OC/OL Charles Burton, Montana
OC/LS Jason Slowey, Western Oregon
OG Mike Ryan, Connecticut
OL Carson Rockhill, Calgary U.
OG/OT Mark Asper, Oregon
OG David Green, Rowan
OG Paul Cornick, North Dakota State
OL Tyrone Novikoff, Idaho
OT John Cullen, Utah
OT Dustin Waldron, Portland State
OT Darrion Weems, Oregon
OT Jon Opperud, Montana
DE Scott Smith, Texas Tech
DE/OLB Jamie Blatnick, Oklahoma State
DE Braylon Broughton, TCU
DT/DE Josue Ortiz, Harvard
DT Ronnie Cameron, Old Dominion
NT/DT Oren Wilson, Akron/Michigan State
DE/DT Eric Lattimore, Penn State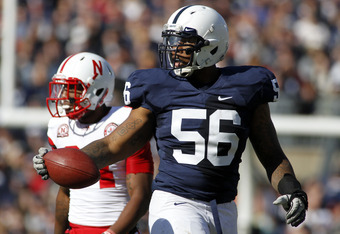 Justin K. Aller/Getty Images
DT Christo Bilukidi, Georgia State
DE/DT Brett Roy, Nevada
OLB Tahir Whitehead, Temple
OLB/DE D.J. Bryant, James Madison
ILB Caleb McSurdy, Montana
ILB Korey Toomer, Idaho
OLB/DE Zach Nash, Cal-State Sacramento
OLB/DE Adrian Robinson, Temple
CB/S Tashaun Gipson, Wyoming
CB Derrius Brooks, Western Kentucky
CB Antwuan Reed, Pittsburgh
CB Troy Woolfolk, Michigan
DB/RT Clarence Laster, SW Oklahoma State
S/CB Jeremy Jones, Wayne State (MI)
S D.J. Campbell, California
S Cyhl Quarles, Wake Forest
S Chad Faulcon, Montclair State (NJ)
S Donovan Richard, South Carolina State
K David Teggart, Connecticut
P Kyle Martens, Rice
RT/WR Julian Talley, UMass
SOUTH
QB Aaron Corp, Richmond/USC
QB Nathan Dick, Central Arkansas/Arkansas
QB Jordan Jefferson, LSU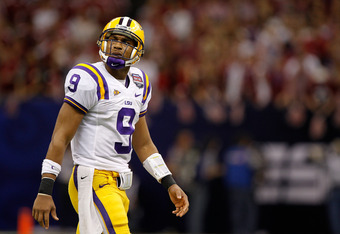 Chris Graythen/Getty Images
RB Joseph Banyard, UTEP
RB Brandon Bolden, Mississippi
RB Daryl Richardson, Abilene Christian
RB Adrian Moore , Arkansas Pine-Bluff/Oklahoma State
FB Jermaine Robertson, Arkansas State
FB/RB Jeremy Stewart, Stanford
WR Rashaad Carter, Tusculum
WR/HB Brandon Bostick, Newberry
WR Darius Reynolds, Iowa State
WR Wes Kemp, Missouri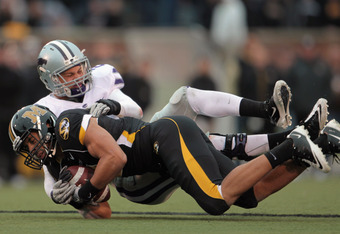 Jamie Squire/Getty Images
WR Toney Clemons, Colorado
TE/DL Taylor Thompson, SMU
TE Tyler Urban, West Virginia
TE Phillip Supernaw, Ouchita Baptist
OC/OG Jaymes Brooks, Virginia Tech
OC/OL Larry Wriedt, West Liberty State
OG Ronald Leary, Memphis
OG Antoine McClain, Clemson
OG/OT Blake DeChristopher, Virginia Tech
OG/OT Kyle Nunn, South Carolina
OL Grant Freeman, Arkansas
OT Landon Walker, Clemson
OT Jermarcus Hardrick, Nebraska
OT James Carmon, Mississippi State
OL Taylor Dever, Notre Dame
Jonathan Daniel/Getty Images
DE Brandon Joiner, Arkansas State
DE/OLB Kendrick Adams, LSU
DE/OLB Jacquies Smith, Missouri
DE/OLB Dezman Moses, Tulane
DT/DE Dorvus Woods, Arkansas State
DT/DE Rennie Moore, Clemson
DT Damon Harrison, William Penn
DT Ishmaa"ily Kitchen, Kent State
OLB Antonio Leak, Henderson State
OLB Danny Trevathan, Kentucky
OLB/DE Aston Whiteside, Abilene Christian
ILB Jake Trantin, William and Mary
ILB Garrick Williams, Texas A&M
OLB Sammy Brown, Houston
CB Jeremy Lane, Northwestern St.
CB/S Corey White, Samford
CB Greg Gatson, Arkansas
CB Coty Sensabaugh, Clemson
S/LB Jerico Nelson, Arkansas
DB Lionel Smith, Texas A&M
S Charles Mitchell, Mississippi State
S Kelcie McCray, Arkansas State
S Tramain Thomas, Arkansas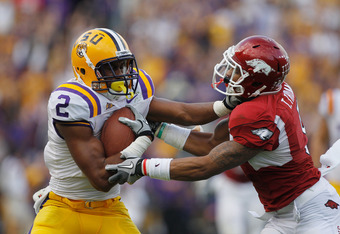 Chris Graythen/Getty Images
S Darius Prelow, UL-Monroe
K Long Ding, Norwich University
P Ryan Tydlacka, Kentucky
LS Sean McGrath, Henderson State
RT/WR Terrance Wilkerson, SMU