Super Bowl MVP Odds: Brady, Manning, Cruz and Gronk Among Favorites
January 31, 2012

Jim Rogash/Getty Images
Amidst the championship celebration, the Super Bowl MVP award will be handed out.
The most likely player to win the Super Bowl MVP is Tom Brady with 7:5 odds, followed by Eli Manning at 9:4, according to bovada.lv.
The least likely players to win MVP? 
All four 75:1 payouts are defensive players: Antrel Rolle, Justin Tuck, Osi Umenyiora and Vince Wilfork.
What about the 100:1 shot-in-the-dark players? There are seven of them, including both kickers and Chad Ochocinco.
Below is the full list of payouts.
Tom Brady pays 7:5 
Eli Manning pays 9:4    
Victor Cruz pays 8:1    
Rob Gronkowski pays 10:1    
Hakeem Nicks pays 12:1
Wes Welker pays 15:1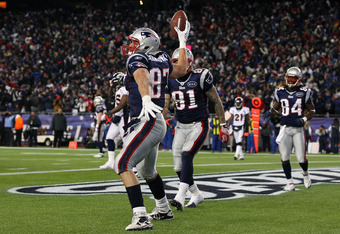 Al Bello/Getty Images
Aaron Hernandez pays 16:1    
Ahmad Bradshaw pays 20:1    
BenJarvus Green-Ellis pays 25:1    
Jason Pierre-Paul pays 25:1    
Mario Manningham pays 35:1   
Brandon Jacobs pays 40:1    
Deion Branch pays 40:1    
Danny Woodhead pays 50:1    
Antrel Rolle pays 75:1    
Justin Tuck pays 75:1    
Osi Umenyiora pays 75:1   
Vince Wilfork pays 75:1    
Chad Ochocinco pays 100:1    
Devin McCourty pays 100:1    
Jake Ballard pays 100:1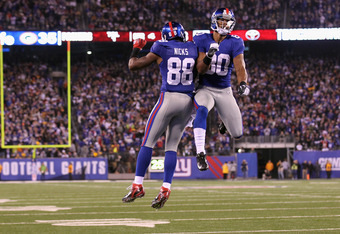 Nick Laham/Getty Images
Jerod Mayo pays 100:1    
Kyle Arrington pays 100:1    
Lawrence Tynes pays 100:1    
Stephen Gostkowski pays 100:1    
Field pays 22:1
If the Giants win the Super Bowl, Cruz will be the MVP. He has the potential to break away from defenders and make spectacular plays. He will be crucial to New York if they win.
If the Patriots win, Brady will pick up his third Super Bowl MVP trophy. He has been the backbone of the offense this season, and with Gronkowski not at full strength, Brady will have to work that much harder.
For other interesting Super Bowl wagers, visit here.