WWE Royal Rumble Shake Up: How Will the WrestleMania 28 Matches Look Now?
January 30, 2012

Last night at WWE's Royal Rumble PPV, we saw a lot of interesting things.
Daniel Bryan held on to his World Heavyweight Title. No one saw that as shocking in any way. Going in, due to both Big Show and Mark Henry being in the match, it seemed too easy to think that Bryan wouldn't slip away with the win.
Kane and John Cena put on seemingly what I call, a story match. It ended in a double count out. The two fought all the way to the back. Zack Ryder happened to be at the arena last night, watching the show in his own private room. Had his name on it and everything.
It just so happened that Cena and Kane ended up fighting just about 15 feet away from the room. Kane knocked out Cena and went for Ryder. He opened the door and choked out Ryder then rolled him out to the ring. There, he did a tombstone to the Long Island Iced Z while Eve watched, unable to stop it.
Cena came out before Kane went after Eve, only to get chokeslammed. Eve got away untouched as Kane left.
This set up a potential big idea for Mania.
CM Punk took on Dolph Ziggler in a match that needed more time. It was really well done and if they didn't have a gimmick with it going in and gave them an extra 10 minutes. This match could of gone down as the best in the last year.
Johnny Ace took himself out of the match ref-wise to be the outside enforcer. The real ref was knocked down at one point and ended up outside the ring. Punk did the anaconda vise with Dolph tapping numerous times and Ace was not getting in the ring to help.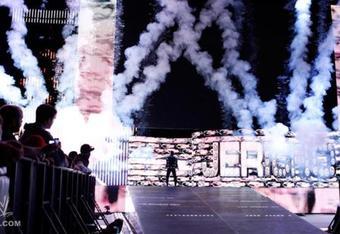 He went to talk to Ace only to have Dolph go after him. Punk then hit the GTS and had at least a 10 count on Ziggler. Still no ref.
Finally the ref was back in the ring sort of all right. Punk went for another GTS and Dolph countered into the Famouser to get a 2 count on Punk. Punk then came back and got the GTS on Ziggler. While the ref was counting, on count 2 Ace jumped in and did the last 2 counts. Really weird ending that had people wondering....what??
But, Punk left as Champ, which not many saw going down.
The Rumble match was good and had some good spots. Especially Kofi's walking handstand move to keep his feet off the ground.
The last two ended up being favorite Chris Jericho vs Sheamus. Going in, everyone thought that Sheamus was going to have a good showing. No one said he was going to get eliminated early and I had him in my top 4. He was in that along with Jericho, who I picked to win.
The two battled for good 5 to 7 minutes until Sheamus got the win. No one saw that coming. If you did and actually believed it, you were lying to yourself.
Mainly because going in, Sheamus was seen as a nice upper mid-card/low main eventer. He was able to be in any field, whether it be for tag titles, secondary, or World. So to me, he didn't need it.
But, there was a chance things could get interesting with this move.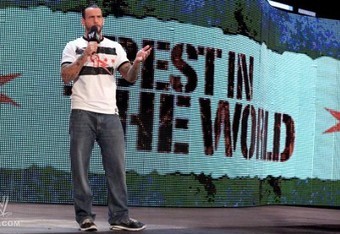 Now, I've made a list for what I think the WrestleMania 28 PPV will feature. I'll explain why things could go this way and how it's possible.
1.) Kharma vs. Beth Phoenix
Seeing Kharma last night means she's back after having her baby. I thought she was back pretty soon after. But seeing as she made her debut before WrestleMania last year, and left before it.
Obviously the nine months passed and she had a month or so off before coming back. This means that she could easily go after Beth's Divas Championship at Mania. Most fans will have no problem with this.
2.) Money in the Bank
There are many who deserve to be in this match, but, I have a list of eight people who'd make sense
Ted DiBiase
Jinder Mahal
Kofi Kingston
Dolph Ziggler
The Miz
R-Truth
Hunico
Alberto Del Rio(if he's back like WWE hopes)
3.) Zack Ryder vs. Kane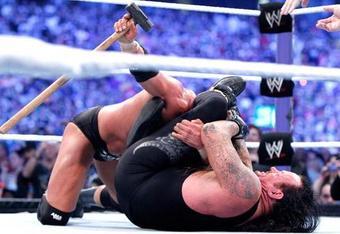 A lot of people see this as weird I'm sure, but think Kane/Cena are the easy rivalry here....for now. But how many times has Kane gone after Ryder? Also, how over is Ryder these days? There would be no reason for him to not have a legit match at the show. Due to this, having Ryder take on Kane would make a lot of sense seeing as Kane has been attacking him a lot.
Ryder could show up around Elimination Chamber time or right after, and attack Kane eventually leading to a match with him at WrestleMania. A gimmick may be added to this match.
4.) Undertaker vs. Triple H
It seems too easy for WWE to NOT do this match. A lot of people think that we've seen this enough and I could not agree more. But, Trips has to have a match apparently. We want to see Undertaker. But, no one will make sense more than Trips for this match.
5.) Wade Barrett vs. Randy Orton
These two have been at each other's throat for months now and due to this, there is no way this rivalry will be squashed any time soon. It'll have to lead up to Mania and be killed off there. Barrett will probably get a big push after this program with Orton, which is good for him.
Orton likes working with him and because of that, Wade will end up possibly getting the best of Orton in the lead up. Then, Orton will win at Mania.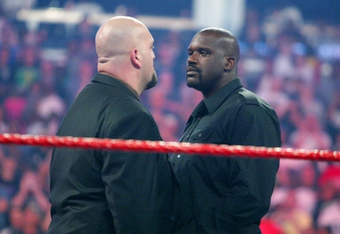 6.) Goldust vs. Cody Rhodes, IC Title Match
We've seen this sort of be started already. There is no reason it cannot come back around. If we're talking real life, Dustin wants to retire soon. He wants that one last match and who better than his brother?
Goldust obviously is a very over character. He can still go in the ring and the promos for both of these men will be good. This match going down would be terrific.
7.) Sheamus vs. Daniel Bryan vs. Christian, World Heavyweight Title Match
With Sheamus winning the Rumble, he is obviously in line to get a chance at a World Title. Since he's on SmackDown, and we've seen Bryan take on Show and Henry already, Sheamus going after the WHC would make sense rather than him going after another face in Punk.
Due to this, I see him challenging Bryan. But, throwing a monkey wrench into all of this. I'm adding Christian. Now, pay close attention. Christian is supposed to be coming back really soon. Could happen this week even.
He'll most likely end up in the Elimination Chamber match. He could easily win the match, becoming World Heavyweight Champion.
Bryan would demand his rematch happen at Mania and that would mean a Triple Threat for the World Heavyweight Championship
8.) Big Show vs Shaq, Celeb Having to be at the Show match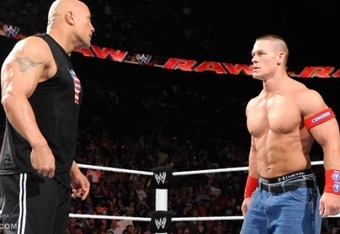 Show has a history with the Big AARP. Due to this, I can see Shaq coming back and doing something to get under Show's skin, costing him a match maybe. This will result in the two taking on each other at Mania. This would give Show yet another memorable Mania moment win or lose.
9.) CM Punk vs Chris Jericho, WWE Title Match
Obviously the biggest rumored match-up would be this one. A lot of people want to see it too, seeing as both could do great promos and both would do real well in the match. Because of this, it's too good to leave off the card. WWE trying to swerve us and do a different match would make a lot of fans pissed.
Why? Because think about it. The story, the match, the overall idea of these two going at it. It's simply so good we cannot go without it. WWE doesn't need to change this just to confuse people. We want this match, why change it WWE?
Most would care less who wins, we just wanna see the match. It could easily happen. If Sheamus goes after the WHC, then the WWE Title is open.
For this to be certain, Jericho has to win at EC in the WWE Title Chamber match, where Punk could get his rematch. But, I'm sure WWE would rather have Punk retain and then have Jericho do something ending up in Punk wanting Y2J at the Grandest Stage of them all!
10. John Cena vs. The Rock
This is the obvious one. It's been setting up all year, so everyone knows it'll happen. But, will it be at big as Hogan/Rock 10 years ago? I don't see this being for the WWE Title of course, because it doesn't need the title to be good. Rock/Hogan didn't need a title, so neither does this one.
I for one think Rock will win. But, that would only be if Cena is a heel. If he is not, Cena will win this match despite it being in Rock's hometown. Cena is the one who wrestles day in and day out, he's been around for around nine years now. Rock has come back just last year and did one match, ONE. Before that, his last LIVE time in WWE was over seven years before.
Cena losing would be too preplanned. Everyone knows Cena at this point, has more ring experience. He's been in WWE longer than Rock has in his stint, plus he's still there every week. He's too loose and ready to go for a guy who barely wrestles, to come in and beat him, no matter who it is.
This seems to be the way things could go down at WrestleMania 28 in my mind. But, where would you go with this show? What matches would you want on the show? Leave your comments below!