New York Giants: Why Tom Coughlin Should Retire If Giants Win Super Bowl XLVI
January 26, 2012

Jamie Squire/Getty Images
The Giants are less than two weeks away from their anticipated re-match with the New England Patriots in Super Bowl XLVI.
The build up for the game has been monumental because their historic battle in Super Bowl XLII is one people still talk about four years later.
The 18-1 season. The escape. The helmet-catch. Eli to Burress. The upset.
And now, the re-match.
Four years ago, the Giants were the heavy underdogs that nobody gave a chance to knock off the undefeated Patriots.
Four years later, the Giants are an overall better team that can strike fear into the Patriots' hearts because in New England—they know the Giants can beat them.
And lets say the Giants do beat the Patriots in Super Bowl XLVI, and win their fourth Super Bowl since 1987 and their second in four years.
What would that mean for certain people?
For Eli Manning, it would cement his legacy in New York. Nobody would ever question his elite status ever again—having not one, but two Super Bowl trophies to his name.
And for Head Coach Tom Coughlin, it would put him on the status of Bill Parcells—as legendary Giants' coaches who won multiple Super Bowls with the team.
Coughlin, now in his eighth season with the Giants, has done a great job since taking the job in January of 2004.
Numerous media outlets and many fans have called for his head and demanded he be fired several times.
Like, after an 8-8 season in 2006 and a first-round loss to the Eagles, Coughlin had to meet with Owner John Mara to explain why he should keep his job—considering his players were openly complaining about his coaching style and methods.
He got to keep his job and then followed that with winning the Super Bowl in 2007.
In 2009 and 2010, the team suffered December collapses and failed to make the playoffs. In 2011, many expected that Coughlin would get canned and demanded it when the team was at 6-6 and 7-7.
He followed that by finishing 9-7, winning the NFC East and defeated in succession the Falcons, Packers and 49ers en route to Super Bowl XLVI.
Coughlin somehow always finds ways to escape getting fired. Whether it's him motivating his players or just being at the right place at the right time—it has worked out for him.
And in less than two weeks, if the Giants win Super Bowl XLVI, he will have put his stamp as a legendary coach in New York sports.
Mike Keenan. Bill Parcells. Joe Torre. Casey Stengel. Pat Riley. Red Holzman. Coughlin would be right there with them.
And with a second ring, it could enhance his chances for a bid into the NFL Hall of Fame in Canton as well.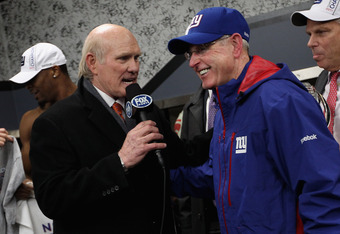 Ezra Shaw/Getty Images
And with a second ring, I also think it would be the perfect end to a historic coaching career for Coughlin.
It seems like for the last eight years, everyone and their brother have been trying to kick Coughlin out of here—yet it has never happened.
By winning a second championship, he can have the chance to walk away and leave the game on top—something coaches hardly ever get to do.
At 65, Coughlin would really have nothing left to prove in the NFL. He has already shown that he is a winner wherever he goes.
First at Boston College, then with the Jacksonville Jaguars and now the Giants.
Now, we did see from CBSSports.com Pete Prisco's blog that Coughlin sounded like he wasn't ready to retire after the Super Bowl because of his passion for the game.
Sure. He says this now right after winning the NFC Championship and game-planning for the Super Bowl.
But what about when the season ends?
When the victory parade is over?
And the visit to Barack Obama?
Does he want to ever wonder if New York is going to fire him again?
Or, would he rather walk away on top, a legend, a hero, and a King of New York.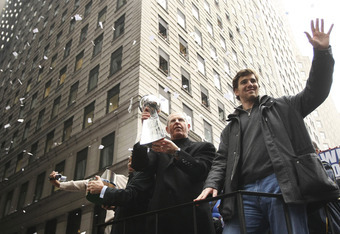 Chris McGrath/Getty Images
Like I said, he is 65 years old after all, and will be 66 years old if he were to return in 2012. Usually that is the age where coaches tend to start walking away from the game.
Plus, Coughlin has his family that includes 10 grandchildren. I'm pretty sure the Coughlin family would like to see Grandpa more often when he isn't getting up at 4 a.m. to prepare for another game.
I know Coughlin still loves the game. And nobody is pining for him to get canned anymore. Not after this season and what he' has done to get the Giants back to the Super Bowl.
But I think the perfect ending for Coughlin's illustrious career would be a second-Super Bowl win. Then ride off into the sunset.
John Elway got to do it after 1998. So did Jerome Bettis after 2005. And even Coughlin's own Michael Strahan did as well after 2007.
I guess time will only tell. In two weeks time, we'll see how Coughlin is feeling after the Super Bowl.
Stay tuned.