'Legends of the Hall 2012' Review: Autographs of Williams, DiMaggio and Mantle
January 23, 2012

The Historic Autograph Company struggled to break into the baseball card and memorabilia market when it launched two years ago. Now, with a little traction on its side and a brand that is being more and more established by the week, things are looking up for the Philadelphia-based business.
On Jan. 27, the company launches "Legends of the Hall 2012." It's a high-end product featuring 142 players and just 4,000 cards across one of four different oversized card designs.
To clarify, that's not 4,000 cards of each design of each player. It is not even 4,000 cards of each player. The entire series is made up of 4,000 cards in total. There are no more than 100 cards of any one player, and many of the cards—19 in total—are actually one-of-ones.
The other 123 cards are eligible for inclusion in the PSA set registry.
So what makes them special and why should you invest your money (roughly $90 for a box containing one card) in this product when there are so many brands competing for your dollars as Opening Day approaches?
There are several reasons, actually. To start, every single card features a Hall of Famer and every single card is autographed. In addition, each autograph is PSA/DNA graded, and the uncut card—along with a specially-designed art deco border—is encapsulated and authenticated.
The fact that it's not a "cut" signature makes this an absolutely gorgeous product.
Many of the big names that you would expect to find are there, including Hank Aaron, Ted Williams, Joe DiMaggio, Willie Mays, Jackie Robinson and Mickey Mantle. There's also Duke Snider, Cal Ripken and Yogi Berra as well as fan favorites such as Ernie Banks, Rollie Fingers and Whitey Ford.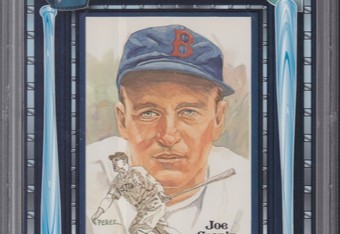 For the collector who remembers the glory days of the '50s and '60s, the likes of Bob Feller, Elmer Flick, Lefty Grove and Gabby Hartnett also make an appearance.
Around 80 percent of the cards were signed exclusively for use in this product, with the other 20 percent being sourced from private collectors and sports auctions with the express intention of being repurposed for this product.
The 4,000 cards are distributed through 400 cases. Each case contains 10 boxes and each box contains one card. There's also guaranteed to be at least one Perez-Steele card per case, although many cases do in fact have two or more.
Last year, Historic Autographs released 500 cases. The idea behind a smaller product this year was to ensure the cards that were out there held their value better. Owner Kevin Heffner did not want to saturate the market with the cards, and that alone is a reason why he has decided this product will not be released again in 2013.
In addition, one case out of every eight is a 'Hot Case' where each of the 10 boxes in that case are guaranteed to feature a card that has a signature which has been graded by PSA as a 10. One in every 50 cases is a 'Ultra Hot Case' and that includes 10 Perez-Steele cards each graded a 10 with at least one DiMaggio, Mantle or Williams.
To put that into perspective, a Mickey Mantle card with a signature graded as an eight—still a gorgeous card by the way—is worth around $500. The same card with a signature graded a perfect 10 is worth at least twice that.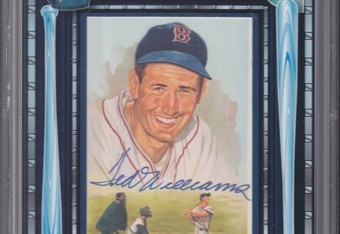 For completeness, the Perez-Steele cards come at a rate of one per seven boxes, and the black and white HoF plaque cards come at a rate of one per 220 boxes.
Last year's product also featured 'Hot Cases', but only one-in-25 cases had this distinction.
Content
There are two main types of cards, each with two variations. There are the Hall of Fame plaque postcards and the Perez-Steele cards. Within the HoF plaque cards are the older black and white designs and the newer gold cards. The Perez-Steele cards are divided between the cards from the original series and the rarer 'Celebration' cards.
Unlike some companies which cut out the signatures from the original place where they were signed, every card in this series is un-cut. Heffner, who established the company back in 2010, called the postcards, "art pieces in their own right" and said it was a "travesty" to cut them up just for the autograph. "Why ruin something to try and create something? Utilize the piece itself," he said.
Some players are featured on just one type of card, for example Roberto Alomar is only available on the gold plaque, and just one Hall of Famer, Charlie Gehringer, is featured on all four. Almost two-thirds of the players (90 of 142) are featured on at least two cards.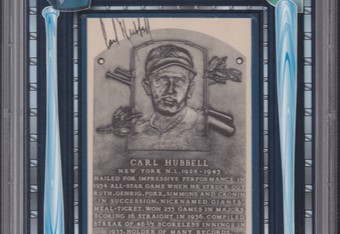 Hall of Fame Plaque Cards
This year's product sees 13 players represented on the black and white postcards, which were issued by Albertype and Artvue companies between 1945 and 1955. Every player depicted on these 13 cards is deceased (Bob Feller was the last to pass away in 2010), making these autographed cards even more valuable considering their finite numbers.
In the 2011 edition of the product, only nine players were featured on these black and white postcards, and Historic Autographs made a concerted effort to include more of these cards—several of which are one-of-ones—in this year's edition.
The gold plaque postcards are what you will see if you visit Cooperstown today. They have been issued—unsigned, of course—since 1964.
There are 138 players featured among the gold Hall of Fame plaque cards in the "Legends of the Hall" product this year, including 2011 inductees Roberto Alomar and Bert Blyleven. Their autographed plaque cards were available via special redemption cards in last year's product, but are included as standard in the latest release.
Perez-Steele Cards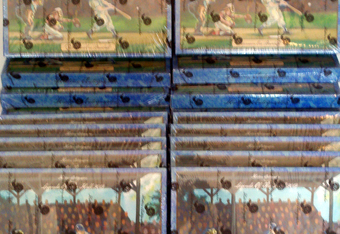 Artists Dick Perez and Frank Steele produced their original postcard series for 15 years between the early '80s and 1998. They made artwork of players and released around 230 different player cards in sets as low as five and as high as 30. Each player's card was sequentially numbered from one to 10,000.
Many collectors kept the cards as part of the set, making it difficult to find individual cards. Of those that are available individually, even a smaller number have been autographed.
There are 88 different players in the "2012 Legends of the Hall" product, down from 102 last year.
However, one of the biggest improvements in this year's product over 2011 is the inclusion of the Perez-Steele 'Celebration' postcards.
To cut a long story short, collectors liked getting the original Perez-Steele cards signed by the players they depicted. But when they first came out they featured players such as Babe Ruth, Ty Cobb, Roberto Clemente and Walter Johnson, who had already passed.
Because of this—and in response to the high demand for the cards in general—Perez-Steele released a small 44-card set in 1989 featuring the legends of the game who were all still alive. The thinking behind this was that it would afford autograph seekers the opportunity to get every card in the set signed.
The Perez-Steele cards are the more highly sought after cards in this product. To this end, the Historic Autograph Company wanted to include more of these cards this year, despite the smaller run.
In 2011, there were 500 Perez-Steele cards in the 5,000-card total. This year there are 750 Perez-Steele cards (between the original version and the 'Celebration' series) in the 4,000-card total.
The Pros
There's no other product out there that features Hall of Famers exclusively. Yes, there are companies that include HoFers and yes, there are companies that even include autographs from Hall of Famers, but nothing on the shelf competes directly with this. The un-cut card is unique to this product. Sure, Upper Deck gives you the chance to pull an autograph of a Hall of Famer in the SP Legendary Cuts Baseball set, but it's a very different item to a full, un-cut postcard.
The card is beautifully framed with a nondestructive border—a cobalt blue 1930's art deco design instead of the pastural greens and golds from first product—and the PSA/DNA authentication adds instant value to an already impressive card.
The box that the card comes in is a piece of art in itself, focusing on baseball in the 1930s, the decade when the first Hall of Fame class was inducted. The story on the inside of the box lid ties in the themes of baseball in the Great Depression and the current recession. Last year's product showed a game of baseball at the turn of the century and told a short history of the sport, from the fictional tales of Doubleday to the real story of its evolution.
The box looks great, but I'm not going to be displaying the card in the box. It adds a lot to the perception of the quality of the product, but it doesn't add that much extra value for me.
The inclusion of the Perez-Steele Celebration cards is a fantastic touch from last spring, and the word from the company is that there are even more cards of guys like Mantle.
Cards of Elmer Flick or Richie Ashburn might not seem that desirable for young collectors who grew up in a world where Internet access and cell phones are taken for granted, but remember that each player died within months of their cards being produced. There was very little time for collectors to get their autographs on these products and, as a result, the Ashburn Perez-Steele card for example is worth more than $1,000.
The 2012 product is very similar in concept to last year's release, but it does differ enough in design and content—because of more desirable collectibles—to make it worthwhile.
The Cons
As with any brand, some cards are more desirable than others. This is no different with Legends of the Hall, where there are different 'tiers' of players. Not all Hall of Famers are equal.
With that in mind, some collectors may be disappointed to pull the card of a lesser-known name. While the cards also go through quality control, it is still possible to pull cards that have signatures graded as sevens or eights, too. Get a gold Hall of Fame plaque card of, say, Bill Dickey with an autograph graded a seven, and you may feel like you didn't get value for money from the $90-a-pop product.
Likewise, some fans might be upset with getting a card of Buck Leonard—a Negro Leaguer inducted into the Hall in 1972—or Bucky Harris—elected as a manager by the Veterans Committee in 1975.
But isn't that risk inherent with any brand and any series from any sport? It's just more exaggerated here when you only get the one card. If you're unhappy with it, there's nothing else in the box to redeem it.
Other downsides are that some of the players featured last year are absent from this year's product. There's not too many, admittedly, but if you do remember the Cy Young or Tommy Lasorda cards from the 2011 version, they are not here this time around.
Conclusion
If you want an autographed gold Hall of Fame plaque card of your favorite player, there's a decent chance you can pick one up online or at a sports auction for less than the price of a box of "Legends of the Hall 2012" where, naturally, you have no say about what card you pull.
But if you want a black and white plaque card, even of a lesser-known Hall of Famer, you would have to spend at least three times the cost of a single box. And that is without factoring the the PSA/DNA authentication and grading, which could increase the value of the card by 50 percent or more.
A Cy Young plaque card on eBay—authenticated, but not by PSA—has a starting bid price of $2,500, and the top pull from the 2012 product—a rare Joe Cronin—is estimated to be worth more than $3,500.
In the same vein, an autographed Perez-Steele card could be obtained on eBay for $30 or $40, but expect to pay $300 or $400 for a regular Mickey Mantle, and many times more than that for a mint card.
Unopened boxes of last year's cards have already increased by around 30 percent in the 12 months since their release, and the smaller number of cases hitting the market this year will likely make this product even more valuable down the road.
Simply put, these cards were made by a collector for a collector. The nature of the product makes it impossible to complete, but people can have fun trying to finish the 123 cards in the PSA set registry.
Just for the chance to pull a graded Mantle or a Williams makes this a product worth investing in. Having the ability to buy one card without having to purchase an entire case (almost $900) means it is still within the price range of most collectors, and while it won't necessarily appeal to everyone, it is a product I would recommend.
Historic Autographs isn't necessarily in a position to compete with Topps, Upper Deck, Bowman or other mass-producing industry leaders right now, but that's OK. They are continuing to produce unique, high-end items and that will only help the brand going forward.
Ash Marshall is a Featured Columnist for Bleacher Report. Unless otherwise noted, all quotes were obtained first-hand.