NFL Playoffs 2012: How Broncos vs. Patriots Unfolds, Who Wins, Why It Matters
January 11, 2012
In the days leading up to New England's Week 15 battle with Denver, Patriots fans were nervous. Not all of us came out and said it, but there was a very real fear beneath the surface. 
As is always the case, the fear came from not knowing what lurked in the darkness. Even the most adamant Tim Tebow doubters had a nagging suspicion he had a heroic performance inside him, and we feared the Patriots would be the test monkey in this great experiment.
But as it turned out, the Steelers were the test monkey.
In a way, Tebow's magical performance last weekend was liberating for Patriots fans. Now we know the scope of Tebow's potential. At long last, we know our opponent.
Instead of living in fear, wondering if Saturday is the night Tebow suddenly throws 316 yards in a dramatic out-of-the-blue victory, now it's old news. It's out of our system. Now, both teams can go out on Saturday and just play football. May the better team win.
Tebow set the bar extremely high against the Steelers. The Broncos can't find solace in their underdog status, because they're not underdogs. They're on everyone's radar. The Broncos aren't sneaking up on anyone now. Tebow's amazing performance revealed the depth of the pool. Now we can dive in.  
Here's how the game will play out.
Tebow's confidence in his arm is riding high, and he wants to continue the momentum of the Steelers game. He comes out slinging the ball. New England's defense will not allow a single catch to be made on Denver's opening possession.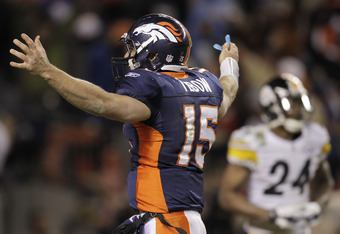 New England's defense has taken Denver's receivers out of the game. The Patriots have manipulated Denver's coaches into doubting their quarterback's ability to win with his arm. Head coach John Fox and offensive coordinator Mike McCoy convince Tebow to return to the faithful run game.
Tebow is forced to spend the first half handing it off or running the ball himself. The consequence of this is that it shows his wide receivers that their services aren't needed. They will get frustrated.
Tebow runs in a touchdown to end the second quarter. The Patriots have a 17-7 lead at halftime.
In the third quarter, Tebow will try to get the throwing game on its feet. But again, New England's defense won't allow it. At this point, Tebow's receivers have stopped being frustrated and now they're uninterested. They've mentally checked out of the game. 
Then, in the fourth quarter, Tebow's greatest fear will show itself.
What Tebow fears most is letting down his team and his fans. This man does not care about money or fame. He cares about people.
He revealed this aspect of himself in college after losing to Ole Miss. His famous speech after the loss explained just how painful it is for him to see his teammates deal with defeat.
Tebow's fans look up to him for the things he does on and off the field. In that respect, he's a rarity. His fans truly love him, and he truly love his fans. He will do anything to come through for them. 
After three quarters of being forced to run the ball, Tebow realizes running won't beat the Patriots. The one thing he can't stomach is seeing his teammates walk off the field with their heads down.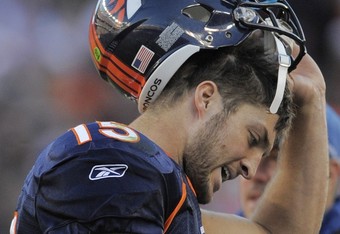 He uplifts his guys on the sideline. He completely reinvigorates them and motivates them to go out and win the game. 
It's midway through the fourth quarter and the Broncos are down by two touchdowns. Tebow throws a long strike for a 70-yard touchdown.
The Broncos celebrate. It looks as if New England's entire defensive scheme is collapsing. More importantly, it looks like Tebow Time is back.
Brady takes the field, looking to put the Patriots up by two scores with less than four minutes left. He goes three-and-out.
Tebow takes the field with a chance to tie the game. Three minutes left. He advances the ball past the 50-yard line. Denver's momentum is building.
But Tebow is concerned about letting his teammates down. There's less than two minutes left. He starts getting that fear again that the run game won't be enough, even though there's plenty of time to complete this drive. 
He throws a sharp ball to the end zone, but his receiver is smothered and it's a throw that was far too dangerous to attempt. It's intercepted. 
Patriots escape with a seven-point win.
This entire plan rests on the shoulders of New England's defense. That's how it should be. This isn't a call for Tom Brady. Let Brady go drive-for-drive with Aaron Rodgers or Drew Brees. Saturday is a call to arms for the defense.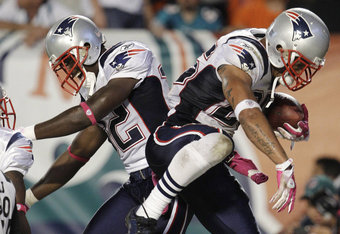 On Saturday, we find out what this Patriots team is made of. For the defense to win this game means everything. 
It would prove that the New England Patriots are not satisfied with where they're at. It would prove that the people in this organization cared about the loss of Super Bowl XLII the way Tebow cared about the loss to Ole Miss.
It would prove that the time between 2007 and 2012 hasn't been for nothing, and that progress was made.
This game on Saturday isn't the Super Bowl, but it's still important to a lot of people. This playoff drought has hung heavy on the hearts and minds of Patriots Nation. We need the Patriots defense to go win this game.
It'll prove that we haven't been hanging our dreams on a dream.