How the Sandusky Scandal Has Changed Youth Sports in America Forever
January 6, 2012
A little over two months ago, the sporting world was shocked when former Penn State defensive coordinator Jerry Sandusky was accused of 40 counts of sex crimes against young boys. 
"This is horrible" was the first thought on my and sports fans' minds alike when the alleged incident was revealed. The thought of so many young men growing up scarred because of one man. I sat at my TV, in stunned silence. The news was burning up across the sporting world. PSU had become the center of attention.
Seeing as many readers and myself included would prefer not having to retell and relive the horrors committed by Sandusky, I will not. If you require more information about the legal status of his case and the chain of events following the allegations, click here. 
The university was in turmoil. Both PSU football coach of 46 years Joe Paterno and the university president, Graham Spanier, were on the hot seat. Allegations arose that Paterno and Spanier knew about Sandusky and did not report it to the police. Both men were fired in dishonor. 
While Paterno performed his legal obligation by reporting it to his superiors, his moral obligation was left unfulfilled. He stated that he wished he could have done more to protect the children that were left under Sandusky's supervision. He could have put a stop to this earlier. He could have saved lives from being ruined and brought the alleged perpetrator to justice.
While Paterno may not be to blame for everything, seeing as he is not the one to commit the crime. Yet he played a big role in it. If he, and I can not stress this enough, had reported the incident to the police when the smallest signs of a child sexual abuse scandal was occurring, he would have saved lives. Maybe the boys are still alive. But they will never be the same. No sane person can ever come back and just "forget" something as horrible as what Sandusky allegedly did.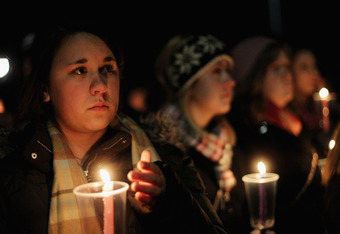 Mario Tama/Getty Images
The aftermath of the Sandusky scandal, youth sport teams, league and players across America have yet another thing to worry about during practices and games. Not "Can I hit a home run?" or "Will I start today?" but "Can I trust my coach?"
Parents of the children may pull them out, eliminating sports from their life, which is a crime bigger than most realize. Without sports, children not only stop exercising, they lose the benefits of working as a team.
Not only will this be troubling for parents and athletes, but for coaches. Almost every youth sports coach in the country is perfectly normal and is there to coach, nothing more. Yet with the recent scandal, coaches will be forced to be even more careful. With suspicious parents watching them out of the corner of their eye, ready to report a pedophile at any moment, the elimination of the high-five or a congratulatory tap on the shoulder may be imminent. How will gestures of encouragement be perceived by watchful parents and colleagues?
The one-on-one workout sessions will be eliminated. The prospect of just a coach and a player working on something as simple as dribbling skills alone in a gym will give any parent the chills.
Old coaching and practice session memories you may have when you were learning to dribble or catch a ball with the coach will be just a figment of the imagination for the new generation. No longer will coaches be looked upon as friendly people who could be part of the family.
The Sandusky scandal has shown a new light on youth sports in America. "Can I trust my coach?" is a question no parent or athlete wants to have to answer.
Yet now, it may have to be the first thing they ask themselves.