NBA Trade Deadline: Atlanta Hawks Should Make Play for Amar'e Stoudamire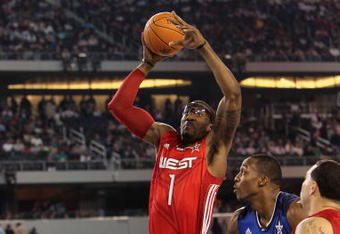 Jed Jacobsohn/Getty Images
With the NBA Trade Deadline rapidly approaching, the Atlanta Hawks seem to be content to sit on the sidelines and go with their current roster for the rest of the 2010 season.
However, the Hawks should make a major move and trade for Amare Stoudemire. There is a risk, but the reward could be a spot in the NBA Finals this season.
Tonight, the Cleveland Cavaliers gave up on their pursuit of Stoudemire and traded for Washington Wizards forward Antawn Jamison. The only suitor left for Stoudemire appears to be Pat Riley and the Miami Heat. The Hawks have less than a day to swoop in and snatch Stoudemire from the Suns.
What will it take to make this deal happen? The Hawks can trade Josh Smith and Maurice Evans to the Suns for Stoudemire. Yes, J-Smoove has proved everyone wrong this season. He is playing at an All-Star level and he has a very manageable and fair contract. The fact is J-Smoove's value has never been higher. The Suns wanted JJ Hickson—they would surely take Smith.
Mo Evans has been one of my favorite players since GM Rick Sund signed him in August before last season. However, Evans' attitude seems to have taken a hit with his diminishing minutes. You can't blame him for that, but moving Evans would give more minutes to Marvin Williams.
Williams' lack of production and confidence on the offensive end might improve with one less small forward in the rotation mix. Once again, many fans undervalue Williams' importance on the defensive end of the floor for the Hawks.
With Stoudemire, the Hawks have a legitimate shot to win the Eastern Conference this season. Without Stoudemire, the Hawks will win a playoff series, but they do not have an inside scoring presence to move past Orlando or Cleveland.
Stoudemire provides the easy offense that the Hawks need. A Stoudemire/Jamal Crawford high screen and roll is a devastating weapon in the playoffs where the halfcourt game is vital to your success.
The naysayers and pessimists complain about the possibilities that this deal will blow up in the Hawks' face. Stoudemire has a player option for next year at $17 million which is a huge cap figure, but he would come off the books in 2011. His expiring contract could be used next season as a trade chip.
If Stoudemire opts out of the contract this summer, the Hawks free up a ton of salary without having to give up a draft pick or have their hands tied. Financial flexibility is paramount for an NBA franchise in the face of a new labor agreement in 18 months.
Would this hurt the Hawks' depth? Probably, but remember in the playoffs the rotation is going to shorten to eight guys anyway, because of the extra days off. Starters will play major minutes in the playoffs.
This trade also allows Al Horford to move to the power forward position (which is his natural position no matter how much Sund and others want to make him a center).
The Hawks eight man rotation for the playoffs would be formidable. Bibby, Joe Johnson, Marvin, Horford, and Stoudemire would start with Crawford, Zaza, and Joe Smith coming off the bench. Coach Mike Woodson would have a ton of line-up flexibility.
The Hawks are facing a ton of uncertainty with Joe Johnson possibly leaving this summer, but at worst they probably can convince JJ to do a sign-and-trade. At least they will get something for him. If its the Bulls, maybe they can land two solid players.
Acquiring Stoudemire makes sense. Sund can make a bold move for this franchise and make a run at an Eastern Conference title. That opportunity does not come around very often in the NBA where you need a Kobe, Lebron, or Wade to get you a championship. Amare probably pays for himself in the increased attendance this season and the extra playoff home games if the Hawks can win a second playoff series.
This article is
What is the duplicate article?
Why is this article offensive?
Where is this article plagiarized from?
Why is this article poorly edited?

Atlanta Hawks: Like this team?