FC Barcelona: 7 Reasons Why This Could Be the Best Barcelona Team Ever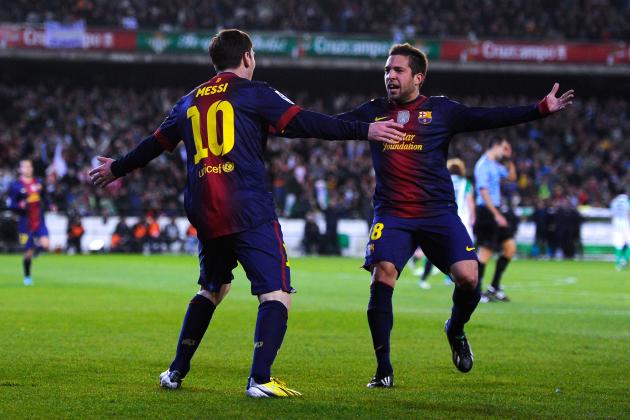 David Ramos/Getty Images

FC Barcelona is a historic club full of success throughout its existence. And while it is always difficult to gauge the greatest of all time, this season's team is making a case for the best Barcelona side in history.
The Barcelona of recent years has been stellar as Pep Guardiola led La Blaugrana to 14 championships.
But now with Tito Vilanova in charge, it is beginning to look like the club is actually getting even better. While it is hard to argue with results to this point, trophies must come this season.
The club has a lot of work left to do, but all signs point to a possible treble come May.
In this slideshow we will take a look at the seven reasons why this side could become the greatest Barcelona team of all time.
Begin Slideshow

»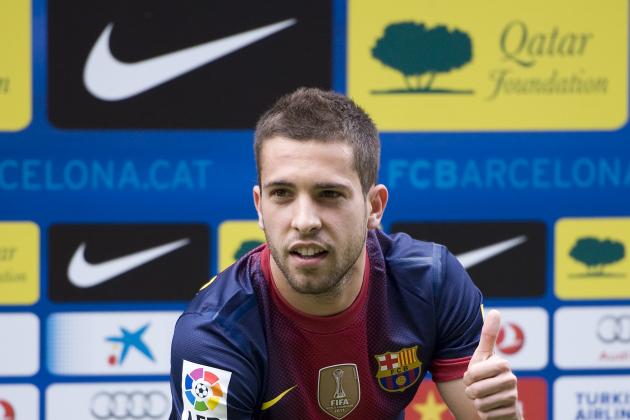 David Ramos/Getty Images

There is no denying it; Jordi Alba has been one of the best signings in recent Barcelona seasons. His impact has already changed some of the team dynamic and immediately made the side stronger.
When La Blaugrana bought Jordi Alba this summer, it was clear that the club was purchasing the current and future replacement for Eric Abidal (via Goal).
However, not only has Alba become a fitting replacement, he has completely added a new dimension to the Barcelona style of play.
It is no secret that this Barcelona is finding ways to beat the defenses that park the bus, but not many look to Alba as one of the reasons why.
The 23-year-old's pace on the left flank and connection with Andres Iniesta has caused opponents to play a more traditional defense. This is allowing for more attacking power and play from the wings.
Alba has also brought more speed to the defense that has helped in stopping the counterattack that so many opponents rely on against La Blaugrana.
Clearly what we are witnessing is a new Barcelona legend in the making.
David Ramos/Getty Images

While Cesc Fàbregas suffered a terrible first year at his boyhood club, the Catalan promised to show his true form this season and has certainly delivered (via ESPN).
We may never know what caused his slump last season, whether it be playing in multiple positions or just a difficult transition. But we do know that Cesc has now secured his position at Barcelona.
Fàbregas is flourishing in the attacking midfielder role in a hybrid of Xavi and Iniesta.
The 25-year-old is playing the best football of his career as he leads La Liga with nine assists, which is already more than his total from the previous campaign. He has also found his scoring role for the club as evidenced by his five goals in domestic play.
With his coming of form, Iniesta has been able to freely operate on the wing, making the Barcelona attack even deadlier.
In fact, the argument can be made that Cesc Fàbregas is currently the best midfielder in the world. No doubt he is making Barcelona an even better team.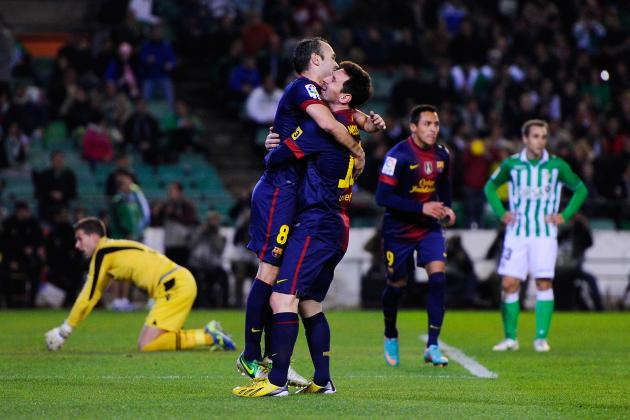 David Ramos/Getty Images

It is a shocking statement to claim that two finalists for this year's Ballon d' Or are in fact getting better, yet this is exactly what is happening (via fcbarcelona).
Let us not forget that Lionel Messi is only 25 years old. The Argentine is just now entering his prime, which is scary to think about. He continues to score more goals, as we have seen with this record-breaking year (via ESPN).
It is very simple to say that the better Lionel Messi gets, the better Barcelona becomes. The current season has seen Messi become even more dominant, and the remainder of the campaign will only get better for Messi.
But, Messi is not the only Barcelona star improving.
Andres Iniesta is enjoying what may be the greatest season of his career.
Iniesta began the season by winning the UEFA best player award and has shown the most outstanding form ever seen from the 28-year-old (via Goal).
Having moved to the left wing, Iniesta has grown into a more consistent goal-scoring threat. And to add to his new nose for goal, the Spaniard is also creating more chances for his teammates to score.
Thanks to the improving Messi and Iniesta, the Barcelona attack has become the most potent and deadly fans have ever seen.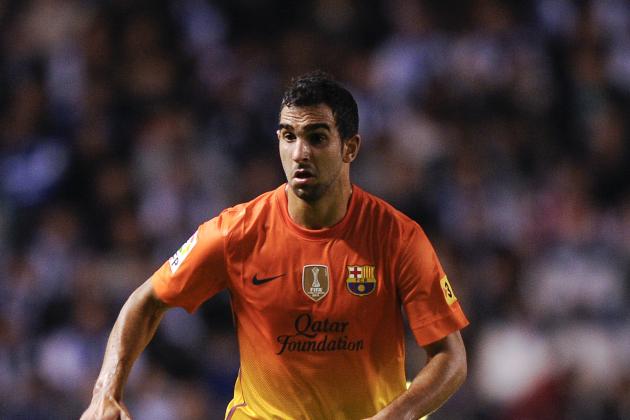 David Ramos/Getty Images

Barcelona has enjoyed great success due to their world-famous La Masia academy. But, this may be one of the best years for youth involvement in the first team.
Young stars such as Martin Montoya, Thiago and Cristian Tello are all stepping up in a huge way, making La Blaugrana better than ever.
The recent play of Montoya has led Francesc Tomas of ESPN to claim that Montoya can replace the great Dani Alves at Barcelona (via ESPN). It is hard to argue with the stunning form the right-back is showing as he is clearly the future holder of that starting position.
Thiago has stepped up immensely, but we should not be surprised.
The 21-year-old has shown this season that he is already prepared to take over as the heir of Xavi. Just watching Thiago play reminds fans of the Catalan legend while the young midfielder already possesses poise beyond his years.
Lastly, Cristian Tello may very well be the best winger at Barcelona. While the likes of Alexis Sanchez and Pedro continue to struggle, Tello has become a consistent scoring threat due to his speed and ability to beat most defenders.
The greatness that is being shown gives La Blaugrana more options. But, the veterans of the club are now being pushed by the upcoming stars making them work even harder.
With the greats of Barcelona now having competition within the team, we can expect everyone to be playing his absolute best to retain his role for the club.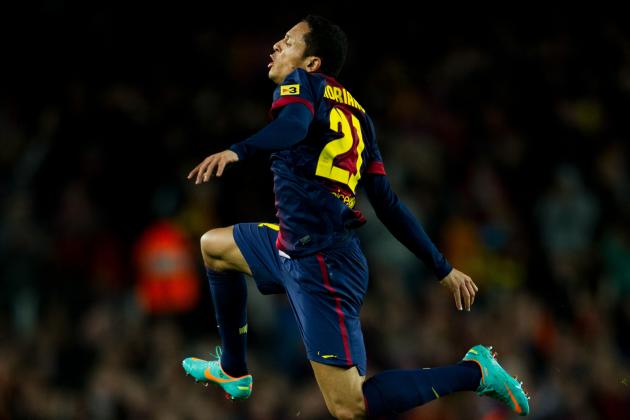 Jasper Juinen/Getty Images

Every great team needs its non-stars to perform, and those at Barcelona certainly are.
Very few clubs can boast that they have world-class players coming off their bench. But for Barcelona, that happens every game. Most of the players that begin the game on the bench would be starters at other clubs.
Adriano has become an instant star due to his goal-scoring ability from defense as well as his ability to cover multiple positions. A performer like this is a pure luxury for a club like Barcelona.
However, David Villa has become a supersub for La Blaugrana by coming on late to provide extra energy. This coupled with the youth mentioned in the last slide only gives La Blaugrana coverage at every single position.
Role players such as Javier Mascherano and Alex Song are capable of doing exactly what is asked of them for any given game. Every club needs those hard-working performers who do the dirty work and do not seek the limelight.
With all of their non-stars having big years so far, Barcelona is as deep as ever with roles equally spread out in the team.
Victor Fraile/Getty Images

When the current campaign comes to a close and greatness is being discussed, record breaking will be greatly emphasized. And breaking records seems to be what Barcelona does best.
One of the biggest records recently broken by Barcelona is that of best ever start to a La Liga season (via fcbarcelona).
The current Catalan side has gone undefeated in domestic play and there is no telling how long the club can keep the run going.
With such domination in Spain, it is hard not to consider this the greatest team in La Liga history, not to mention in Barcelona history.
But history should not end there.
La Blaugrana are on course to shatter the record for most points in a La Liga season that stands at 100. Securing 49 points through only 17 games easily shows Barcelona's capability of setting a new record.
If the Catalan giants go on to extend their unbeaten streak to an unbelievable number, it will be talked about for years to come. These kinds of records are just the sort of things listed when discussing the all-time greats.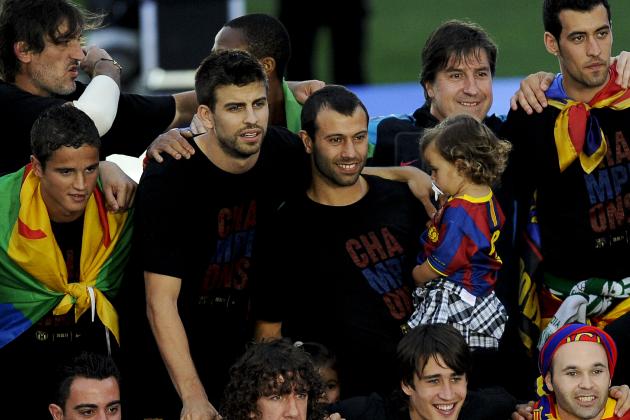 David Ramos/Getty Images

To be considered the greatest of all time, trophies must be won. Luckily, this Barcelona team is in a great position to possibly win the treble.
It has already been mentioned that La Liga is firmly in Barcelona's grasp, and you can also read my article on why Barcelona has already won it. But, La Blaugrana also won their Champions League group and are soaring in the Copa del Rey.
The Catalan giants are favorites in both tournaments and if they succeed in securing the treble, it will be very difficult to not give them the title of "best team ever."
But we are not talking as if Barcelona can only win the treble due to luck. In fact, the treble is a real possibility.
With the form shown this season and all factors listed in previous slides, there is no way this side will not compete for a three-trophy season.
It must be admitted that this Barcelona team has a long way to go before we can call them the greatest ever. But with everything that has happened thus far, winning the treble would all but seal the deal.
The second half of the season will prove to be a very exciting, yet increasingly difficult time. La Blaugrana has a lot to prove to the world and to itself. But the club possesses everything needed to end the season as the greatest Barcelona side in history.
So can this season's Barcelona finish as the greatest of all time? Will they falter in the hunt for the treble? Or will this season simply go down as a great one, but not the best? Don't forget to leave your comments below!
Tre' Atkinson, The Catalan Blood of Bleacher Report. Follow @TreAtkinson
You can also check out my latest articles here:
Why Barcelona has already won La Liga
Grading Tito Vilanova's first season so far