Report Card Grades for Every New York Giants Rookie Through Preseason Week 2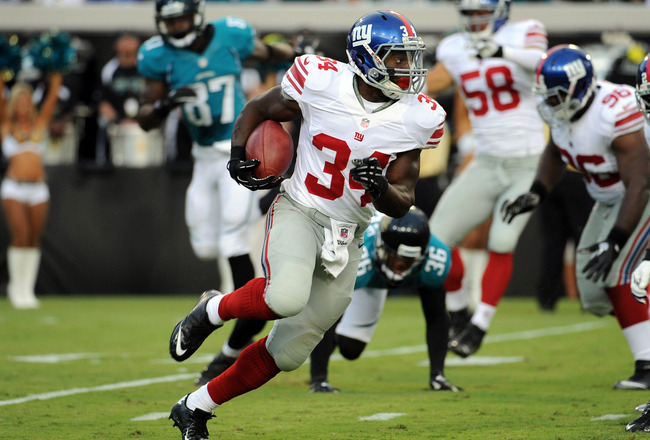 Melina Vastola-US PRESSWIRE
Now that we're halfway through the 2012 NFL preseason games, GMs and coaches alike will begin to shape their squads in hopes of a Super Bowl run.
After live blogging the Giants vs. Jets preseason game on Saturday, I got a chance to see how most of the Giants' rookies fared.
We know that David Wilson and Rueben Randle will probably make an immediate impact on the Giants offense in 2012, but what about everyone else?
There are a number of Giants rookies fighting for a job, and while it's impossible for all of them to make the final 53-man roster, it's beneficial to see what the Giants' future could possibly consist of.
Here's a report card of the Giants' rookies after their second preseason game against the Jets...
RB David Wilson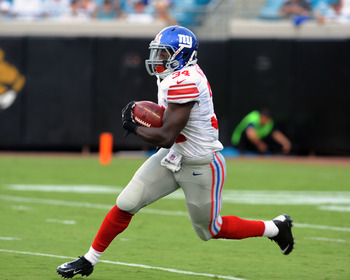 Al Messerschmidt/Getty Images
Game One: 7 carries, 43 yards, 2 receptions, 26 yards
Game Two: 8 carries, 26 yards
David Wilson was extremely impressive against the Jacksonville Jaguars, averaging 6.1 YPC and showing why he was the Giants' first-round pick.
As I covered the live blog against the Jets, it frustrated me that Wilson wasn't getting more opportunities, but he did wind up with one more carry than he did the week before.
I'm not going to hold his stats in the Jets game against him as the Giants offensive line was unable to get any push for any of the running backs.
As you'll see in this ESPN New York article by Ohm Youngmisuk, Tom Coughlin speaks highly of Wilson, complimenting him on his running skills and improved pass protection.
I think we're going to see big things out of Wilson this season, especially with Bradshaw's propensity for injury.
Grade: A
DE Matt Broha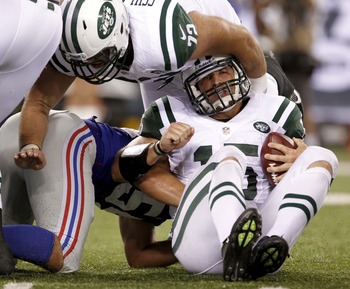 The Star-Ledger-US PRESSWIRE
Game One: 1 tackle, 1 sack
Game Two: 1 tackle, 1 sack, 1 pass deflection
Defensive end Matt Broha is doing all he can to make the Giants' squad as a backup to Tuck, JPP, Osi and Co.
He's recorded a sack in each of the first two preseason games and has shown awareness at the line of scrimmage, getting his hands up and batting down a pass.
Despite there being some competition at the DE position, Broha has shown so far that he's capable of making an impact on the game.
But before we get too high on him, I'd like to see what he can do against a first-team offensive line.
Grade: B
WR Rueben Randle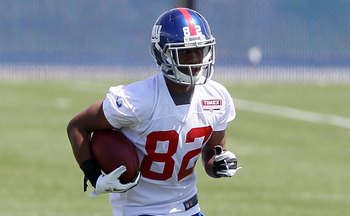 Jim McIsaac/Getty Images
Game One: 2 receptions, 27 yards, 1 TD on 3 targets
Game Two: 1 reception, 49 yards on 2 targets
Rookie wide receiver Rueben Randle is competing for the No. 3 wideout spot on the Giants' roster, and judging by what he's done so far this preseason, he's in good shape to land it.
Randle has shown excellent awareness in his first two preseason games, especially in his lone reception against the Jets on Saturday.
With the defender draped all over him, Randle made an incredible adjustment and was able to haul in the 49-yard bomb from backup David Carr.
As I said during the live blog, if that's any indication of what we'll be seeing on a weekly basis from the rookie, the Giants won't miss Mario Manningham too much.
Randle also added a nice 11-yard punt return against the Jets to his preseason resume, something the Giants could use in 2012.
He's been excellent so far this preseason and it's only going to continue.
Grade: A
WR David Douglas
Douglas Jones-US PRESSWIRE
Game Two: 1 reception, 23 yards on 2 targets
We haven't seen much of David Douglas, most likely due to the depth the Giants possess at the wide receiver position.
But he did have a nice reception against the Jets and, according to Ohm Youngmisuk of ESPN New York:
WR David Douglas gets an A+ for effort when he dove and bobbled a catch. It was hard to see whether it was a catch or not as he fell to the ground but he definitely gets credit for the effort on what would have been a circus-like catch.
I don't really have much to go off of for this grade, other than the fact that he made one reception against the backups of the Jets' defense.
No disrespect to Douglas, but I need to see more in order to give him a fair grade.
Grade: C-
DT Markus Kuhn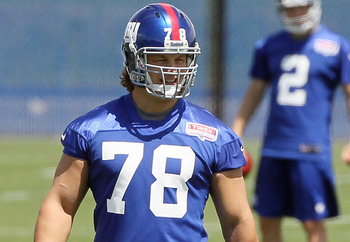 Jim McIsaac/Getty Images
Game One: 1 tackle, 1 pass deflection
Game Two: 2 tackles, 1 tackle for loss
German-native Markus Kuhn is trying to make the Giants' roster as a backup at the defensive tackle position, and from what we've seen so far, he's deserving of the spot.
He's put his athleticism on display in both games, knocking down a pass at the line of scrimmage against Jacksonville and breaking into the backfield to record a tackle of Tim Tebow for a loss against the Jets.
The Giants—like usual—find themselves riddled with injuries again, most notably at the DT position, which gives Kuhn a tremendous opportunity to show the G-Men what he can do.
And he's making the most of it.
Grade: B-
CB Jayron Hosley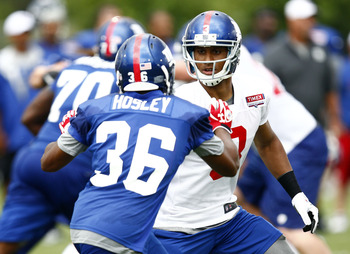 Mark L. Baer-US PRESSWIRE
Game One: 2 tackles, 1 sack, 1 fumble lost
Game Two: 1 INT, 1 TD
In his first two preseason games, rookie corner Jayron Hosley has shown why he was a third-round pick in the 2012 NFL draft.
Against the Jaguars, we saw his speed and ability to get to the quarterback and against the Jets his coverage ability and break away speed once he gets into the open field.
He could use some work in the return game, but as far as playing the cornerback position, Hosley has proven himself worthy thus far.
ESPN New York's Ohm Youngmisuk reported that Hosley was seen in a walking boot following the 26-3 victory over the Jets, so there is some concern for now regarding the rookie's status going forward.
Grade: A-
DE Craig Marshall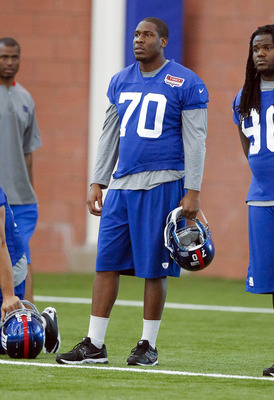 Jim O'Connor-US PRESSWIRE
Game One: 1 tackle, 1 sack
Game Two: 1 tackle for loss
Craig Marshall has been decent for the Giants this preseason, but he's been outdone by fellow rookie Matt Broha, and the defensive end position isn't exactly thin in New York.
Not to take away from his ability to reach the quarterback and find the backfield, but Broha has looked stronger and faster, which is more the style of the Giants' defensive ends.
I think Marshall could possibly serve as a backup on the roster, but he'll need to prove more in the final two preseason games.
Grade: C
RB/FB Joe Martinek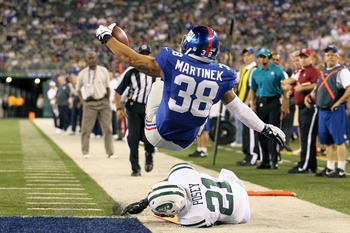 Brad Penner-US PRESSWIRE
Game One: 0 receptions, 0 yards, 1 target
Game Two: 1 reception, 14 yards, 1 TD on 1 target
Despite being listed as a running back/fullback, Joe Martinek has yet to receive a carry in either of the Giants' first two preseason games.
He did, however, make a nice 14-yard catch on a pass from Ryan Perrilloux in the fourth quarter against the Jets that saw him leap the defender for a touchdown.
With Ahmad Bradshaw, David Wilson, D.J. Ware, Da'Rel Scott and Andre Brown already ahead of him on the RB depth chart, it is possible Martinek makes the 53-man roster as a backup full back, but highly unlikely given that Bear Pascoe can fill in for Henry Hynoski when he needs a breather.
I don't see him making the final roster, but you can't complain about what you've seen from this youngster so far.
Grade: C+
LB Jake Muasau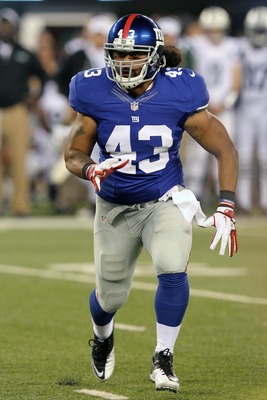 Brad Penner-US PRESSWIRE
Game Two: 1 tackle
The fact of the matter is that there's just way too much depth at the linebacker position for Jake Muasau to make the 53-man squad.
We didn't see him in the first preseason game against the Jaguars due to injury and he made just one tackle against the Jets on Saturday, but he did play Tebow nicely, forcing him to throw a pass out of bounds.
Barring a slew of injuries, you won't be seeing much of Muasau this season.
Grade: C-
DE Adewale Ojomo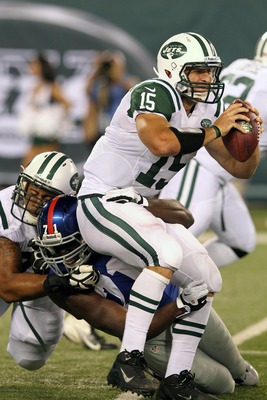 Brad Penner-US PRESSWIRE
Game Two: 4 tackles, 2 sacks
Defensive end Adewale Ojomo really upped his chances of making the 53-man roster after a monster game against the New York Jets on Saturday.
Ojomo's two sacks of Tim Tebow contributed to a team total of seven on the day against Mark Sanchez and Tebow.
Ojomo consistently over-powered the Jets' offensive line, and although it was the second string team, he still looked pretty darn good.
If Adrian Tracy's injury keeps him out, Ojomo has a great shot of snagging that fourth DE spot.
Grade: B+
TE Adrien Robinson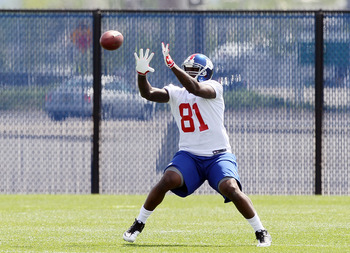 Jim McIsaac/Getty Images
Game Two: 0 receptions, 0 yards on 1 target
Adrien Robinson started off the summer extremely slow, as Michael Eisen of Giants.com writes, but he has since begun to learn the playbook and progress in the offense.
Despite not being targeted in the passing game in the Giants' first preseason game against Jacksonville, Robinson has remained positive.
It felt good to get the first game under my belt. I didn't catch any balls, but that's not something I was worried about. I was more focused on blocking and assignments. I made some assignment mistakes, but I didn't make as many as I thought I would make.
It's understandable that Robinson has started slow, as he spent a lot of his summer finishing up his degree at the University of Cincinnati, but his good grades in the classroom aren't going to get him a good grade on my report card.
New York needs Robinson to step up in 2012, especially with the absence of Jake Ballard and the unknown territory that is Martellus Bennett.
Grade: C-
WR Julian Talley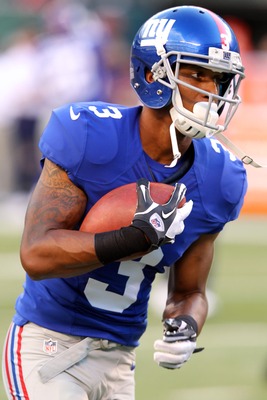 Brad Penner-US PRESSWIRE
Game One: 2 receptions, 22 yards on 2 targets
Julian Talley flashed some talent against the Jacksonville Jaguars, unfortunately he's not going to make the Giants' 53-man roster because of Victor Cruz, Hakeem Nicks, Domenik Hixon, Rueben Randle, Jerrel Jernigan and Ramses Barden.
Talley may have shown the Giants he can play if someone gets hurt. For now, he's nothing more than a practice player, but that doesn't mean he didn't play well against the Jags.
Grade: C
WR Brandon Collins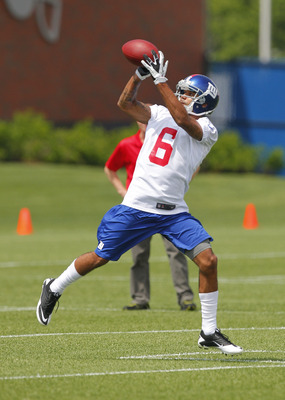 Jim O'Connor-US PRESSWIRE
Game One: 0 receptions, 0 yards on 2 targets
As I stated in the Talley slide, guys like Talley, Douglas and Brandon Collins will only see playing time this season if there's a rash of injuries at the wide out position.
To be honest, Collins didn't impress me much against the Jaguars, and I'm guessing he didn't impress the Giants' coaches much either, as he didn't play against the Jets.
Out of Talley, Douglas and Collins, I'd say Collins has the least possible chance of seeing any playing time in 2012, even with a bunch of injuries.
Grade: D
Follow me on Twitter: Follow @Pete_Schauer
Keep Reading

New York Giants: Like this team?