New York Giants vs. New York Jets Live Blog: Updates, Analysis and Reaction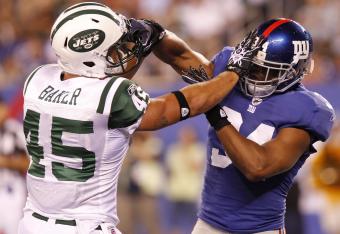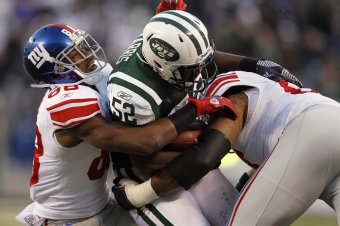 Rich Schultz/Getty Images
That'll do it, folks.
The Giants win this one with ease, 26-3 over the rival New York Jets.
Victor Cruz shined for the Giants on offense while Big Blue's defense stole the show with seven sacks.
Thanks for reading.
Follow me on Twitter @Pete_Schauer
As the clock winds down to less than 1:30 left, one thing is clear from this game.
Giants: Their defensive line is as solid as ever.
Jets: They need a lot of help on offense. I mean a lot.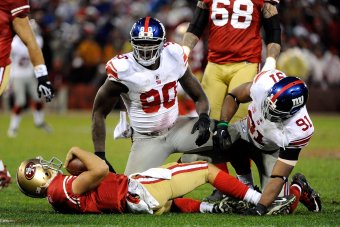 Thearon W. Henderson/Getty Images
The Jets offensive line surrenders yet another sack.
But that's the Giants' M.O.
Hard-nosed defense, and they certainly have it with the likes of JPP, Tuck and Osi on the defensive line.
Tebow just escaped what would have probably been a sack for any other QB in the NFL.
The lack of talent at the receiving position for the Jets is undoubtedly going to be an issue for both Sanchez and Tebow.
Aside from Holmes and Keller, who are these guys supposed to throw to?
Tebow completes a nice sideline route, showing poise in the pocket and delivering a strike.
He has the potential to make good throws.
But then he'll go and throw a grounder and make me eat my words.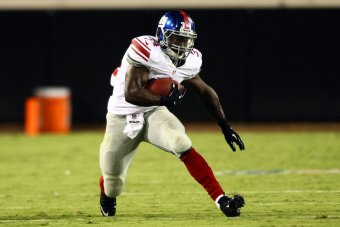 Douglas Jones-US PRESSWIRE
Wilson again goes no where on the carry.
Let's not forget, he has the second-string offensive line blocking for him. I'd like to see what he can do with the first-team offense.
The outside tosses aren't working for the Giants tonight.
I don't know if it's the offensive line not getting off their blocks or the tight ends not holding down the edge, but the open space just hasn't been there on the edge.
Another sack for the Giants' defense, this one of Tebow who goes down in a heap.
Again, I stress: how are the Jets going to score points this season, especially with this offensive line?
Geez, and I thought the Giants had offensive line problems.
The Jets special teams could use some work.
Their kick returners are gaining zero yardage while their punter continues to shank kicks out of bounds, setting the Giants up with nice field position.
Perrilloux connects with Martinek in the backfield for a TD.
That was a great catch and finish by Martinek, who leaped over the defender at the goal line for the score.
Martinek is a Jersey boy. That score has to feel good in front of the home crowd.
Victor Cruz can relate.
Perrilloux now in for the Giants.
Tebow gets absolutely lit up by Will Hill.
That hit was a lot worse than the one on Carr just a few plays ago.
Tebow can't be happy with his offensive line after Hill was practically untouched on his way into the backfield.
Jets preseason: 100 plays and 0 touchdowns.
Niiiiiiiiiiice.
Despite playing solid defense on the past few drives, the Jets' offense has been anemic tonight.
Honestly, where are their points going to come from this season?
Mauga bursts through the line and lights up Carr for the sack.
That's a seven-yard loss for the Giants and they'll be forced to punt.
I know that's not the Giants' first-team O-line, but still, you never want to see that from your offensive line.
Five straight incomplete passes now for Tebow.
He started off well, but the Giants' D has really been getting after him the past couple of plays, forcing rushed throws which have lead to incompletions.
That's the Giants' defense at its best.
Tebow throws a lollipop into the middle of the Giants' defense after being hit in the pocket.
That ball was tipped, but Tebow needs to do a better job of moving around in the pocket so he can get a clear throwing lane.
There's the first sack of the night for the Jets, recorded by Coples, who just beat the right tackle off the edge as Carr stepped up in the pocket.
Carr hits Da'Rel Scott for a pass that gains negative yardage.
Last season, I published an article about why Scott should be playing, but he didn't get much time.
I'm hoping he sees more time this season, as he's a lightning rod on the ground.
Tebow gets a shot at redemption, but instead gets sacked despite a holding call against his offensive line.
The Giants record their fourth sack of the night, something Giants fans are accustomed to seeing.
After review, the play was reversed and ruled an incomplete pass.
They're saying that McKnight didn't have possession and did not make a football move.
I disagree, but no one cares what I think.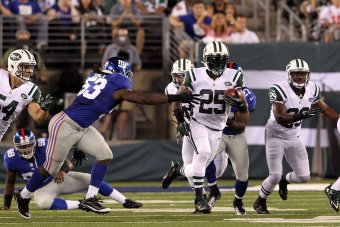 Brad Penner-US PRESSWIRE
The Giants recover the fumble after McKnight coughed it up.
Tebow was absolutely drilled on that play as he released the football, but he still delivered a nice pass to McKnight.
You can't fault Tebow on that one. He did exactly what he was supposed to do.
Incomplete pass by Tebow as he overthrows the receiver.
The Giants' D was coming hard after him but that's still a pass an NFL quarterback should complete.
Tebow will get another shot on this drive.
If he puts together a decent drive, I'd like to think he'll have outplayed Mark Sanchez in this one.
This article is
What is the duplicate article?
Why is this article offensive?
Where is this article plagiarized from?
Why is this article poorly edited?

New York Giants: Like this team?