Rafael Nadal Wins French Open Title vs. Novak Djokovic (Highlights Part 3 of 3)
June 13, 2012

Mike Hewitt/Getty Images
Rafael Nadal won his seventh French Open title, this time at the expense of Novak Djokovic, who was making a bid to hold all four Grand Slam titles. History made and history thwarted. It's beautiful but cruel.
The following recap is a running diary that captures key moments of the third section, following the second rain delay and completed on Monday. This format was written as it happened, along with other comments and outlooks. It is a commemoration, or time capsule, of this historic final.
CLICK HERE to read Part 1 of this Retro Diary of Nadal's win vs Djokovic
CLICK HERE to read Part 2 of this Retro Diary of Nadal's win vs Djokovic
There are few reasons to get up at 4 a.m. on a Monday morning, but to continue watching the most historic French Open final of the Open era is a reason for living. I'm not in the mood for the traditional NBC opening collage and pregame hype. It's time to warm-up and finish.
Yesterday, Nadal bolted out to a 6-4, 6-3, 2-0 lead, but then was battered by Djokovic's blistering baseline shots and lost the third set 2-6. He trailed 1-2 in the fourth set and was down a break before play was halted. This is where we stand.
As they warm up, I can't shake the comments made by John McEnroe and Mary Carillo at the close of NBC's taped semifinal third-set replay of Nadal vs. David Ferrer on Friday.
McEnroe said tennis is coming down to a big two now.
Carillo added that it's getting harder to call Federer the greatest of all time (GOAT) with Nadal and Djokovic still roaring forward. Wow, has that ship already left the harbor?
And that's the problem with all the GOAT talk. Can we wait until their careers are at least 90 percent finished? Is it soon enough to name David Goffin the next GOAT by July 2014? There is no airtight argument for any of the big three. How can we definitively exclude any of them? Give it more time.
Almost ready to commence now. Two very important match questions after leaving yesterday's drama: Has Djokovic gained a new level of confidence that will continue today and lead him to a convincing victory? Will the break allow Nadal to gather himself mentally, get rested and reestablish his dominance in drier conditions? It's time to find out.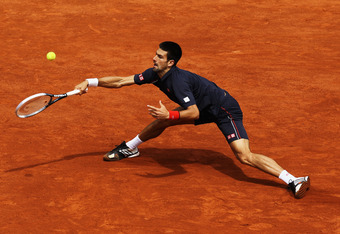 Matthew Stockman/Getty Images
3:04—Different feel to this match already. Normally the opening to a match allows players to feel each other out, but both players are intense. Incredible rally with Nadal saving some shots, including a stab slice. Djokovic hits into the net and then starts hitting his own head with the racket face. (30-40.)
3:05—Net cord—Djokovic gets it but Nadal passes him for the break. All even now at 2-2 and somehow this feels right. Conditions look much better. No excuses.
3:07—First point turns into a street fight! It's so common to see modern tennis described in terms of war, rather than the white-shirted genteel images of Bill Tilden. I'm surprised tennis doesn't bring in more fans from boxing, kick boxing, karate and dog fighting in Stellenbosch, South Africa.
Nadal wins that first point but the pace of the hits favors Djokovic, though he has to cut back on errors.
3:09—Djokovic commits an unforced error. Nadal produces a service winner. Djokovic adds another unforced error. Easy hold at love for Nadal and he leads 3-2. Yesterday seems like a year ago.
3:11—Successful serve-and-volley point by Djokovic, followed by Nadal's incredible bending forehand winner. He looks as if to say, "Great shot, no?" Djokovic gets an important hold to stay on serve at 3-3.
3:17—Nadal just smoked a forehand for 30-0. He has elevated his play from yesterday and despite the pace is putting more pressure on Djokovic, who is spraying more (un)forced errors.
3:23—Uh-oh—umbrellas are out and the camera just panned a dark cloud. Right on cue, Nadal misses on a backhand (and he hasn't missed very many backhands in this entire match even though Djokovic keeps attacking it). I'm starting to believe rain curses Nadal. Djokovic tosses in an ace to level things at 4-4.
3:28—Another hold at love for Nadal, who marches off looking around for Scottish soldiers. He wants to be William Wallace and so far today he is dominating. He leads 5-4 and suddenly we could be minutes away from a trophy celebration or another 90 minutes of Australian hell.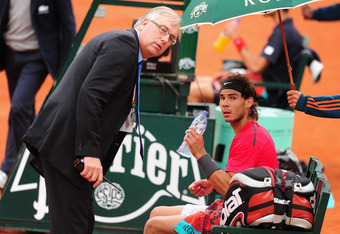 Mike Hewitt/Getty Images
3:29—"You have GOT to be kidding me!" (Thanks, Johnny Mac.) Tournament referee Stefan Fransson (Yes, I'm already well-acquainted with his name) just came out to talk to both players.
No offense to Fransson, but seeing him is like running into the Grim Reaper. Will he stop the match at the next sign of dew, or will he tell them to put on rubber boots? It depends on what the French papers have been saying. Influence can be a fickle thing, so we just don't know.
3:31—Nadal runs out with his pregame matador zig-zag. Djokovic wanders out less enthusiastically. He has to hold or the match ends.
Nadal really started this warrior label in tennis. And now Djokovic has followed suit. The minute anyone else such as David Ferrer begins battling and grinding, the warrior comments come flying out. Now every victory has some warrior element that made it possible.
3:35—Djokovic battles to save a tough ball and then puts away a war-like offensive cross-court forehand winner. It took a warrior's patience and execution. He adds a war-worthy service winner and it's now 5-5. "Freedom!" He's back to his warrior ways.
Serbians are waving flags and No1e signs. They are supportive and loyal as ever. Maybe there are other fansbases as passionate, but I won't believe it until I see it.
3:37—The sun is suddenly very bright—like gold out of the Spanish treasury.
3:38—An ace by Nadal and a quick glimpse of some Spanish fans decking the stands with their red and yellow colors dancing up and down. Maybe there are other fanbases as passionate, but I won't believe it until I see it. Déjà vu?
3:39—Looks like Djokovic clipped the sideline for a winner, but Nadal is approaching the chair to plead his case. And the decision is…nada.
3:41—It's 30-30 and Djokovic can force break point if he gets this one. He commits another error and Nadal clenches his fist and gives a "Vamos!"
Every young aspiring pro tennis player watching this match is convinced that scowling, fist pumping, maniacal staring, chest thumping and random gesticulations are necessary ingredients to becoming a Grand Slam champion. Whatever happened to the Federer era? But this is where tennis is in 2012 and it has also led to unprecedented intensity and better tennis. It is what it is.
3:43—Nadal bludgeons a pair of forehands and gets to the net, but Djokovic's lob just sails long. Yesterday, that lob was staying in. Sometimes that's the difference. Nadal up 6-5.
3:44—The fans are doing the wave at Roland Garros. It's a touch of sacrilege—sort of like belching between performances at a piano recital.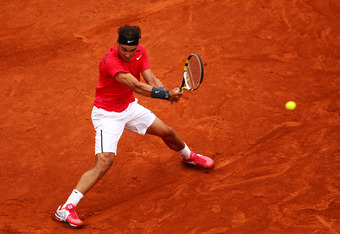 Clive Brunskill/Getty Images
3:45—Nadal runs around all the way off the deuce court to hit a forehand but plunks it into the low part of the net. (0-15.)
3:46—Another error by Djokovic followed by an overhead to go up 30-15. At this point, Djokovic is 12-of-21 at the net and Nadal 8-of-14.
3:47—Nadal slips and falls but Djokovic sails it long again. It's 30-30.
3:48—Some moonballs and a Nadal winner. Unbelievable that it's match point. It's still too early for me to eat breakfast. What if it ends? I've had this mindset that the match would likely go at least another set. Huge chance for Nadal now.
3:49—Second serve now…and a double fault. It's over! Nadal is kneeling over in the clay. I'm kind of stunned actually. Djokovic is approaching the net. I can't see his expression. Nadal wins 6-4, 6-3, 2-6, 7-5.
"They may take our lives, but they'll never take our FREEDOM!" Nadal wins his seventh French Open title in eight years and his 11th Grand Slam title. He also wins the Braveheart role in near-unanimous fashion.
Post-match 0:01—He's climbing in the stands to get to his family. (This always reminds me of Pat Cash winning Wimbledon in 1987. Was he the first to do this?) Uncle Toni has him locked in a bear  hug. Pau Gasol of the L.A. Lakers towers over him and is rubbing his hair like he would to a little brother. (I doubt Kobe Bryant would stand for this.)
Post-match 0:02—Djokovic sits dejectedly. I actually wish he could go sit in the locker room with his circle. He fought hard but had too many errors today, and did not play as consistently as he would have liked throughout the tournament. He's great though, and fully deserving to be a warrior as well. Truthfully, he has come the closest to winning the true Grand Slam—closer than Nadal or Federer got.
Post-match 0:03—Nadal is jogging around Court Philippe Chatrier, still master of his domain.
Post-match 0:08—No Bjorn Borg present today, but Mats Wilander is a nice substitute. He won his first of three titles 30 years ago. They're setting up the makeshift stand at the baseline.
Post-match 0:10—Rafa hoisting La Coupe des Mousquetaires. It is named for the famed four musketeers of French tennis who dominated in the 1920s and 1930s. If there was ever a merit-based trophy, only Nadal and Borg would be engraved upon it.
Post-match 0:12—Djokovic is gracious in words and comportment. I doubt the lost opportunity bothers him as much as the bitterness of defeat. It's tough for him right now. This mirrors what Rafa must have felt at Melbourne.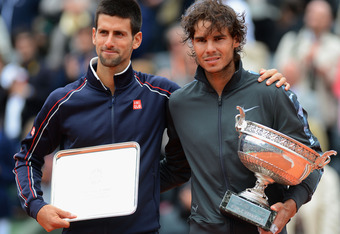 Mike Hewitt/Getty Images
Post-match 0:16—Nadal says, "probably the most special moment of my career."
The Novak Slam bid is now over, but the Rafa Slam is only three away. And so the accomplishment of this feat remains a dream—the Holy Grail still a mirage to great champions.
I think I'm going to have French toast for breakfast.
More Rafael Nadal Tribute Articles Tracing His Clay-Court Success This Spring
Rafael Nadal: 8 Reasons He's Still Invincible at the French Open
Rafael Nadal vs. Novak Djokovic: Will Monte Carlo Determine the French Open?
Rafael Nadal: Would Another French Open title Silence His Critics?