Rafael Nadal: 8 Reasons He's Still Invincible at the French Open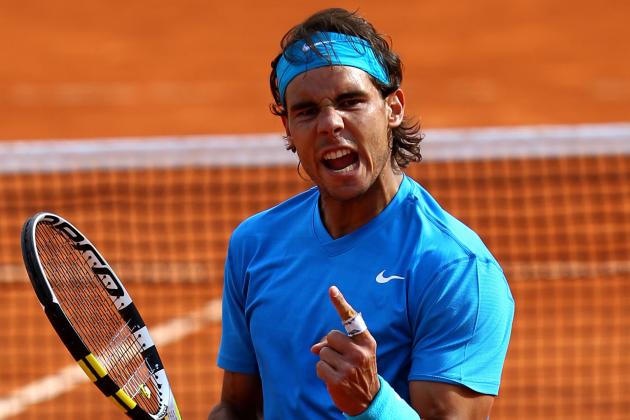 Clive Brunskill/Getty Images

Rafael Nadal, the world's No. 2 tennis player, has not won a tournament in almost 10 months. He has fallen behind the Serbian sensation Novak Djokovic and has seen longtime rival Roger Federer reinvigorated with a blast of throwback tennis.
Nadal's lackluster effort in the semifinals at Indian Wells also opened up questions and concerns from critics and fans.
Does he still possess the fire and competitiveness that drove him to 10 Grand Slam victories?
Here are eight declarations of invincibility that will be the Nadal camp mantra in their quest to add a seventh French Open title to their Spanish treasury.
Begin Slideshow

»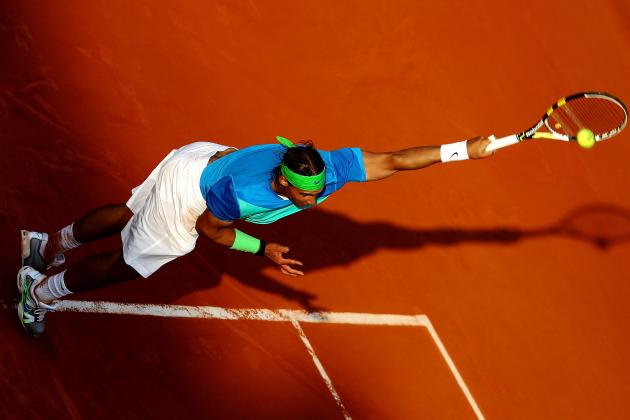 Clive Brunskill/Getty Images

Memo to the rest of the ATP: If you dare challenge Rafa in Paris, enter at your own risk.
He has won 45 of 46 matches. That's a 98-percent win rate.
After you shake his hand at net, be sure to pick up your plane ticket to your next tournament.
Not since Bjorn Borg has one player claimed proprietorship to Stade Roland Garros.
Nadal's tennis decorum may as well be a high wall topped with barbed wire. He has defended his claim to the title and to each point with unparalleled ferocity.
If he could cut his teeth on La Coupe des Mousquetaires as a scrawny 18-year-old with a semifinal victory over a peaking Roger Federer, adding a seventh trophy at age 25 will be equivalent to picking up local flowers and placing them in a basket.
Besides, the fortress could showcase botanicals during Nadal's victory speech.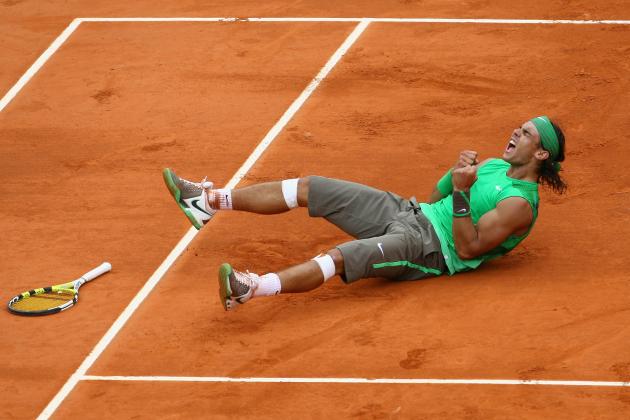 Julian Finney/Getty Images

It's one thing to lose to an opponent, but many great contestants have been defeated by the sun-baked clay at Roland Garros.
Its torturous demands for endurance has wilted even the mightiest of champions who could not add this pesky Grand Slam to their resume.
John McEnroe's 1984 was one of the most dominant seasons in history, but closing out the title turned into an Orwellian nightmare.
His opponent, Ivan Lendl, endured to the end with superior fitness.
Five years later, it was Lendl and fellow legend Stefan Edberg who melted away as 17-year-old Michael Chang staggered to the finish with one of the most grueling championship triumphs in history.
Nadal will not yield to mere elemental-physical factors like heat, exhaustion and lack of fitness. With every grinding game and with each passing hour, he knows it is his opponent who is thinking of the cool confines of the locker room.
"The sun is my friend," he seems to say. "It gives me energy."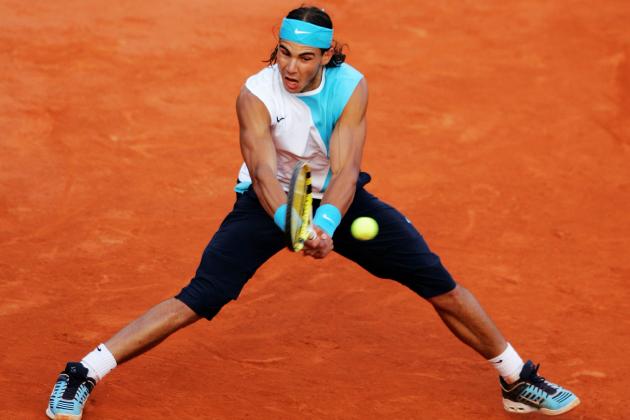 Mike Hewitt/Getty Images

Many tourists are transfixed by a walk along the Seine River, awed by the Eiffel Tower and enthralled by the Musée du Louvre.
They delight in the ambiance of 5-star restaurants, expensive hotels and hustling cabbies.
It can be a terrible price to be away from home.
Tennis players are generally seasoned travelers and reticent tourists.
They must be masters of discipline and slaves to routine. A few points won or lost in a match can mean at least several thousands of dollars. Distractions are the enemy.
Nadal is obsessive with his habits. There are his quirky routines such as placing his fluid bottles near the left of his chair or arriving late to the coin toss.
More importantly, his mastery of the day-to-day practices and his undeterred focus are second to no other player.
Let the other players go soft like a cream-filled pastry.
Let them dull their senses with Chardonnay.
Rafa Nadal is ready to lace up his Nikes and slide on the clay.
Matthew Stockman/Getty Images

If you are slow afoot, you won't last a day.
If you rely too much on your serve, it won't be enough.
If you are still trying to adjust your game and wondering what strategy you will use, you will lose.
Nadal does not waver in his plan or wonder how he will hit his whirly-whip forehand. Here is his answer, telegraphed for all opponents, regardless of their skills or styles:
He will hit hard topspin forehands with freakish spin that will bounce abnormally high and chew up your backhand. He will hit it again, and repeat it a thousand times.
You will run and grow weary until your legs are too rubbery to reply. You will make mistakes and question your tactics. And if you get to a fourth set, you must realize that he will hit harder and run faster.
This is his plan. Stop him if you can.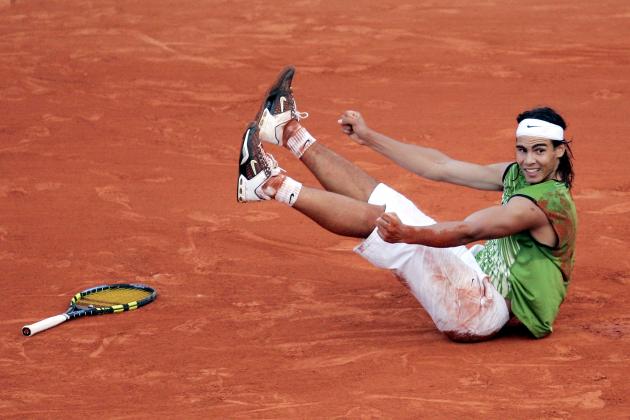 Clive Mason/Getty Images

Monte Carlo will warm up your game on clay.
Barcelona will check your fitness.
Madrid will test your swagger as you bull through the draw.
Rome will see you peak with all your strokes and style on full display.
Paris is the goal, confidence high and ready to win again.
"There is plenty of time, Rafa," his Uncle Toni might say. "Be patient. There is time to train, and there is time to win matches on clay."
Nadal knows that while reporters scrawl their gibberish and fans fret with worry, there are two months to prepare, two months to play and two months to win.
He will be ready.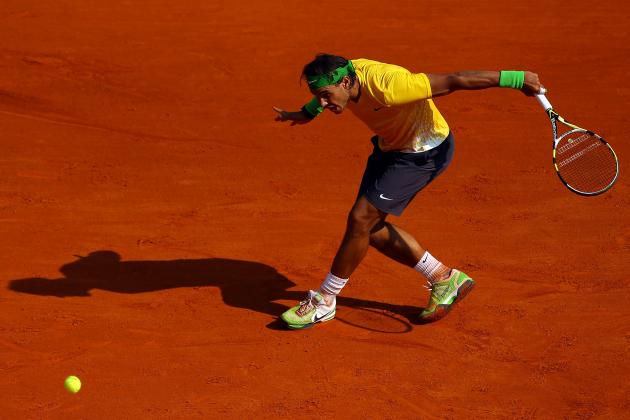 Julian Finney/Getty Images

Novak Djokovic took Nadal to the cleaners in the 2011 clay-court season, and then pressed him, folded him and set him aside like yesterday's laundry.
The mighty Serb continued his championship parade with a trio of Grand Slam titles, and counting.
All were at the expense of his Spanish rival.
Yes, Nadal is aware of this. And while Djokovic continues his quest to hold all four Grand Slam titles, Nadal may embrace his underdog role.
He may not mind that the pressure and chatter will give full attention to his rival's great achievements. He will only want to win seven times in two weeks, regardless of whom he plays.
There will be new stories, old challengers and shifting allegiances from the world's scrutiny. It will not matter. He has played great on clay for seven years. He wants the challenge.
Bring it on.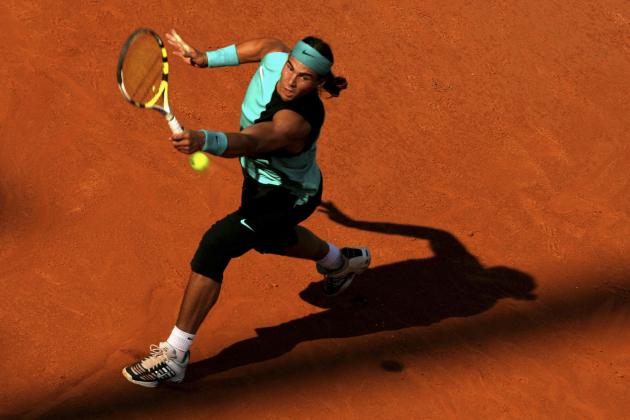 Clive Brunskill/Getty Images

Few champions are allowed to ride off into the sunset on the horse of another victory.
Almost every great champion will have his Waterloo, the career-ending defeat when he knows he can no longer win a Grand Slam.
Media and fans alike are often more than quick to shovel dirt into the grave, if for no reason than to share in some outlandish prediction.
The case against Nadal? Excruciating defeats to Djokovic, a rival who has proven himself as the top player in the world. Those are pretty tough odds.
But now or never has always been the Nadal creed. Why look past June and start calculating Slams? A player could go mad with foolhardy extrapolations.
Champions are not afraid when there is one more opportunity to win. Two months ago, even after the smoke had cleared with his career's most bitter defeat, as Djokovic received his winner's trophy, Nadal told the crowd, "I'll keep fighting."
Roland Garros draws nigh.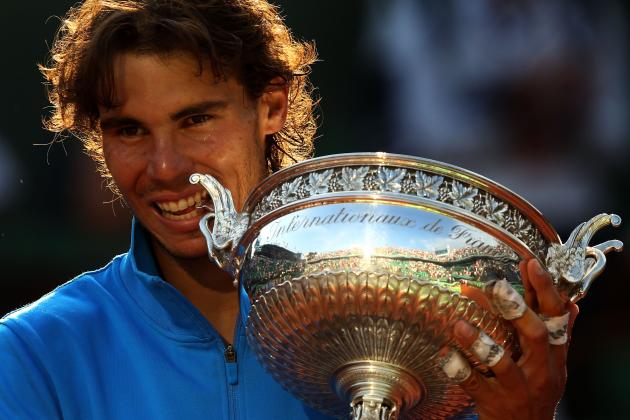 Clive Brunskill/Getty Images

The year will come when Nadal will no longer be the French Open champion.
But it is not this year.
He is still the French Open champion and the King of Clay.
He is still the holder of gaudy statistics and records that will never be broken, which will reverberate through future decades and generations to come.
He will not go quietly. He never has.
This spring, the clay-court season will teach us more about many players on the ATP world tour.
Who is ready? Who will fall by the wayside? There are so many questions about so many players.
But there is little question about Rafael Nadal's fight, which is the true source to his invincibility.
There is a great chance he will re-taste the metallic rim of his favorite cup.