French Open 2012: Rafael Nadal Defeats Novak Djokovic (Retro Recap Part 1 of 3)
June 11, 2012

Clive Brunskill/Getty Images
It's fitting that Rafael Nadal's win against Novak Djokovic in the 2012 French Open, with all its historical implications, took two days to finish. It was worth the wait, rather than slogging through heavier rain and encroaching darkness the first evening.
The following is a running diary that captures key moments of the first section of this match as it happened, along with other comments and outlooks.
CLICK HERE for Part 2 Retro Recap.
CLICK HERE for Part 3 Retro Recap

It's 6:00 a.m. PST on the west coast in America on what has been an annual tradition to wake up and watch the French Open. It seems like NBC has covered The French Open for about the third century in a row. Maybe that's how we found out about Napoleon at Waterloo.
I'm excited just seeing them stand in the tunnel to come out. Nadal is climbing up the steps with enough gear for a week-long trip to the Himalayans. It's the kind of match that could turn out to be more difficult than scaling Mt. Everest.
Then there's Djokovic, who is lightly hopping in the entrance way. There's no way he backs down to anyone. We're beyond thinking that. I just wasted a couple lines.
Grand Slam finals entrances are the greatest opening in all of sports. No debate. The NBA playoffs and their lazer-light shows seem absurd and drown out the emotion and feeling of real intensity.
They're warming up, and I've already eaten my toasted French bread and hot chocolate. I didn't even taste anything, which shows how important this match must be. I thought about French toast or croissants for breakfast as a sort of symbolic tribute, which is a typically ignorant American thing to do.
The player profiles are flashing across the screen, and we get a quick review of Nadal's three-set killings. It's the most one-sided lineup of victims since Jack the Ripper. Why did I think David Ferrer could give Nadal a test?
The warmup is winding down in its timeless manner. I've always wondered why a heavy underdog didn't do something like drill the other guy with a ball at an odd moment. It could get the favorite player angry, rattled and perhaps out of his game, kind of what Metta World Peace (Los Angeles Lakers forward, formerly known as Ron Artest) does on a game-by-game basis. It would also create the biggest tennis scandal since Jeff Tarango's wife decided to go after the chair umpire at Wimbledon in 1995.
Nadal usually seems angry anyway, and Djokovic plays even better when the heat gets turned up or if the crowd is rooting against him. These two defy everything we once knew about tennis.
The match hasn't even started, and we've already had about 172 references to history. If you're Ted Robinson, John McEnroe and Mary Carillo, you're not worried about filling up six hours of tennis. You can just bring up another statistic or reminder that Nadal and Djokovic are playing for history, just in case it hasn't sunk into the tennis world for the last four months.
I'm getting the feeling that I should have prepared a lunch for later.
Ready to go now! Nadal just gave one of those irritated scowls that could speed up global warming by at least another decade.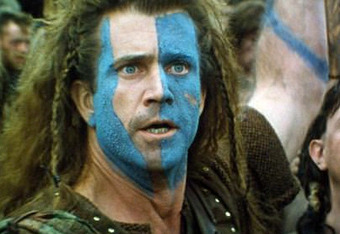 There's a threat of rain, but the skies look good, and it doesn't seem like it's going to be a problem. Note: I decided to keep that line in there so you would know I don't make my living as a meteorologist.
As a subplot, I'm going to evaluate these two to decide which one should play Mel Gibson's part as William Wallace in a remake of Braveheart. In judicious fashion, I've decided that the winner should win the role. Really, what other tennis players could possibly put on blue face paint to lead scraggly, desperate men against an invading superpower?
First Set: Poor Defense of the Highlands
0:00—Djokovic is serving first. I've never thought serving first was an advantage. If anything, there's a better chance a good server comes out flat. I just don't buy that it's any more or less pressure to be serving second at the end of a set.
0:01—Nadal crushes a forehand winner for the first point. How often does the winner of the first point eventually win the match? We'll have to check on this after the match.
0:04—Djokovic wins his third straight point to escape a 0-40 hole. Has there ever been a better escape artist in tennis? Still, it's a little early to start talking comeback.
0:06—And there is the break, as Djokovic hits long to lose the first game. Nadal is getting a drink even though this is really not a changeover. By the way, why don't they fix the match clock? It's flashing as if someone needs to reset it, and it's been that way for a few days.
0:08—Time for the obligatory camera pan of the family and Nadal's girlfriend, Maria Perello. It's as if her fate will be tied with Nadal's, like some sort of medieval custom. In Viking culture, when a hero died, maidens were selected to be sacrificed on a ship pyre. Who knows?
0:09—Easy hold for Nadal to go up 2-0. Carillo said, "Somehow Novak's going to have to raise his game." No overstatement here.
0:13—It's not a good sign for Djokovic to be in a funk. Nadal can be a slow starter in big matches, but Djokovic is second guessing himself. Wish I could read lips—in Serbian. It's 30-40, and Novak hits it wide to go down 0-3. The first set is in double jeopardy.
0:21—Eight minutes later, and Djokovic gets a break back for 1-3. It's a good thing for him. He had been talking to his racket, and Carillo remarked that she didn't like his body language. We saw a few flashes of hard, precise groundstrokes in response to some of Nadal's slices, moonballs and change-of-pace shots. They look warmed up now.
0:25—Djokovic had just plunked a shot into the net, but now it's Nadal who misses. Djokovic sprints off the court, back on serve.
0:28—Nadal opens with a double fault. Do you suppose Nadal would like to finish this match in under three hours, skip the awards ceremony and run to the locker-room TV to watch his beloved Spanish futbol team take on Italy? Maybe he won't take three minutes to towel off between points.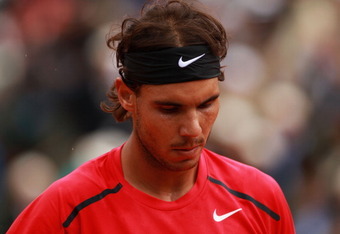 Clive Brunskill/Getty Images
0:31—Nadal is toweling off his face (left side, then right side) and his arms. No, nevermind on that last entry. The soccer game will be over before this match ends.
0:32—Chair umpire ruling No. 1: Time to take another minute to watch a chair umpire in a fine European suit jump off his judgment tower and run out to examine a mark on clay as if he were Inspector Clouseau. No wonder these matches are going well past the evening meal in France.
Can you imagine if any other sport had a similar spectacle? Suppose the referee in today's Italy vs. Spain Eurocup match ran over to investigate Andrea Pirlo's injury to decide if he should issue a yellow or red card? Oh wait, bad example.
0:36—Another double-fault by Nadal, this time at deuce. He's kicking more clay and smoothing the lines with his feet. Djokovic still isn't playing great but he's hitting harder and trying to find his way.  And now he breaks back for 3-3. Still waiting for both players to find their games.
0:43—More breakpoint bingo for Nadal, who is 2-7 thus far. Djokovic serves and produces a double fault. Who wants to win this match? Nadal is up 4-3 and getting ready to serve.
0:50—Djokovic goes to a dropshot that Nadal can't pick up. Nadal is always so stiff reaching down to get drop shots. He's like a weight-lifter dude picking up golf balls. You would think opponents would try this more often, just to get him to step into the court.
0:52—Djokovic now has 17 unforced errors to Nadal's 10.
0:57—Nadal is serving at 5-4 to close out the set. He is up 30-15 after a service winner, an overhead put-away and an unforced error. And suddenly we're in the middle of an awesome rally with neither player giving an inch. Then Nadal comes in and creates a fine dropshot. Two set points.
0:58—The first set ends 6-4 with a Nadal in-and-out winner, followed by a primal scream and fist pump. He's one up on the Braveheart role: "Sons of Spain, will you fight?" (Still no real moment worthy of a 'Freedom!' cry, but the match promises to pick up.)
Second Set: A Little Rain Delay but All Quiet on the Western Front
1:09—Nadal is up a break again, but the most interesting thing is Carillo and McEnroe, who converse about Roger Federer's age, saying that he can't stay with Djokovic and Nadal mentally. Of course they add that this is a byproduct of his physical skills slowing down.
1:15—Nadal keeps hitting at Djokovic's forehand and eventually finishes him with a macho-man overhead. "Freedom," he tries to say. (It's good but not yet worthy of all-caps and an exclamation mark.)
1:16—After two overhead slams in a row, Djokovic stares at him like that administrator on The Breakfast Club who has to monitor five high school kids on a Saturday. He seems to be saying "Did you just hit that smash right at me?"
1:19—Djokovic cashes in on a breakpoint with another beautiful lob. This is why it's nearly impossible to go to net with any regularity on clay. Set squared at 2-2.
1:32—Now some genuine emotion! After losing a tense, machismo rally, Djokovic tosses the racket into the clay, and it bounces a good seven feet in the air.
1:34—Finally, it's Djokovic turning to scream at his own box. It's his first real passionate Braveheart audition. "Sons of Serbia, you have come to fight as free men, and free men you are!"
1:38—Uh, oh, here comes the chair umpire again for the second time in two minutes. The ball was actually out and confirmed by TV's Hawkeye, but the umpire is trying to say it's in. Eventually, Djokovic concedes the point.
OK, I know the chair umpire inspection is as traditional to red clay tennis as Chenin Blanc and Camembert, but it's time to get with the 21st century and trust in Hawkeye or Shotspot.
1:46—Nadal wins another tremendous rally with an inside-out forehand winner.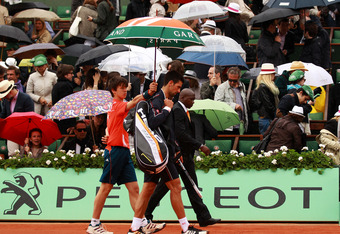 Clive Brunskill/Getty Images
1:48—Coming back from commercials, NBC is replaying Djokovic's next emotional display on the changeover. He just smashed his racket into the bottom of his box chair, breaking off a good chunk of the Perrier label. Even bad composure can lead to effective advertising.
1:52—Nadal is "playing freely," the NBC team says. He rips another inside-out forehand for a winner to go up 5-3.
But suddenly the players are ushered inside to a pair of adjoining doors that look like restrooms. It's a tough break for Nadal, getting ready to close out the set, but it should continue soon, Nobody is putting on the tarp, and NBC reports that the last time a French Open final carried into Monday was in 1973. I feel better hearing this.
This is the end of Part 1.
CLICK HERE for Part 2 of the retro diary.