French Open 2012: Rafael Nadal Defeats Novak Djokovic (Retro Recap Part 2 of 3)
June 12, 2012

Clive Brunskill/Getty Images
Rafael Nadal's win over Novak Djokovic for the 2012 French Open title was divided into three sections following two instances of rain delays.
The following recap is a running diary that captures key moments of the second section, following the first rain delay and ending with Sunday's postponement of this match. This format was written as it happened, along with other comments and outlooks. The final section will be released tomorrow, and as a commemoration or time capsule of this historic final.
CLICK HERE If you missed Part 1. It will make more sense before you read this Part 2.
CLICK HERE to move on to Part 3, the final piece to this series
We have just entered a rain delay with Rafael Nadal leading Novak Djokovic 6-4, 5-3 at the historic 2012 French Open.
I've just realized I have not seen tennis great Bjorn Borg. Where is he? He is the link between pre-Open Era tennis and the modern game. His dignified presence is an essential part of how we view Roland Garros and the modern quest for history. Would he rather hand off the trophy to Nadal or Djokovic?
A break allows me an excuse to have some Nutella. I discovered it in Italy years before I saw it in America. It kind of made me feel like a modern, inverse version of Christopher Columbus. OK, so this is a shameless plug, but maybe Ferrero will send me a few free jars.
One other rain-delay note worth mentioning: Nadal would drop to No. 3 in the ATP rankings should he lose this match, even though he would have made it to every Slam final ahead of Federer. Somehow this doesn't seem right. Yes, Federer has played better at more minor tournaments, but this shouldn't trump Grand Slam success.
The runner-up needs to receive more points in a Grand Slam match. Perhaps he could receive 75% (instead of 60%) of the winner's total, meaning 1500 for a finals appearance in the Slams.
The rain delay lasts about 40 minutes.
Tournament officials are bringing out a new chair for Djokovic. (Be sure to get your Perrier.)
They are warming up again, and after nearly two hours on court, it still seems like they are finding their game. Nadal has played well enough, but not as well as he played against Djokovic in the Rome final. In that one, he hit with more aggression, including some back-hand winners up the line. Then again, Djokovic is not forcing Nadal to do more.
1:54—Djokovic is serving but comes out with some loose hits. Not so surprising given the conditions. We're more likely to see errors than winners to close this set.
1:55—Wow, so much for drama. Djokovic saves one set point to get to 30-40, but blows an easy put-away, and Nadal takes advantage by digging in and angling a perfect backhand pass for winner.
"FREEDOM!" Nadal is clearly ahead in the Braveheart role. He is now up 6-4, 6-3.
3rd Set: Just One Chance to Come Back Here

2:02—Djokovic controls the rally, but somehow Nadal gets back in and hits an overhead for deuce. The Serb is breathing harder as if he had just failed to climb Mt. Everest.
2:03—Two points later and Nadal has already broken for a 1-0 lead. McEnroe scolds, "That's a game he (Djokovic) should have won, but didn't."
2:08—Two more appearances by the chair umpire in the midst of Nadal's massacre of Djokovic. It's only 2-0, but feels worse. Nadal is out-muscling him from behind the baseline. It doesn't look like a match at this point, because Djokovic looks completely lost, but he's also the one guy that everyone knows still has a chance.
2:14—I never get tired of looking at the French scenery coming back from commercials. There is no place I would rather be to see a Grand Slam final, even from across an ocean and country. Maybe I'm a little too transfixed by French culture. Don't worry. We'll talk about strawberries and Shakespeare in July, and feature bagels and cab drivers in September.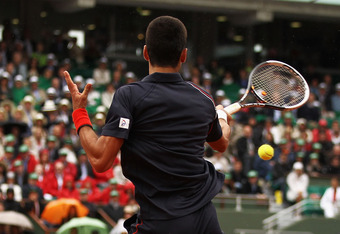 Matthew Stockman/Getty Images
2:16—Hello serve and volley! Good for Djokovic to try and change things up, even as a single-point momentum breaker at 0-30. He looks more relaxed out there, like the Matt Damon golfer character after Bagger Vance tells him to hit it out of play to start over. Time to just let go and play.
2:28—Close-up of Nadal following the commercials. He looks concerned beneath his bravado. It won't be easy to finish this one off.
2:30—Easiest service game of the day for Djokovic and suddenly four straight games to lead 4-2. Is he suddenly mounting another impossible comeback? He could be cornered by wild dogs and somehow fight them off with a spoon to the amazement of nobody, but to come back, down two sets and a break against Nadal at the French Open? That wouldn't be historic. It would be Hollywood.
2:36—Djokovic just outhit, out-scrambled and out-hustled Nadal the last two points. His eyes have that crazy focus, the kind that are steely and resolved or ready to break a racket. This time it's the former.
2:37—Another break! Djokovic just gave a big yell and the clenched fist. The veins are popping on high definition from Paris, France. That's something nobody saw in the 90s. Of course until 1999, a French Open match like this would have been over. It's so tough to close out another warrior.
The warrior references are now commonplace in tennis. I just don't remember Ivan Lendl, Boris Becker, Andre Agassi or Peter Sampras referred to as warriors. They were tennis players, and it seemed less confusing that way. Michael Chang was intense, but didn't combine enough talent and intimidation to be a warrior, even though 1989 was a precursor of modern tennis.
Now if a player is not able to play five-hour matches, he can't be a warrior.
2:41—Djokovic serves an ace. Then Nadal misses the baseline by at least six feet with a forehand. He is absolutely silent, as if taking his time to study the Mona Lisa. He does not have an audible "umph" in any of his shots. Now Djokovic takes care of another volley, followed by Nadal's resigned stroke that sails long. Can somebody throw a towel into the ring?
The third set score finishes at 6-2. Djokovic has crawled back from the grave and is kicking dirt at Nadal.
2:43—I'm suddenly invaded by a strange Perrier commercial with a woman in a space suit. I keep thinking about Djokovic's broken chair. If he comes back and wins do they put it in the tennis Hall-of-Fame, or auction it off on eBay to help pay for a retractable roof?
4th Set: Will You Fight?
2:44—Djokovic hits long and he's genuinely upset. He's in his zone and trying to ride it all the way back to the front. Nadal is serving and needs a hold, just to stop the Djokovic streak and hold his own serve.
2:46—Ted Robinson just called it a 600 shot point. Now they are saying it was actually 44 shots. Best rally of the match, a slugfest that either player could have won several times, but on clay takes several times to win. Djokovic wins this to put pressure on Nadal at 15-30. He's hitting unbelievably hard and flatter. How did Andreas Seppi and Jo-Wilfried Tsonga even get a game off him? We are witnessing unprecedented baseline power.
2:50—Did Djokovic just turn his ankle? He seems OK. No injuries, please...
2:54—Djokovic got the break to go up 1-0, but they are both slipping on the wet clay. Nadal doesn't look right. His ankle sticks and almost turns when he tries to slide-stop. Djokovic finishes the quickest hold of serve since the dawn of tennis.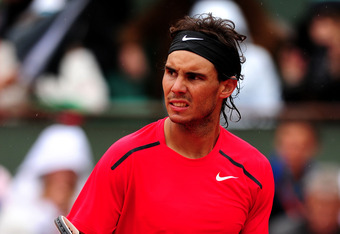 Mike Hewitt/Getty Images
2:55—Nadal is furious. He's trying to get a drink but spilling his water bottle. He's tossing a tennis ball to someone off camera, presumably to show how soaked the ball is. Robinson reminds us that he throws with his right hand. Are they going to stop the match again?
No, the match continues.
2:59—The net cord sets the ball up for Nadal to put away the point and get a game for the first time in 51 minutes…and now they ARE stopping the match for another rain delay.
Nadal and Uncle Toni are giving an earful to tournament referee Stefan Fransson, the man with the walkie-talkie who probably wishes he were officiating a backgammon tournament somewhere indoors. I think he has looked at the sky every ten seconds, at least every time we see him on camera.
They probably should have stopped at the end of the third set. Conditions are a factor, but Djokovic is benefiting from shorter balls and smaller bounces. Whenever conditions are bad, people say it's the same for both players, but it never is the same. One player will benefit or be hurt by it. These guys are so close in ability, but a random deviation seems to be creating an unusual gap right now.
It's been about 15 minutes now, and still no word on continuing. Double pain for Spain as di Natale for Italy sticks a goal at the back corner of the net for a 1-0 lead in Eurocup soccer. We could probably see four soccer games before this tennis match ends.
They just announced it: No more tennis today (tonight).
This should actually help Nadal the most. He was getting killed out there. He obviously needs drier conditions and a chance to calm down.
Djokovic has to feel disappointed, but his confidence will be high to try and win this tomorrow. Wish we could see more, but it's better to play this with dry conditions.
The match is set to be continued at 1:00 PM in Paris, which means I will be up by 4:00 AM PST.
CLICK HERE for PART 1 of this 2012 French Open retro diary