Rafael Nadal vs. Novak Djokovic: Will Monte Carlo Determine the French Open?
April 12, 2012

Julian Finney/Getty Images
Novak Djokovic has established residency in Monte Carlo, and there will attempt to topple Rafael Nadal's dynasty. It would be an important coup in opening the way for his final great conquest, the French Open title.
Nadal has witnessed the crumbling of his own tennis empire, which has happened at an alarming rate. He has set up his defense at Monte Carlo, determined to retain his French crown.
The Djokovic-Nadal rivalry has produced a shift in power in an increasingly competitive tennis world, but why is Monte Carlo so urgently important to both players?
How could it foreshadow tennis's system of rule and competition for the next few years?
Rafa Nadal and Windows 7
In April 2004, Thefacebook had just been launched to an unsuspecting public, Shrek 2 was being promoted, Lakers teammates Shaq and Kobe were trying to win another NBA title, and the Boston Red Sox were trying to shake an 86-year curse.
It was also the last time someone else not named Rafael Nadal hoisted the hardware at Monte Carlo. (If you knew the answer was Guillermo Coria, you are correct.)
Gaston Gaudio's shocking French Open title in 2004 was the last Grand Slam victory from a more traditional clay-court specialist.
It marked the decline of the Sergi Bruguera and Gustavo Kuerten model who had very good topspin forehands, but could count on outlasting their more eclectic opponents through the patience and endurance of a distance runner.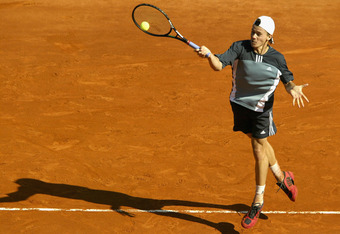 Clive Brunskill/Getty Images
Prior to 2004, clay-court specialists like Gaudio and Coria could stand behind the baseline and coolly trade high-bouncing ground strokes until their opponents exhausted themselves from energy-depleting forehands, and with little or no advantage lost.
Or, their more impatient opponents might try too hard to hit a winner, but stream a shot outside the white lines, until the ball skidded into the red clay with its incriminating evidence of ineptitude.
Since 2004, Nadal has changed the standards of winning on red clay through a hybrid of old school patience and new wave power. He rides out long points, but looks to set up and attack with winners at the optimum time.
Though renowned for this defensive wizardry, he has innovated his own style of forehand by crouching extra low at an angle, and springing into his stroke with his arm extended. He whips the forehand with his balance actually falling onto his back foot, rather than stepping into the shot like players are usually taught.
Cynthia Gorney's "Ripped. (Or Torn Up?)" related the work of John Yandell, who filmed and measured Nadal's forehand topspin at an average of 3,200 revolutions per minute—nearly double that of Andre Agassi. (Gorney's very lengthy article is recommended for the Rafaholic, with the Yandell research in more depth on page five.)
The point? Nadal's wicked spin can land well inside the baseline, but hop well beyond it as it soars higher than reasonably expected.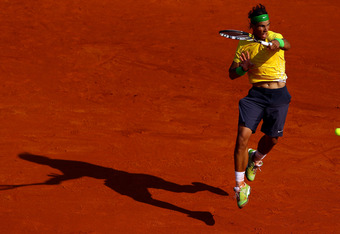 Julian Finney/Getty Images
Nadal's dominance on clay is focused, functional, established and simple, but with a retooled attitude. It's a leap forward with a stronger, faster approach, the kind of qualities synonymous with Microsoft's Windows 7.
It will take a new approach to beat Nadal on clay, and it may have arrived with Djokovic.
Novak Djokovic and Apple
In April 2011, Djokovic defeated Nadal with clay court titles in Madrid and Rome. His success was derived from a personal mindset to think different, and technical determination to play different.
His new brand of clay court tennis is a variety of revolutionary innovations that are currently having a greater impact than Nadal's persistent formula.
Djokovic shows the capacity to retrieve Nadal's best forehand blasts, and to send them back with greater angles, power and advantage. He feasts on high topspin bounces with his efficiently-attacking backhand.
Most of all, he can attack shorter balls for flatter forehands and outright winners, the kind of stuff seen from some great hardcourt champions. It's as if Djokovic has merged the differences between playing on clay and hard courts.
His game has more options that are powerful, including an excellent hard court serve and groundstrokes, but with a clay court return game, endurance and patience.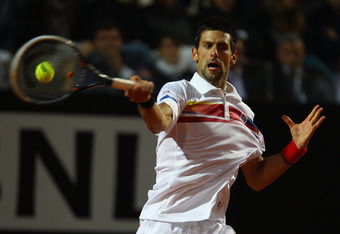 Clive Brunskill/Getty Images
Djokovic is like Apple, which decided not to focus solely on computers but to diversify its skills into producing various marvels such as the iPod, iPhone, iPad and Apple TV.
Its effect is revolutionary on the current generation of tennis players who will need to hone their own unique skill sets to win on the red clay.
In a few years, we will know if Djokovic can reel off three French Open titles and stand only with Ivan Lendl in being a three-time Grand Slam winner on both hard courts and clay. (Interesting that Rafa could also do this with only one more U.S. or Aussie title.)
Time will tell if Djokovic becomes the new clay standard, but it's clear that the Gaudio and Coria model is not only outdated, but possibly obsolete.

Future Market Control?
Nadal's injured left knee is apparently doing well in his return to training. Whether or not he says so, Nadal does feel much greater importance and urgency in defending Monte Carlo than winning Miami.
For Nadal, a loss in Monte Carlo could destroy his invincible hubris, thereby allowing his opponents to know his old regime has ended.
If Nadal wins Monte Carlo, especially against Djokovic, he could resurrect his hibernating confidence and refortify his march through Barcelona, Madrid and Rome.
He would be defending his French Open title from a position of strength, with greater likelihood of extending his dynasty one more year, and perhaps reclaiming another of his lost territories in London or New York.
Djokovic's last conquests are Monte Carlo and Roland Garros. He wants to be the one to crash through Nadal's defense, impose his own monarchy, and quell further resistance.
For Djokovic, a loss in Monte Carlo could raise some doubts or questions about what it would take to knock aside Nadal. At the least, he would know that a long, bitter war could ensue in Paris, a continuation from their duel Down Under.
If Djokovic wins Monte Carlo, it could set up a possible sweep to Paris. The Djoker Slam would loom closer, the Laver Holy Grail of tennis just inches away. Next year would be too late. It has to be now.
For tennis, Monte Carlo to Paris could foretell if Djokovic is able to dominate his era like the Federer years from 2004-2007. Total domination now could be the iron fist needed to contain his competitors and halt their own Grand Slam ambitions.
Or, tennis could find the window reopening for Nadal and for other potential champions, including Andy Murray, Jo-Wilfried Tsonga and Juan Martin Del Potro. A few years from now could see a rotating system of power.
Omnipresent Google
There is one footnote to Monte Carlo that may still play a major part in the changing of tennis's power elite, though he is not slated to play at Monte Carlo.
Roger Federer, the Google of the tennis world, is a constant presence who will continue to infiltrate and upgrade the modern digital world.
Can he further expand his worldwide domain? Stay tuned.
CLICK HERE for Rafael Nadal: 8 Reasons He's Still Invincible at the French Open