NBA Playoffs 2012: Who's to Blame for Derrick Rose, Iman Shumpert's Torn ACLs?
April 29, 2012

In case you haven't heard, both Derrick Rose and Iman Shumpert went down Saturday in their playoff openers with torn ACLs.
Rose went down, without contact, with about 1:20 left in the fourth quarter when the Bulls were up 12 points versus the outmatched Philadelphia 76ers.
Shumpert went down, without contact, with 6:08 left in the third quarter as the Knicks were struggling to find any way to stay competitive with the Miami Heat on their way to an embarrassing 100-67 defeat.
The worst part of both players' injuries is that their injuries came when the games were all but over.
The Knicks were still trying to find a way to get back into their game with the Heat while still down 24 points, which is an insurmountable lead even against a team without the likes of LeBron James and Dwyane Wade.
The Bulls were up 12 points on the Sixers, who struggled all game long to hang with the Bulls, and yet Rose was still in the game.
With that being said, who really is to blame for both of these players' season-ending, career-altering situations?
Blame the head coaches, Tom Thibodeau and Mike Woodson?
I'll squash this one right now—the head coaches are absolutely not to blame for these injuries. They were both doing what was in the best interest of their teams, and that was to try and win the games at hand.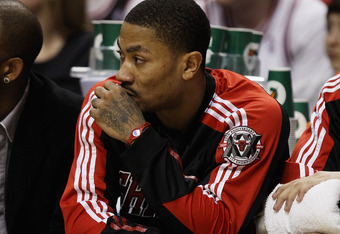 Jonathan Daniel/Getty Images
In the Knicks' case, Woodson was trying to build a small comeback and infuse some hope into the battered and beaten Knicks lineup, perhaps with Game 2 in mind.
In the Bulls' case, Thibodeau was making sure that the Bulls closed out the game. Even though 12 points is a large lead to overcome in a little over a minute, it can be done, and Thibodeau was just trying to ensure that his squad would not be anywhere near a historic playoff collapse.
Both head coaches were doing what they get paid to do, and that is to win basketball games. They aren't payed to assess players' injury liability and magically know when players are at their highest risk to subsequently pull them out of the games.
Blame the 66-game NBA lockout-shortened season?
I've heard NBA analysts on ESPN like Magic Johnson and Jon Barry talk about how these kind of injuries are linked to the abbreviated 2011-12 season.
While I've never played an NBA game and don't understand the wear and tear an NBA schedule can have on a player's body, I do understand that hundreds of thousands of basketball enthusiasts play basketball for hundreds of days in a row without suffering torn ACLs.
Just go to a local YMCA or school gym and you'll see a number of guys who play basketball for hours on end, every day, without suffering any injuries.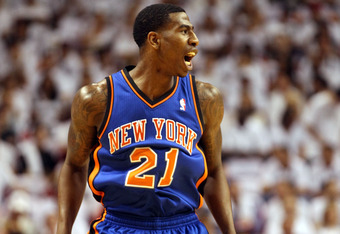 Marc Serota/Getty Images
In no way am I comparing average basketball players to the pros in the NBA, but I am saying that I vehemently disagree with the thought that a shortened NBA season is to blame for Rose and Shumpert's season-ending injuries.
Blame Derrick Rose and Iman Shumpert?
Blaming Rose and Shumpert might make sense because, well, they injured themselves on non-contact plays. But, in all honesty, it's not their fault either.
While it's more than unfortunate that both players are lost for the 2012 playoffs, nothing would've protected them against the devastating ACL tears.
Rose missed 27 games this season, which in turn limited the amount of time he was able to train and strengthen his body.
That decreased amount of time undoubtedly played a role in his injury.
Shumpert, on the other hand, only missed 10 games this season. But there's no doubt that his MCL sprain in the season opener had a serious correlation to his latest injury.
The point here is that the knee injuries of Rose and Shumpert are no one's fault at all, it's to point out the ridiculousness of the sports world of in trying to blame coaches, or even a shortened NBA season for something that simply happens in everyday life.
I understand exactly what Michael Wilbon is saying when he blames the NBA schedule for these guys' injuries, but in all reality his logic is invalid.
Trying to blame someone makes sense, because whenever anything bad or negative happens, it's simply human nature to try and find and blame a culprit for the bad circumstances. It's simply easier to deal with it that way.
With that being said, we all just need to accept the fact that Derrick Rose and Iman Shumpert are out for the rest of the year, and stop looking for someone or something to blame this on.
It's unfortunately just a part of life.