Notre Dame Football: 5 Who Showed Up This Year, and 5 Who Didn't
December 19, 2011
Jonathan Daniel/Getty Images
In every football season, there are a few individuals that stand out. Some are those who stepped forward and at times carried the team on their shoulders. Some are the few who stumbled and in several ways cost the team.
Brian Kelly lives and dies by two simple principles—that his team be made of the "right kind of guys" and that the team can only be as good as the "next guy in." Often as a game, or more so as a season unfolds and injuries develop, the two ideals merge into one player.
Sometimes the hero, sometimes the goat, always notable.
These are the five key contributors who stepped up their game to get the Irish to eight wins, and the five players who could have been key contributors to push that win total into the double digits.
The Positive Five
1. Jonas Gray, Senior Running Back
Long known as the team comedian, Gray was challenged by coach Kelly to focus on football and end his career in South Bend by fulfilling the promise he came with.
The season began on shaky ground, as what could have been Gray's first career touchdown was fumbled and instead returned 99 yards for a South Florida touchdown. Gray logged only four carries for 17 yards on the day and seemed relegated back to the same dog house that Charlie Weis left him in after a fumble in the 2008 Navy game.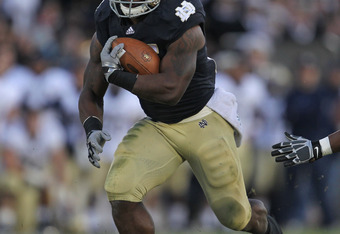 Jonathan Daniel/Getty Images
Following that game, Gray exploded. He displayed burst, vision and power not seen in an Irish backfield in a decade.
On the season he pounded out 791 yards on 114 attempts, seven yards per carry, with 12 scores.
His year was unfortunately cut short following a torn anterior cruciate ligament against Boston College, but his grounded persona and leadership abilities will undoubtedly allow him to land on his feet. 
If his rehab goes as planned, he will be able to run at Notre Dame's Pro Day and has a legitimate chance of being in an NFL uniform next season.
2. Michael Floyd, Senior Wide Receiver
To quote Denny Green, Michael Floyd "is who we thought he was."
Only Pittsburgh and USC truly contained the senior stand-out. Against everyone else he managed career highs in both receptions and yards. He was the primary target of nearly every passing play the Irish ran—everyone in the stadium knew it, and he still managed to be an impact player.
On the year, Floyd pulled in 95 passes for 1,106 yards and eight scores. He also managed to carry twice for 13 yards and a score.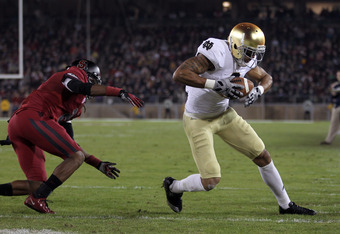 Ezra Shaw/Getty Images
He pulled in one-third of Notre Dame's total passing yards and represented nearly one-quarter of Notre Dame's total yards gained.
This with constant double coverage.
It was also following an offseason of tumult stemming from a drunken driving charge that nearly forced him off the team. 
He was stripped of his captain status, but maintained his position as a leader for the team.
He also constantly showed that he is more about pass catching and is also an incredibly adept and physical down-field blocker.
Floyd will leave a sizable hole on the Irish roster, and without him Notre Dame would have faced a much darker fate.
3. Aaron Lynch, Freshman Defensive End
Brian Kelly's big recruiting splash of 2011 provided an immediate impact, constantly entertaining opposing quarterbacks with a lightning-fast first step, powerful bull rush and ridiculous length.
Although Lynch had only four sacks and five tackles for loss, he added 28 total tackles and made a lot of noise at the strong side defensive end.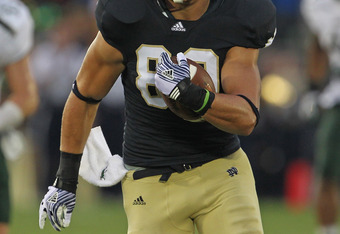 Jonathan Daniel/Getty Images
He also gave a glimpse of things to come when teamed with freshman teammates Stephon Tuitt Ishaq Williams, Troy Niklas and Chase Hounshell—add big Louis Nix and they should solidify the interior of the Irish defense for some time to come.
4. Tyler Eifert, Junior Tight End
The other pass-catching player on offense, Eifert built upon his break-out 2010 season with a monster 2011.
Eifert caught 57 balls for 713 yards and five scores. He always seemed to be open in key situations, and his latest touchdown against Maryland was the definition of "highlight reel."
He is currently mulling his draft options and will be another recruiting trophy on the Kelly administration's mantle if the coach can convince him to stay in school for one more year.
5. Manti Te'o, Junior Linebacker
The other player whom everyone expected to have a huge season also came through.
Te'o fulfilled expectations by tallying four and a half sacks and 106 tackles. Although he can be limited in pass coverage against faster backs or slot receivers, he still provided stable leadership in the middle of the Irish defense and offered sideline-to-sideline support.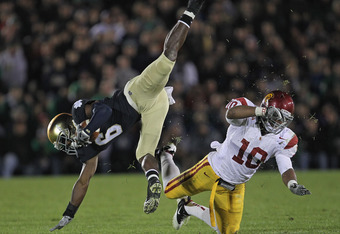 Jonathan Daniel/Getty Images
Te'o has already decided to return for his senior season.
The Not-As-Positive Five:
1. Theo Riddick, Junior Wide Receiver/Running Back
Riddick never fully materialized as a playmaker. He was well integrated into the South Florida game plan, but after a ball bounced off his head and ended up in a defender's arms, resulting in the now famous "purple-faced eye bulging" tirade by coach Kelly, his role diminished.
Riddick received only 36 passes for 429 yards and three scores.
He never grasped the receiver position, never ran crisp routes and never displayed much interest in down-field blocking.
After the injury to Jonas Gray, Riddick has moved back to running back and is likely to remain there next year.
He also failed miserably as a punt returner, gaining no yards and fumbling in each of the first two games before being replaced by John Goodman and later Michael Floyd.
A more engaged and contributing Riddick could have taken more of the pressure off Floyd, further opened up running lanes and made life harder on USC and Stanford, who were the most successful at disabling the Notre Dame attack.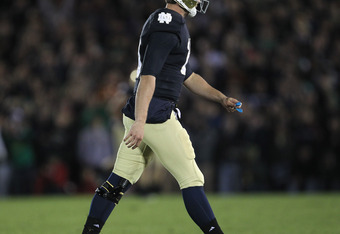 Jonathan Daniel/Getty Images
2. Dayne Crist, Senior Quarterback
It's easy to pick on Crist. He was erratic in the first half against South Florida, and his season is defined by an interception in the end zone in the opening loss and by a crushing fumble return for touchdown in the loss to USC.
He was also essentially left for dead by Coach Kelly for reasons that are not fully known.
Whatever the reasons, Crist's inability to hold on to the starting job left a void at the quarterback position. The "plan" or progression under center was officially off track, and the future that seemed rather clear with Crist's naming was suddenly murky.
Credit the young man with handling the difficult situation better than anyone could hope to, continuing to offer guidance, leadership and support throughout the year.
Still, his failure to perform cannot be ignored as a contributing factor to Notre Dame's four losses.
3. Tommy Rees, Sophomore Quarterback
Anytime you can list several quarterbacks as players who needed to play better, problems are evident.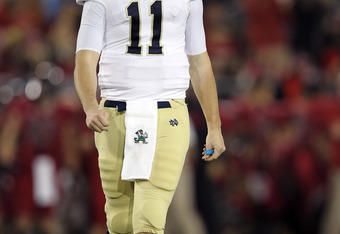 Ezra Shaw/Getty Images
Rees began admirably, throwing for nearly 300 yards and a pair of scores in the second half of the season-opening loss to South Florida in relief of Crist.
Still, the performance was a preview of the season ahead for Rees. He displayed a tendency to match each touchdown with an interception, and often in scoring position.
All told, Rees accounted for more turnovers this year than most teams—16 turnovers are a lot for a squad, let alone one player.
Ball security at the quarterback position is absolutely essential, and in that regard Rees failed miserably.
He made things interesting by completing most of his throws (66 percent) and being surprisingly good on third down (60 percent completion and six touchdowns).
His quick release and good pre-snap reads also helped allow Notre Dame to go six games and the entire month of October without a sack allowed.
Rees was never a run threat, and his lack of mobility did prove to be his Achilles. However, it was his pass selection that more often drew the ire of pretty much everyone watching.
Plain and simple, a championship level team's quarterback is simply not a turnover machine.
4. Gary Gray, Senior Cornerback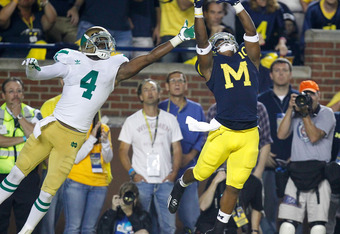 Gregory Shamus/Getty Images
Apparently someone on the coaching staff forgot to teach Gray that you can play the ball in flight and not stare at the receiver who has blown passed you.
Had this fact not entirely escaped Gray, Notre Dame would have won the Michigan game handily despite the Rees turnovers.
Gray managed a pair of interceptions on the year but was often flagged for interference and picked on by opposing offensive coordinators.
5. The Entire Punt Return Team
The return team averaged a staggering .03 yards per return this season. That is 1.03 INCHES per return, for those who are counting. They totaled three yards all season. Two punts were fumbled and lost.
That is idiotically bad.
You could run your slowest lineman back there, and if anyone catches a block, he may stumble forward for a yard average.
Riddick, John Goodman, George Atkinson III and Floyd all went back for punts, but the problems didn't exist solely in who was deep.
Blocking was dreadful. The defense was released immediately. There was never anything close to resembling a blocked punt.
The entire segment of the game seemed to be failure by design.
Punt returns are a huge component of the game, and next season without Michael Floyd or Jonas Gray, field position will matter to Notre Dame. The punt return game must improve drastically.