Maurice Jones-Drew: Why Doesn't the Jaguars RB Ever Garner MVP Consideration?
December 12, 2011
Sam Greenwood/Getty Images
The NFL is now a quarterback's league. Everyone and their mother knows that.
So at the end of a season, when all the shiny prizes and hardware are given out, barring a phenomenal season from anyone else, it's usually a quarterback who picks up the league's Most Valuable Player award. 
In fact, in the last 10 years, the MVP award has been given to a quarterback seven times.
The only other position to win the award?
Running back.
Which brings me to this:
Why hasn't Jacksonville Jaguars star Maurice Jones-Drew ever won an MVP award?
The current feeling is that the league's top running back is the Minnesota Vikings' Adrian Peterson.
Peterson has been simply amazing since entering the league in 2007 and most likely deserves that handle.
So why am I making this point about Jones-Drew rather then Peterson?
Simply put, he is the one player who is most valuable to any franchise in the league.
The Jaguars have always had a tough time since joining the league in 1995.
For one, they play in the AFC South, a division that has been in Peyton Manning and the Colts' grip for the last 10 years.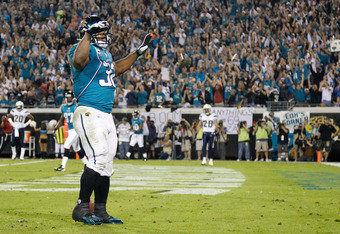 Mike Ehrmann/Getty Images
Not only that, the Jaguars have also had difficulty in just selling tickets and attracting free agents.
The Jags are based in Gainseville, Florida, a place where college football has a larger place in the hearts of its people, making "normal" football a tougher sell.
Plus, it's one of the smallest markets in the NFL and isn't a hotbed for football like Green Bay or Dallas.
It doesn't help when you have a below-average coach and a tight owner for the last 10 years to boot.
So for these reasons, Jacksonville has never been a particularly successful football team.
The one bright spot, however, for the Jags has always been Maurice Jones-Drew.
Drew was drafted in the second round of the 2006 draft and since then, he has gone on to become a star.
He's been selected to two Pro Bowls (2009, 2010), been a First-team All Pro (2010) and a Second-team All Pro (2009).
And as of last week, he's also rushed for 6,385 yards and caught 264 passes for 2,396 receiving yards.
Superstar numbers.
This year, the Jags have struggled mightily with an inexperienced rookie under center in Blaine Gabbert and one of the league's worst receiving corps, featuring "stars" such as Jason Hill and Mike Thomas.
The team's one bright spot has been Drew, who has this year rushed for seven TDs and 1,222 yards on 277 carries, which makes him the league's leading rusher, and he has also added 348 yards and three receiving TDs from 35 catches.
Those are simply ridiculous numbers and the fact that they come from a  team with a rookie QB and terrible WRs (which leads to opposing defenses regularly putting eight men in the box for Drew to get through) make them even more incredible.
The league still has three weeks left and it's not a bad guess to think Jones-Drew will crack 1,500 yards and maybe even 2,000 all purpose yards.
Drew is the heart and soul of the Jaguars' offense and without him they would be in an even worse position than they currently find themselves in (4-9).
And there's the problem.
If Jacksonville were sitting at a 7-6 or 8-5 record right now with a chance at the playoffs thanks to Drew, he would be getting serious MVP consideration since he is effectively the Jaguars' only weapon on offense.
However, because Jacksonville sits at a below-average 4-9 record, barely anybody is paying attention to Drew's great season.
The NFL's MVP system is very flawed, especially now since only quarterbacks get MVP consideration (the last non-quarterback to win the MVP award was LaDainan Tomlinson in 2006), and it's only teams that will make the playoffs that get looked at.
Without Drew, there is no way the Jaguars are even close to four wins, since Drew's amazing performances against the Buccaneers last night (four TDs!) and the Ravens on Monday Night Football were the only way that the Jags pulled out the wins in those games (and in their other two wins.)
Without Drew, the Jaguars are without a doubt the worst team in football and could've been easily leading the Suck For Luck sweepstakes.
The stats are all there, the continuity is there (over 1,500 all-purpose yards in his last three seasons) and the facts are all there.
Without their star running back, the Jags are the worst team in the league.
OK, he isn't going to lead Jacksonville to the playoffs or even a winning record, but he is by and large the only reason Jacksonville will get anywhere near five or six wins this year, and he's doing it on his own without any help from his (frankly dreadful) teammates. 
If that doesn't make him the Most Valuable Player to his team in the NFL, I don't know what does.
Lewis Hughes is an aspiring writer with all sorts of insights into the world of sport. Follow him on twitter: http://twitter.com/#!/lah_8