LSU Tigers: Will Jarrett Lee Play a Major Role in LSU's Last 2 Games?
December 1, 2011
Chris Graythen/Getty Images
Jarrett Lee came to LSU as a four-star quarterback recruit of the 2007 recruiting class from Brenham, Texas.
Lee was expected to become the new Matt Flynn as he turned down scholarship offers from over 30 schools, including Nebraska, Kansas State and others to come to LSU.  
As the Fall of 2008 approached, LSU already had a proven quarterback named Ryan Perriloux who was returning for his junior year, so Lee was fully expecting to red-shirt his freshman year.  
However, all of those plans abruptly changed during the fall practice in 2008 as coach Les Miles was forced to remove the scholarship of Ryan Perriloux because of personal behavior problems that were detrimental to the team.
So  Jarrett Lee went from a young quarterback with potential to becoming the starter during the Auburn game of 2008.   
Lee looked great in the Auburn game as he led the Tigers to victory, but that glorious beginning was short-lived, as Lee soon became known for his tendencies to throw interceptions as he threw seven picks, six interceptions and 13 overall that season. 
Lee's tenure as the LSU starting quarterback came to an end after an injury during the Ole Miss game of 2008. 
Once Lee went down with the injury, he was replaced by true freshman Jordan Jefferson, and that remained unchanged until late in the 2010 season when Jefferson too was struggling and LSU virtually had no passing offense.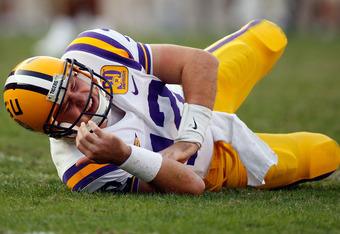 Chris Graythen/Getty Images
Because of his interception tendencies, most fans saw Lee as a lost cause and they felt he should just transfer to another school, but Lee refused to consider that option and he continued to fight and compete for his old starting job no matter what. 
As a cure to the passing woes of this LSU team, coach Miles again turned to Jarrett Lee to help bring a passing attack, and Lee responded by leading LSU to victories over Tennessee and Florida, and he was a major contributor to LSU's big victory over Alabama. 
However, Jefferson still maintained his starting position and Lee continued to be a back-up contributor that coach Miles called on occasionally. 
Entering the 2011 season, it was said that Jefferson had improved dramatically and he was ready to lead in his senior year.  
But before the 2011 season, Jefferson was involved in an off-campus bar fight and he was suspended while he fought his legal problems.  
With a very promising season approaching and a big game with Oregon up first, coach Miles again looked to his faithful former starter Jarrett Lee to lead this great team into the 2011 season. 
With nightmare memories of the 2008 pick-six season that Lee had, most LSU fans held their breath as Lee embarked on leading the Tigers to fulfill their championship dreams.
The 2011 season began with a dominant victory over number three Oregon in the Cowboy Classic, and it continued each week as Lee would make just the right throws and hand-offs to keep LSU dominating their opponents for an 8-0 start as LSU's starting quarterback.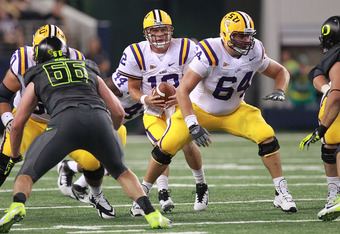 Ronald Martinez/Getty Images
However, in the biggest game of the year against the Alabama Crimson Tide's number one ranked defense, Lee seemed to be more nervous than usual and he made two bad throws into coverage that resulted in interceptions.  
After the second interception, coach Miles made a change to Jefferson, and Jefferson has remained as the starter every since. Though coach Miles continues to say publicly there is no starter,  the results of playing time and contributions are obvious that Jefferson is now the new starter and Lee is back as the back-up.  
I think it is clear that coach Miles wants Jefferson as the starter, but he realizes he must appease the LSU fan base that mostly still likes and appreciates Lee for what he has done for the team this year.
Although Lee is still the # 2 rated quarterback for passing efficiency in the SEC with over 1300 yards and 13 TDs, apparently coach Miles feels more comfortable with Jefferson as the quarterback to lead this team.  
As the head coach, it is coach Miles' job to go with whomever he feels can lead this team best, and right now Jefferson is that man.  However, it would be nice if Lee could at least be used as much as Jefferson was used while Lee was the starter, but again that is up to coach Miles. 
Coach Miles has done a great job, and I understand and appreciate his decision to do what he thinks is best for this team, but calling Jarrett Lee and Jordan Jefferson as equals is just not really telling the truth.  
At least his decisions and his actions do not show that to be the case.  Even in the face of Jefferson's early struggles against Arkansas and the ill advised interception he threw, coach Miles did not bring Lee in to try get things going.  
I felt with Lee being a senior playing in his final game at Tiger Stadium, he surely deserved to be allowed to play more than just enough to run out the last 3 minutes off of the clock. 
Jarrett Lee's contributions to LSU's success this year are very obvious, but it appears that Lee is finished as a starter and maybe even a  major contributor to this LSU offense unless Jordan Jefferson struggles or LSU falls behind and coach Miles must again look to Lee for his passing abilities to lead to victory. 
I find it a very sad ending  for a guy that has had so much to do with this year's successful LSU season to now be reduced to the back-up quarterback.  
But being the kind of man that Jarrett Lee is, he will be just as happy for this LSU team and Jordan Jefferson as he would have been for himself if they can win it all.
Lee has never once complained or tried to put himself above team goals, and I don't think he will start this year.