Why the Derrick Rose Rule Does Not Make Sense
November 30, 2011
Jonathan Daniel/Getty Images
There will be no "Carmelo Anthony rule" in the new CBA, which means sign-and-trades could still shuffle stars around the NBA. We did, however, get the "Derrick Rose rule," which will ensure that only the most accomplished young players get the biggest possible deals—30 percent of the team's cap, as opposed to the usual max seal of 25 percent.
The NFL lives and dies by performance-based incentives. Now, at least up at the top of the pay scale, the NBA will too. It should do a lot to reward players who turn their franchises' fortunes around and perhaps discourage teams from throwing around their money so cavalierly.
Except there's a problem here. The incentives at play here: All-Star starters—two needed—All-NBA teams—first, second, or third, two times—and the MVP award are anything but rational measures of accomplishment. At best imperfect, and at times controversial, they say as much about the perception of a player as what he's actually doing on the court.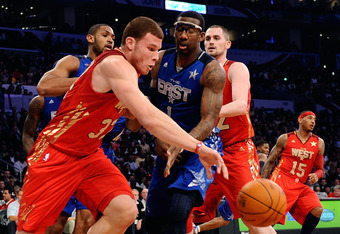 Kevork Djansezian/Getty Images
The All-Star starters are the worst. Fans vote them in, usually based on popularity or team allegiance. And while positional designations matter less and less for some players, the All-Star ballots simply specify two guards, two forwards and a center, meaning that pure playmakers might get the short end of the stick in favor of flashy swingmen. At the same time, anyone who qualifies as a center has an automatic advantage over mere power forwards. Maybe coaches' choices would be the better option, except often, these simply compensate for the errors made by fans.
All-NBA teams still designate only guards, forwards and a center, but media voters pay closer attention to what backcourt combinations roughly correspond to reality, and the definition of center is somewhat more liberal.
Still, there's an element of luck involved. Big men are always in short supply; granted, this makes them more valuable as a commodity, but under the new CBA, scarcity also gives them a leg up on getting an automatic big payday. Something like a top 25 list might make more sense, since after all, each team is building its own roster, not handing out money according to post-season honors that amount to fantasy squads.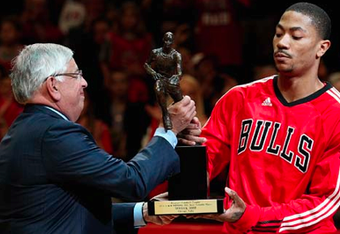 The MVP is the most interesting topic. No one knows what the MVP means exactly, and yet almost certainly, anyone who wins the MVP deserves max salary.
It's also almost unthinkable that a player would win the MVP without being voted an All-Star starter or making two All-NBA teams. A dark horse MVP candidate, shunned by the fans, and coming out of nowhere with a career year? If this happened, would a team be sure that it had a franchise player on its hands? Or is this simply, like the All-Star voting, a recognition of public perception?
Very few players win MVP awards; many Hall of Famers never hoisted that trophy. If nothing else, as a box office draw, an MVP means something to a team for to foreseeable future. It means national exposure, increased attention and expectations, and the ability to attract free agents. An MVP may not guarantee greatness, but as we learned during the lockout, franchises are businesses and an MVP is worth every penny.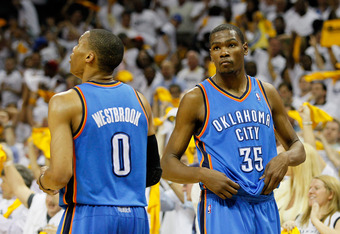 Kevin C. Cox/Getty Images
Rose has his name on this rule because of his banner 2010-11 campaign. Kevin Durant, whose extension doesn't take effect until this coming season, should be able to work it out. His teammate Russell Westbrook will be eligible, too, if he makes an All-NBA team again this season.
Only players with less than six years of experience are part of the deal—sorry, Al Horford—but if Westbrook so much as makes All-NBA third team next year, all of a sudden, the Thunder have an even more sizable payroll to contend with. Not to mention, the loss of a valuable way of determining who that team's true No. 1 is.
Blake Griffin is the only other player whose career might very likely be impacted by the Rose Rule; the fan favorite dunker will almost certainly be voted into the All-Star Game twice before it's time for his extension. But what if Griffin is voted in only once, and makes an All-NBA team once? He wouldn't be eligible, which is more than a little arbitrary. Then again, when the Rose Rule is so thoroughly arbitrary, and affects so few people, should we expect anything else?