Notre Dame Football: Notes from the Air Force Game
October 10, 2011
When Notre Dame ticket options were presented this summer, factoring in nothing more than the business of my tortured little life, I was left with either South Florida or Air Force.
Conventional wisdom says, take the opener! It's going to be warm, first-game-excitement Labor Day weekend to make the DC-to-South Bend travel a little easier to swallow.
Air Force was just a better fit.
I must preface this by saying that every visit to the Notre Dame campus is amazing. The place is visually stunning, and everyone you meet is welcoming and helpful. On game day, the entire campus is alive with activities and is as warm and welcoming an environment as ever could be imagined.
If there is a heaven above us, I hope it looks and feels a lot like this.
Notes From the Game
On the way up the elevator, I met a member of the New York Jets scouting department who was keenly interested in one particular Irish wide receiver. The scout and receiver shall remain nameless!
The B2 is really, really cool. It honestly makes you go a little weak in the knees—both an inspiring and terrifying sight. Pray for our enemies—a fleet of those things is an awesome advantage.
The height advantage between the Irish front and the Air Force defense is large. It looks like a mismatch.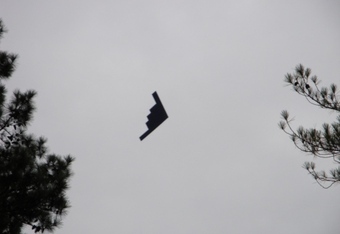 Rees still has trouble rolling left and throwing across his body. Ugly throw is far out in front of open receiver, setting up 3rd-and-10.
3rd-and-10 pass goes for TD to Floyd, who was triple covered. If that is all the Air Force secondary can muster, this will be a long day!
Fumble on Air Force's first offensive play—this could indeed get ugly.
Rees begins 8-of-11 with two TDs and nothing close to an interception. On second drive, Andrew Hendrix makes his debut, completing a WR screen for minus-three yards. He did run an option for 6 yards as well.
Irish D clearly confused by triple option. Even when they push the pitch man wide, he gets the corner. There is nothing up the middle (Manti is a beast), but the corner play against the run is just terrible.
George Atkinson III is the best option the Irish have in the kicking game. Hope to see him returning punts soon. Forty-yard return following Air Force field goal.
Hendrix again gets a play, completes an out to TE Tyler Eifert for 22 yards. On a half-the-field read, he made the right call passing over Floyd to the wide open Eifert.
Robby Toma makes an appearance on the stat sheet pulling in a touchdown. Toma is Rees' fourth read on the play. Good job coming off the covered guys and finding Toma. No pass rush at all from Air Force. 21-3 and no sign of Air Force stopping Notre Dame at any time.
Stupid penalty (offsides on kick) gives Air Force 1st-and-goal, and they score. Extra point blocked, but there are concerns here on D. Really soft coverage over the middle. LBs all in run support? Suddenly posts and crossing routes are netting huge yardage. No pressure on Jefferson.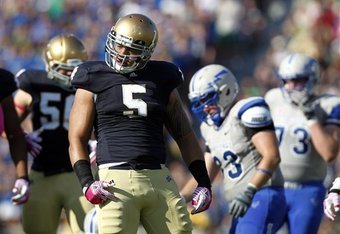 Onside kick attempt? Really? In the second quarter? That tells me that Air Force doesn't think it can stop Notre Dame either.
Rushing touchdown this time. Nice to mix it up. Probably academic at this point. Irish scoring at will while getting seemingly seven yards per play.
Who knew Jamoris Slaughter had a circus background? Acrobatic interception will probably end all doubt.
Cierre Wood for a touchdown. Easy doesn't really describe it. 35-9 second quarter. Five different Irish players score each touchdown so far.
The one thing you can say about the service academies is that they won't quit. Air Force's kids are still playing like it's a 14-9 Notre Dame advantage. No huddle is confusing Irish D, and still there is just a ton of room over the middle. Air Force punches it in again, 35-16.
Notre Dame is consistently lining up spread, with Floyd and Eifert on one side, Riddick in the slot and Jones wide on the other. Air Force is giving their usual 4-3 up-front look but has the safeties rolled to the Floyd side of the field.
On the near side of the field, Jones and Riddick are covered by one corner. Last play, Rees missed this and threw incomplete to a very-covered Eifert. On the next play Air Force used the same coverage, and Rees threw to Riddick for a 24-yard TD.
I'm happy that Rees finally noticed something that had been going on for several plays.
Halftime—Irish 42, Falcons 16
Air Force finally punts an actual punt—and Michael Floyd drops to return it? He must think that returning kicks will get him more Heisman love. Thankfully, he fair catches.
Thanks in part to a personal foul penalty, Notre Dame also punts—39 yards. At least he didn't spike himself.
Air Force again punts—and Floyd is deep again! Now, if I'm Kelly, and Michael Floyd asks to go out and return a punt—there are many words that may escape my mouth. None will be "yes." Thankfully, the punt is out of bounds.
Hendrix has two 10-plus-yard runs on another easy Irish touchdown drive—49-16.
Teams trade field goals, things settling into a numbing norm. Air Force chewing up yards but not points. Irish scoring quickly and on pretty much every possession—52-19.
Play of the game, after an Air Force punt into the end zone, Andrew Hendrix breaks free and outruns everyone except the 10-yard line, which makes a nice open-field tackle, stopping Hendrix from his first touchdown at Notre Dame. George Atkinson III finished with a one-yard plunge—59-19
It should be said that Dayne Crist must be of the highest character. It would be easy to disappear after what has happened to this young man. But after every Irish possession, Crist is the first to greet the team coming off the field. He is a constant presence and vocal leader even off the field.
Garbage time. Second units on for both sides now. Irish second defensive unit needs work. On for one series last week, they surrendered a touchdown to Purdue.
In two series against Air Force, a pair of scores were allowed. Three possessions, three touchdowns. It really only hurts the defensive rankings, but it is still a point to ponder.
Final score—Irish 59, Falcons 33
Zero Irish turnovers for the second straight week.
I love the respect that is given to service academies at Notre Dame. Entire team and coaching staff stands with Air Force for their Alma Mater—as does everyone in the stadium.
Andrew Hendrix is a surprise. I'm wondering where he has been all season.
Tommy Rees has another "step forward" game and continues to be impressive. To me, he looked better in person. His ball has good speed on it and is well targeted. Needs to work on challenging deep, but watching the 34-yard first-quarter TD to Floyd, a high, arcing touch pass, I have little doubt that he has the arm for deeper throws.
For what many saw as a "trap" game, it was nice to see Notre Dame take someone to the woodshed.