Albert Pujols: How Does Chris Carpenter's Extension Affect Pujols' Deal?
September 18, 2011
Dilip Vishwanat/Getty Images
With Chris Carpenter safely on board for another two years, the St. Louis Cardinals' payroll continues to surge toward the $100 million mark. Does Carpenter's two-year $21 million deal signal the end of the Albert Pujols era at Busch Stadium?
Not just yet.
General manager John Mozeliak must walk barefoot on glass through a tempest if the Cardinals are to hang on to baseball's most elite player.
Still to be addressed are the contracts of P Adam Wainwright, OF-1B Lance Berkman, SS Nick Punto, and C Yadier Molina, who has a $7 million club option for 2012. The Cardinals also need some help in the bullpen. 
Mozeliak has all but committed that Wainwright will, indeed, be returning from Tommy John surgery in 2012 and his payroll numbers are expected to be similar to those of Carpenter.
Pujols has stated that there would not be negotiation of any hometown discount for him to stay, meaning he will test the market in the off-season. It is believed that Pujols could command a long-term (eight to 10 years) deal worth as much as $30 million per season, which could price the Cardinals out of consideration.
The danger with such a contract—for any team that signs him—is that during the final few years, there would be a fall-off of production and a corresponding loss of trade value.
Could Pujols Stay...
There are some factors that might make it possible for the Cardinals to hang on to The Machine.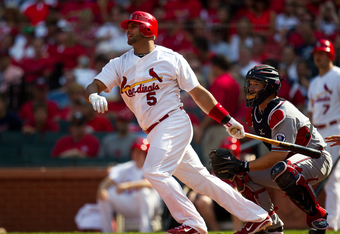 David Welker/Getty Images
First, it would be likely that the Cards would have to let Berkman go. He's going to command a hefty raise of his own and St. Louis would not be able to afford both of them. The Cards could also trade some of their mid-range players for some youth with lesser contracts.
Second, the free agency market might not be able to provide Pujols with the cash he thinks he can command. The financial big guns already have quality first basemen. The Yankees have Mark Teixeira signed through 2016 and the Red Sox are set with Adrian Gonzales until after the 2018 season.
Even the Phillies have Ryan Howard locked up  through 2017.  That leaves the Cubs and Angels being the most likely teams who could afford Pujols. Should he not get the offer he feels he deserves, it might put him back into the ballpark as far as numbers the Cardinals can afford to re-sign him
... or Should He Go?

Mozeliak has committed to keeping his quality starting pitching staff together—and, as well, he should. Pitching is the most precious commodity.
Ultimately, it could be the pitchers' contracts that force him to let Pujols go.
The dilemma facing Mozeliak is complicated. Any predicament that he resolves could trigger another crisis somewhere else. Every signing affects one of the others.
Perhaps the best solution is to sign Berkman and extend Molina as soon as possible. Then the Cardinals could grab SS Jose Reyes from free agency to help with the offense and let Pujols and Nick Punto go. Berkman, Matt Holliday, and Reyes would still provide some formidable offense and the Cardinals would certainly still be contenders.
For Mozeliak, certainty is the best course to take and preparing the team now for continued success is a much better option than, say, letting the Cards fall where they may.