Alabama vs. Penn State Football: What the Big Road Win Revealed for Crimson Tide
September 12, 2011
Rob Carr/Getty Images
With one warmup game and one major division one road game under his belt, Nick Saban is raising the curtain on the 2011 Crimson Tide.
Going on the road at Penn State is not a place where Saban is going to experiment.  When it comes to games like that, Saban is going to stick with players with experience and players he trusts. 
The lack of penalties and big mistakes in this game are a clear indication that his strategy is sound, and the 27-11 result lends itself well to that reasoning.
What did we learn in Alabama's first big road win?
AJ McCarron Is the Starting Quarterback
We will likely still see plenty of backup Phillip Sims but with a 61 percent completion percentage and good improvement from Week 1 to 2, AJ McCarron has secured the No. 1 job. 
Most importantly, McCarron hasn't done anything really stupid.  When the 3rd-down play wasn't there, he was content to get what he could and let the punter and the defense take the stage.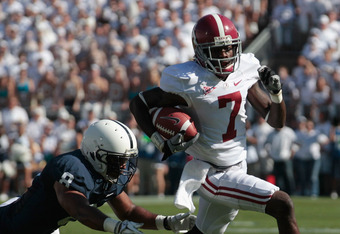 Rob Carr/Getty Images
This Is the Richardson/Lacy Show
Though we will likely see more running backs get in more reps in time when the game is on the line, Richardson and Lacy will carry the load. 
Lacy is much more than an afterthought.  He's averaging a whopping 7.5 yards per carry. As good as Richardson is, Alabama will undoubtedly give more carries to Lacy if he can keep that up.
Jalston Fowler does get work blocking on the goal line but Blake Sims has clearly not ascended to regular playing status yet.
Young Receivers Are Going To Play
After getting burned by Nick Saban's tongue after Week 1, some young receivers must have responded. 
With a close game on the road, Kenny Bell, Kevin Norwood and true freshman Chris Jones all saw significant action.  Norwood in particular may have had his most impressive game to date.
Rob Carr/Getty Images
While Norwood has had better games statistically, his three catches were in the thick of battle,  under intense coverage and were more meaningful toward keeping drives alive than any experience he has in the past.
Kenny Bell only had one catch but nearly broke it loose for a touchdown.
Chris Jones didn't have any catches but was thrown to and played regularly.  This is a surprise for a true freshman who was nowhere on the radar of "freshman who may play."  In fact, most had penciled him as a defensive back.
The fact that these young players along with DeAndrew White all played in this atmosphere is a clear indication that Alabama will show much more diversity in their passing game this season.  Even when senior Darius Hanks returns next week, expect to see more of the younger players.
For reasons we do not know, Duron Carter did not make the trip.  Once again, a big opportunity for Carter has passed. 
Michael Williams Is a Weapon
Rob Carr/Getty Images
After being shut out in Week 1, Michael Williams had a huge day snagging three catches and a touchdown.  One catch in particular was a big-time over-the-shoulder grab that was probably his best catch as a collegiate player.
After watching his touchdown catch, I still don't know how it got through the Penn State defense.  Williams deserves credit for maintaining concentration on a fastball that most of us couldn't even track visually.
The Offensive Line Is a Work in Progress
To the frustration of some fans, Nick Saban is sticking with the lineup of Jones, Warmack, Vlachos, Steen and Fluker.  
The Internet has been riddled with angst over right guard Anthony Steen in particular.  Steen appears to be a sold run-blocker but has had some issues with faster defensive linemen shooting gaps. 
Jones playing left tackle was beaten badly on one play in particular when bad footwork resulted in a pass breakup by the defensive end.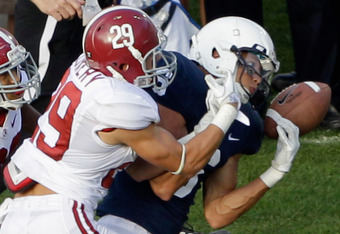 Rob Carr/Getty Images
This was not a particularly good defensive line and is certainly nothing compared to some of the lines coming, so Alabama has a ways to go in this area.
All the news is not bad, however. Alabama's pass protection was relatively solid all day.
In the fourth quarter, the line physically imposed their will on Penn State, allowing both running backs to gash the defense for yardage.  
Even with the issues mentioned, if they can pass protect and mash people in the fourth quarter, Alabama can win a lot of games.
I do believe competition continues on the line and we may yet see a different configuration before the season is over but make no mistake that Saban doesn't play people on potential in big games.  In the big games, he plays the players who are playing the best right now.
As for the popular freshman Cyrus Kouandjio, he is going to have to prove to be an equal or better left tackle than Barrett Jones.  He will get more chances this week but did not see the field at Penn State.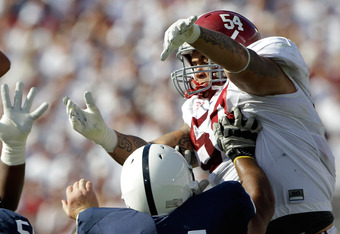 Rob Carr/Getty Images
Will Lowery Is Still the Man
Super walk-on Will Lowery is the No. 2 safety.  This is just amazing considering the copious amount of talent at Alabama.  Lowery continues to play a high number of snaps and does so effectively.
Lowery is a good example of how effective you can be by being in the right place all the time and playing physical.
Freshman Vinnie Sunsuri Is an Animal
This kid was blocking on a kick return and, slightly out of position, launched himself like a leaping cheetah on some food at some poor unsuspecting Penn State player and flat-backed the guy springing Maze on a huge return.
He doesn't play regularly on defense, yet has somehow managed to amass six tackles in two games from mostly special teams duty.
Vinnie Sunsuri is yet another reason why Alabama fans should ignore recruiting rankings and simply categorize recruits as "Saban players" and "everybody else."
Alabama Will Rotate Six on the Defensive Line
Alabama rotated Jessie Williams, Quinton Dial, Josh Chapman, Nick Gentry, Damion Square and Ed Stinson on the defensive line.  Some played more, some less, but get used to seeing all of them.
Newcomers Jessie Williams and Quntion Dial seem to be improving quickly with playing time.  Williams in particular is becoming more disruptive inside. 
Alex Watkins Is Back

Many feared a serious knee injury to Alex Watkins would end his career but the Penn State game showed he is back, he is healthy and Saban trusts him to play his roll.
Courtney Upshaw was slightly dinged just before the half.  Alabama used senior Alex Watkins as his replacement and he also relieved Jarrell Harris at times.  He was also named one of the special teams players of the week by the Alabama staff.
Overall Alabama Is Still a Work in Progress
The season is still young and next week's game against Texas State offers more chances to experiment and for young players to earn Saban's trust.
It's not just about being fast, hitting hard,  or even making the big play.  Those things are all important but the most important thing is doing what the coaches told them to do consistently.  Young players will have to prove they can do that against teams like Texas State before they will have chances in the big games.  The Penn State game showed some younger players have been able to do that while others have not.
Alabama doesn't have the look of a championship team right now and neither did the 2009 squad at this point.  They continued to get better every week and things went their way.
Around the country, there are few teams that look to be in late-season form and the long season can change things quickly.  It's not how you start the season, so much as how you finish it.