Philadelphia Phillies: Exactly How Good Is Vance Worley?
August 2, 2011
Drew Hallowell/Getty Images
When the Philadelphia Phillies opened a three-game set against the San Francisco Giants in Citizens Bank Park last week, they sent rookie extraordinaire Vance Worley to the mound in an attempt to take down the reigning champions. The "Fightins" were coming off a tough loss and facing one of their chief pennant rivals. The game was expected to be a hard-fought battle.
Instead, Worley threw a complete game three-hitter en route to what turned out to be the Phillies' only victory in the series.
This is the type of stuff aces are made of. Coming off a tough loss, facing a formidable foe and being the stopper to prevent a losing streak before it can happen. 
Then in his following start against the slumping Pittsburgh Pirates, Worley looked pedestrian, lasting just six innings with four runs in the process. Much more like the back of the rotation pitcher experts predicted he would be.
But which performance should fans typically expect from Worley going forward? Should expectations be for him to continue to perform like a pitcher who has looked like yet another ace at times this year?  Or should fans temper their expectations, remembering that he was a middling prospect in the minors? It is a very interesting question. Exactly how good is Vance Worley?
The last question seems to be a hot topic of debate among fans. Some think he is the second coming of J.A. Happ.  For those who don't remember, Happ posted a 2.93 ERA for the Phillies in 2009 before being dealt at the deadline last year as part of a package for Roy Oswalt. This season Happ has a 6.02 ERA. Many fans of this persuasion felt Philadelphia should have dealt Worley at the deadline while his value is at an all-time peak — sell high now before he comes back down to Earth like Happ.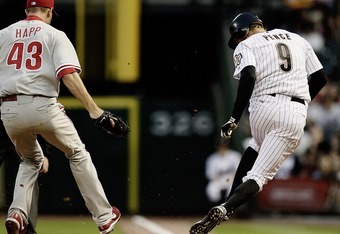 Bob Levey/Getty Images
Still the fact remains that Worley has a 2.33 ERA this season. Even the most optimistic fans do not think Worley is going to be able to keep up that level of performance the remainder of his career. They know his ERA will fall back some, but how far? 
Sabermetrics thinks it has an answer to that question. In this instance, DIPS is used. DIPS is an acronym for Defense Independent Pitching Statistics. In short, the idea behind DIPS is once the ball is put in play it is beyond the control of the pitcher. Sometimes you'll have nights like last night where the opposing team hits rockets that Ibanez, Martinez and Utley make great defensive plays on. Other nights the opposing team will bleed you to death with weak seeing-eye singles and bloop-hits into the outfield.
DIPS attempts to judge the pitcher on things within his control. How few batters he walks, how few home runs he gives up and how many strikeouts he can amass, for example.
Basically, if you can limit the amount of free passes and gopher balls for the opposition and strike them out a lot, you are going to be very successful. While the name DIPS is a fancy sabermetric term, the concept itself is very traditional. After all, who would argue it is a good thing to give home runs or to walk a lot of batters?
Based on DIPS, Worley is pitching over his head right now. This is not exactly breaking news, as even Roy Halladay, perhaps the best pitcher in baseball, cannot manage an ERA of 2.33 for a full season. The most popular DIPS are FIP and xFIP. This season, Worley has a 3.24 FIP and a 3.83 xFIP. 
This is a little bit of an over generalization but these numbers essentially indicate what Worley's ERA would look like should his performance match his walk, home run and strikeout rates. DIPS seems to indicate that Worley is probably a solid number four pitcher when all is said and done.
However, there are fans who adhere to the traditional statistics and gather their opinions strictly from watching the game. These fans see Worley's bulldog-like determination on the mound which cannot be measured by numbers. They see the little bit of swagger he has. They see the results he has produced. 
They see a man who fearlessly took the mound against the Boston Red Sox and shut down the best offense in baseball. They see quotes about Worley from All-Stars like David Ortiz and Dustin Pedroia.
"We were all very impressed," Pedroia said. "It's really good for a kid that young to have a presence like that on the mound. He's going to be a good one.''

But even purist fans recognize that as good as this kid has been, he just is not this good. Most fans I have spoken with indicate they think while Worley is pitching ace-like now, in the long run he is probably a fairly good number three pitcher. So really, not too far off from what the SABR crowd says.
So here's the thing — a closer look at the number shows something possibly being overlooked.  Worley has gotten better by the month. He does not appear to be the case of a pitcher who came out of the gate early and surprised opposing hitters, only to fall back to Earth as teams acquire enough information to get a book on him. Instead, it seems the longer he has been around the better he has gotten. This suggests he is making adjustments to the opposition's adjustments.
Here is a look at his month-by-month numbers this season:
| | | | | | | | |
| --- | --- | --- | --- | --- | --- | --- | --- |
| Month | Games | IP | BB/9 IP | K/9 IP | FIP | xFIP | ERA |
| April | 1 | 6.0 | 6.0 | 7.5 | 3.33 | 4.70 | 0.00 |
| May | 5* | 18.0 | 3.0 | 7.0 | 3.33 | 4.24 | 5.00 |
| June | 3 | 18.0 | 4.0 | 6.0 | 3.72 | 4.04 | 1.00 |
| July | 5 | 35.1 | 2.29 | 7.39 | 2.94 | 3.37 | 2.04 |
*Includes 2 relief appearances
Typically speaking, the expectation when someone's ERA is far outperforming their DIPS is for their ERA to eventually normalize and rise until it comes close to matching it. Worley has done the opposite this year. His ERA remained low while his DIPS have instead improved every month.
Eventually his ERA will rise since he is still maintaining an exceptionally low BABIP (batting average on balls in play), but Worley has made tremendous strides this season. He has been able to maintain a strikeout rate of over 7 per 9 innings pitched, while cutting his walk rate in half since April.
While this remains a small sample, it is very promising. If Worley can maintain his current strikeout and walk rates, it seems that he could be a solid number three pitcher in the big leagues. 
At the very least though, he has shown he is no J.A. Happ.