Big Ten Breakdown: Indiana Hoosiers, Part 3 (Schedule and Final Breakdown)
April 27, 2011
Big Ten Breakdown: Indiana Hoosiers, Part 1 (Overview and Offense)
Big Ten Breakdown: Indiana Hoosiers Part 2 (Defense and Specialists)
Impact Freshmen
 According to the two major scouting sites, Kevin Wilson had a very successful first recruiting class by Indiana standards.
Scout ranked Indiana's class ninth in the conference, and Rivals ranked it 10th.
Recruiting rankings only mean so much, and the Hoosiers are hardly recruiting at a level with Ohio State. Nevertheless, in most years, IU and Northwestern are in a two-team race for bottom of the conference recruiting rankings.
In fact, between 2005-2010, Rivals ranked Indiana dead last in the conference every year but one (2008).
One of this year's recruits that could contribute right away is Zack Shaw, a linebacker out of Ohio and the coup of the 2011 class.
In my opinion, he looks more the part of a defensive lineman. If Indiana goes that way, or chooses to use him as a blitzing backer in 3-4 packages, he could immediately help shore up the moribund pass rush.
Also, as previously mentioned, Indiana's secondary doesn't look particularly intimidating. They signed five defensive backs in this class, but the most promising player might be Forisse Hardin out of Kentucky. He boasts impressive speed, and unlike the other four backs, he is already at playing weight.
The next in the line of inexplicably solid Indiana receivers could be Cody Latimer out of Dayton, Ohio. At 6'3" with 4.48 speed, he is physically ready to continue the recent tradition of James Hardy and Tandon Doss, and could immediately help the Hoosiers fill out their four and five wide packages.
Intangibles
 Regardless of anything else, Bill Lynch was a fine offensive coordinator. Certainly, his resume is not as impressive as Kevin Wilson's, but Bill Lynch knew how to run an offense.
On the other hand, at least in respect to his tenure at Indiana, he was a terrible head coach.
I can't begin to count how many times over the last three years I've watched the Hoosiers squander opportunities, because Bill Lynch was too busy arguing with the refs about a play that occurred five plays before.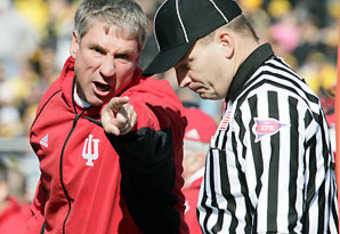 At multiple points, I wished I could magically transport myself to Bloomington, grab Lynch by his collar, slap him and tell him to stop screaming and pay attention to the game. And I'm not even an IU fan.
Well, Lynch is gone and Indiana has hired itself another fine offensive coordinator. I know Wilson is a fine offensive coordinator because one doesn't become the OC at Oklahoma without having some abilities.
Of course, the Oklahoma OC before Wilson was also quite good at his job. He then went on to become the head coach at San Diego State and that went terribly.
In short, Wilson has the abilities to put together an offense, but that doesn't make him a quality head coach. I am not in any way damning him before he even names his first starting lineup. I am saying that one really doesn't know what to expect from Kevin Wilson's Hoosiers, and that is a substantial intangible.
Schedule
 09/03: At Ball State (Lucas Oil Stadium in Indianapolis). Indiana is the slight favorite.
09/10: Virginia. IU is the slight underdog (UVA isn't very good either).
09/17: South Carolina State (FCS). Favorite.
09/24: At North Texas. Slight favorite.
10/01: Penn State. Heavy underdog.
10/08: Illinois. Underdog.
10/15: At Wisconsin. Heavy underdog.
10/22: At Iowa. Heavy underdog.
10/29: Northwestern. Underdog.
11/05: At Ohio State. Heavy Underdog.
11/12: Open
11/19: At Michigan State. Heavy Underdog.
11/26: Purdue. Slight Underdog.
Best Case Scenario
 Kevin Wilson is that good a coach. He immediately makes the Hoosiers into a group that believes they can compete with anybody.
The defense comes together, and while they are not dominant, they are a middle-of-the-pack defense, which is something Indiana has been unable to say since the early 90s.
The offense is surprisingly fluid. The receivers are amongst the top in the conference, the running game comes together and while the quarterback makes some mistakes, he grows as the year goes on.
IU goes 3-1 out of conference.
In conference, they are hardly world beaters, but they are competitive in almost every game. They pull two upsets (maybe Illinois, Northwestern or Iowa) and finish the season by beating Purdue.
With a 6-6 record, they are bowl eligible for the first time since 2007, and things look so bright, Hoosier fans might have to wear shades.
Worst Case Scenario
 A new quarterback and a new system mean turnovers, turnovers, turnovers.
While the offense is not bad, the turnovers keep the Hoosiers out of the end zone. Due to the turnovers, the quarterback position becomes a game of musical chairs.
Meanwhile, the IU defense can't keep anybody out of the end zone. For the third time in six years, Indiana has the worst defense in the conference, and that equates to more blowouts than Kevin Wilson would like to see in his first season.
Indiana splits the out-of-conference at 2-2, with losses to Ball State and Virginia. In conference, Penn State, Ohio State, Iowa, Wisconsin and Michigan State clear their benches by the fourth quarter.
Outside of the Purdue rivalry, the season is effectively over after the Northwestern game. Unfortunately, IU also loses to Purdue.
The Hoosiers finish 2-10 (0-8 in the Big Ten), and fans in Bloomington hope their basketball team can give them more to cheer about.
My Prediction
 This year's Indiana team might have had a shot with last year's schedule.
Last year's out-of-conference was a cake walk. On the other hand, this year, Virginia and Ball State should present substantial challenges (for IU anyway), while a trip to North Texas won't be a gimme.
On top of that, the Hoosiers' conference road schedule is vicious. They miss Nebraska and Michigan from the Western Division, but they also miss Minnesota.
As previously mentioned, there is no reason to think the IU defense will be good, no matter how many players are returning.
Meanwhile, the offense might have some firepower, but with a new and inexperienced quarterback, combined with a new playbook, I don't like the outlook in the turnover department.
In the end, I think they will go 2-10 (0-8 in conference), though I don't think it will be a worst case scenario 2-10. There will be some blowouts, but they'll probably let two-three games slip away via turnovers.
If Wilson and his Hoosiers manage four-five wins, then he might be for real, and Indiana might be a force to reckon with in the near future.
But not this year.