THE EVOLUTION OF THE ULTIMATE FIGHTER AND REALITY TV
June 12, 2010
By: Rich Bergeron
A revolution is overtaking the TV airwaves these days, and it's made a monster out of what started with a label of "Reality" attached to it. This once bold, new genre soon became nothing but staged drama and isolated incidents in a controlled environment filmed for posterity. The monster even produced a feature film phenomenon called "The Blair Witch Project" that banked on the idea that spreading rumors about the whole thing being true would help sell the whole production.
Today, shows like "The Biggest Loser" generate great ratings and seem to feature as real as it gets struggles, but you really have to ask what exactly is "real" about a game show based around a glorified fat camp? "Big Brother" made a game show out of people under 24 hour surveillance, and "Survivor" made being a dick and stabbing your friends in the back while stranded in a remote area a million dollar enterprise.
MTV's Powerhouse "The Real World" was what catapulted the whole miserable Reality TV category into a new stratosphere, spawning show after show that just became a little less real and a lot more tacky (i.e. "Who Wants to Marry a Millionaire?, Flavor Of Love, Etc.") The word reality didn't seem to fit anymore, but the name stuck anyway as a sort of play on words. There was even a "celebrity" Real World dubbed THE SURREAL WORLD.
Fact and fiction would forever be blended on the best of these shows in such a way that you couldn't tell or didn't care as a viewer if anything you were seeing was staged. Like professional wrestling nuts who know it's all fake, the Reality TV audience knows these days to take what they see with a grain of salt. It's expected that the producers of these shows will fail miserably as much as they may try to "keep it real." "Wife Swap" took the genre to new heights, spawning a monster of its own. "Balloon Boy" and his batty family were exposed as publicity hounds after just two tastes of television glory on the show.
With the main event fight tonight and the finale show next Saturday, the present-day culmination of the sport of MMA's brush with reality TV will be on full display. Tonight's headlining battle comes fresh off a UFC show that finally resulted in the past season's coaches fighting it out in a true main event slugfest.
The Ultimate Fighter television show, now sporting the TUF label and produced by its own production company, was a diamond in the rough Dana White has been repeatedly criticized for not believing in at first. Now the show is often built around Dana's brash, in-your-face attitude and insightful commentary during the competitive television show's cage fights. The microphones and cameras catch him making observations, sit in on his discussions with coaches and fighters, and the participants even come to understand that White's unannounced visits to the fighter house are typically serious business. He comes across on the show like the Godfather of MMA, and the fighters give him the ultimate respect. In many ways he earned it by coming around to the reality show's promise and putting the time in to find the best talent for the program.
White has been forced to recognize that this seed that started with a small idea has now grown into a giant Redwood. Without it, the UFC would not be the same. Over 11 seasons of The Ultimate Fighter so many athletes who have gone through the ringer in front of a healthy Spike TV audience have gone on to be the UFC's most prominent stars.
Participants know now that it's not just one contract up for grabs. There are sometimes half a dozen or more participants who get picked up by the organization after a particularly successful season. The show's adapted in other ways as well.
The antics in the house used to always include at least one scene where the fighters destroy a wall or some part of the fighter house. One fighter, Mikey Burnett, eventually sued the production company and Zuffa for injuries sustained on the show and other related issues. Jesse Taylor might have been going up against some formidable opponent on tonight's finale, but he was thrown off the show and out of the whole company for his drunken antics on the program. Fights in the house and on the grounds of the fighter compound have made the show better in some ways and in other ways made the whole sport look bad. Still, there is no such thing as bad publicity, so the show thrived on some of these viral--albeit thoroughly immature--moments:
DAVE KAPLAN GETS KNOCKED OUT IN THE HOUSE BY TOM LAWLOR


Like the Real World, sometimes bad things happen when "people stop being polite...and start getting real." Still, it's not all about the staged or injected drama that makes The Ultimate Fighter work. The success of the UFC's reality show is also a measure of how popular the sport of mixed martial arts is at the moment and how powerful the UFC's position is at the top of the food chain. There are fights on virtually every single episode now. One fighter (Chris McCray) had five fights in the six-week filming period for the latest season of the show culminating tonight.
Many of the participants this time around were banged up or injured and not allowed to continue fighting on the program. It is a rough and tumble sport, and you can't stage the kinds of fights that happen as participants battle it out to be the most superior warrior in the graduating class of future UFC veterans. Participants sign a complicated contract (and likely a few waivers due to the Burnett case) to get on the show and could be liable for $5 million in damages if they reveal any outcomes or secrets before an episode airs. Secrecy is important in order to keep people watching each episode to find out what happens next.
The fighters themselves can't even leave the house unsupervised while filming is underway. They are there only to train, fight and perform for the cameras. Though they can still drink and have fun in the house after their training day is done, the environment is still a bit like boot camp. Formation is fight training, and the troops do get to stand at ease a lot, but it's still a rigid, forced environment. Putting all those fighters together under these kind of conditions is guaranteed to create major drama at some point. So, in some ways the genius is in the production, but for the most part the unique format and intense filming schedule of the show are the real reasons it works.
Call it cool or call it crazy, but one aspect of the show is more like a game show than a professional fight organization since it is not matchmakers putting fights together but coaches. These coaches want to create a mismatch for their particular team member if they can. Things don't always work out as planned. Often when contestants are picked so carefully and now have to fight their way into the house, it's hard to even find a mismatch.
If there are any regulatory concerns with how these fights are matched up and how so many are executed within such a short time frame (six weeks of filming), the fact that the show is based in Nevada erases them. The UFC now employs the former executive director of the Nevada State Athletic Commission: Mark Ratner. The organization hired Ratner in March of 2006, which makes sense since so many UFC events take place in Nevada where the parent company (Zuffa, LLC) and the founding Fertitta Family are based.
Pablo Picasso once said, "Good artists copy, great artists steal." The UFC brass did a little of both to get this far with the Ultimate Fighter. Fight News Unlimited once interviewed Chris Champagne, who claimed Dana and the UFC stole his baby and took his reality show idea without paying him for it. What they didn't allegedly steal, they certainly copied. Whatever worked from boxing's "The Contender" and other similar shows went right into the production of the TUF series.
What started as a gimmick and once featured the prize of a Xyience sponsorship (see www.xyiencesucks.com for the story on why that's no longer the case) now regularly replenishes the fighter pool for the growing and expanding UFC. It is a part of the company that is really integral and serves as a minor league of sorts to fine tune future talent and get each fighter into the right mold to be a company man.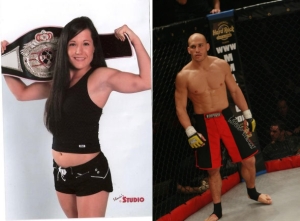 As seasons go, the latest one was certainly worth watching. Fight News Unlimited had Rich Attonito, one of this year's wounded warriors, on our weekly radio show this past week. Attonito came on after our first guests: Lyle Howry and Angela Magana. Howry is the creator of Ultimate Women Challenge, a reality TV show slated for NBC this fall and featuring Magana and 15 other female fighters slugging it out for glory in front of an estimated audience of 50 million. Magana remained on the call with Attonito to pick his brain about the reality experience since her filming has not yet begun. To listen to these interviews, CLICK HERE!
Attonito revealed on the show that he will be fighting the latest season's most outspoken and ornery character in Jamie Yager on the Finale show next Saturday. Sidelined through most of the show by a hand injury, Attonito is ready to prove himself worthy of staying in the UFC. Surprisingly, Attonito was one of just a few fighters on the show who didn't have some kind of argument or face off with Yager during the filming. So, this is not about an old score to settle or any kind of simmering rivalry. It's all about making the most of second chances for both fighters. For Yager he must come back to show he won't quit if he gets taken deep again. For Attonito he's out to show his hand is healed and his true talent was sorely missed in the competition for best-in-the-house. In other words...he coulda been a contender!
For Chuck Liddell, his fight tonight is for all the marbles. Those who are big fans of Liddell and those who know the inside story will tell you Chuck might not have a lot of marbles left after all his hard core partying and rock star lifestyle living. So many times Dana White's publicly announced his reluctance to let Liddell fight again in the octagon. White since changed his tune, reporting that Chuck is serious and training harder than ever for this. If anyone can come back from the MMA dead it is Liddell, one of the sport's pioneers. Franklin is a last-minute replacement fighting to prove he is still a contender himself and still a viable go-to guy for a big match. Both will be fighting for a chance to get back to the top of their weight class again in a sport they helped revolutionize.
Next week's card will be about the true evolution of the sport of MMA, The Ultimate Fighter TV series, and reality TV itself. We will see a full array of talent cultivated by UFC brass and already thrown on the world stage in the training phase of things. These are fighters that will know in the future if they stick it out that they can't just be athletes. They have to be role models and superstars, too. Through it all, we'll be watching to see if they sink or swim and to see what happens when the cameras are all gone and the true reality sets in.