Tony Stewart: 'A Man and His Monkey' To Be Auctioned for Charity *UPDATED*
June 2, 2010
Once upon a time there was a successful NASCAR driver named Tony Stewart. Not only did he had a passion for racecars, he also had a big heart for animals of all kinds, including a Patas monkey named Mojo who came to live with the driver and his former girlfriend Krista Dwyer in 2004.
Mojo was beloved by the couple and treated to an amazing life. When not accompanying Stewart at the track, Mojo could often be found catching the race on TV and "chirping" with delight when recognizing his faithful owner on the screen.
As Mojo grew and matured, Stewart noticed a change in the monkey, he was becoming aggressive at the ripe old age of three. Could it be that Mojo sensed that he was missing out on something special? Perhaps a natural born instinct to mingle with the ladies.
You see, in the wild, a single male Patas monkey generally lives happily within a multi-female group. Sweet bliss for any form of the male species, wouldn't you say?
Like father, like son.
Stewart, understanding Mojo's call of the wild, made the hard decision to give the primate up to the Louisville Zoo in Kentucky in late 2007, where he was introduced to the Zoo's three female Patas monkeys and integrated into a new lifestyle.
To this day, Stewart remains loyal to his former pet and still holds him in high regard, as depicted in a recent Armor All commercial which featured a one-of-a-kind oil painting of Stewart and Mojo, each dressed to the nines in smoking jackets.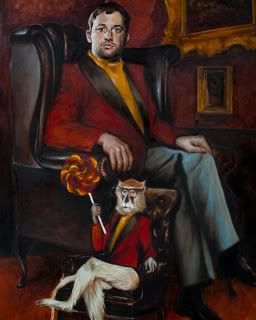 While most commercial props are recycled or locked away in a vault never to be seen again, the painting of "A Man and His Monkey," will be auctioned off by Armor All and autographed Stewart to the highest bidder.
Fans can bid on this rare piece of Stewart memorabilia, as well as autographed firesuits and helmets from the commercial—worn by members of Stewart's pit crew—as well as ten Armor All hats autographed by Tony Stewart starting June 4 through June 14 at http://www.ebay.com/tonystewartfoundation.
"All proceeds from the auction benefit the Tony Stewart Foundation whose mission is to raise and donate funds to help care for critically ill children, drivers injured in motorsports activities and to support other charitable organizations in the protection of various animal species."
Don't just take it from me, hear from Tony himself by clicking the link below to learn more about the man, the monkey and the legend behind this great piece of artwork.
***UPDATE***
With just four days to go the current bid is just $1215.00, you still have plenty of time to win this one-of-a-kind piece of Tony Stewart memorabilia!