Lakers Rumors: Latest Trade Reports Following 2019 NBA Draft Lottery
May 15, 2019
Tyler Kaufman/Associated Press
The New Orleans Pelicans were the biggest winners of Tuesday's NBA draft lottery, taking home the No. 1 pick and the chance to select Duke superstar Zion Williamson, but things went rather swimmingly for the Los Angeles Lakers as well.
Brad Botkin of CBS Sports noted the Purple and Gold were projected to finish with the No. 11 pick, but they instead landed at No. 4.
A top-five pick often means a highly-regarded college prospect to build around for years to come, but the Lakers are in a win-now mindset with LeBron James set to turn 35 years old in December.
The No. 4 pick means Los Angeles can offer a better trade package to New Orleans in its pursuit of Anthony Davis.
When asked on SportsCenter on Sunday what the Lakers' biggest offseason priority is, ESPN's Adrian Wojnarowski said they will look to "re-engage" on Davis trade talks with the Pelicans, with executive vice president of basketball operations David Griffin a new face at the negotiating table for New Orleans.
Wojnarowski pointed out Los Angeles' quickest path to improvement is through a marquee trade because the team is "not a front-runner or maybe even a major consideration" for any of the league's best free agents.
General manager Rob Pelinka sounded open to including the No. 4 pick in any talks when he told reporters, "This is a powerful asset for us … I will tell you there are some incredibly talented, impact players there that we're going to study deeply. And then of course we'll canvas the league and see what value that pick has."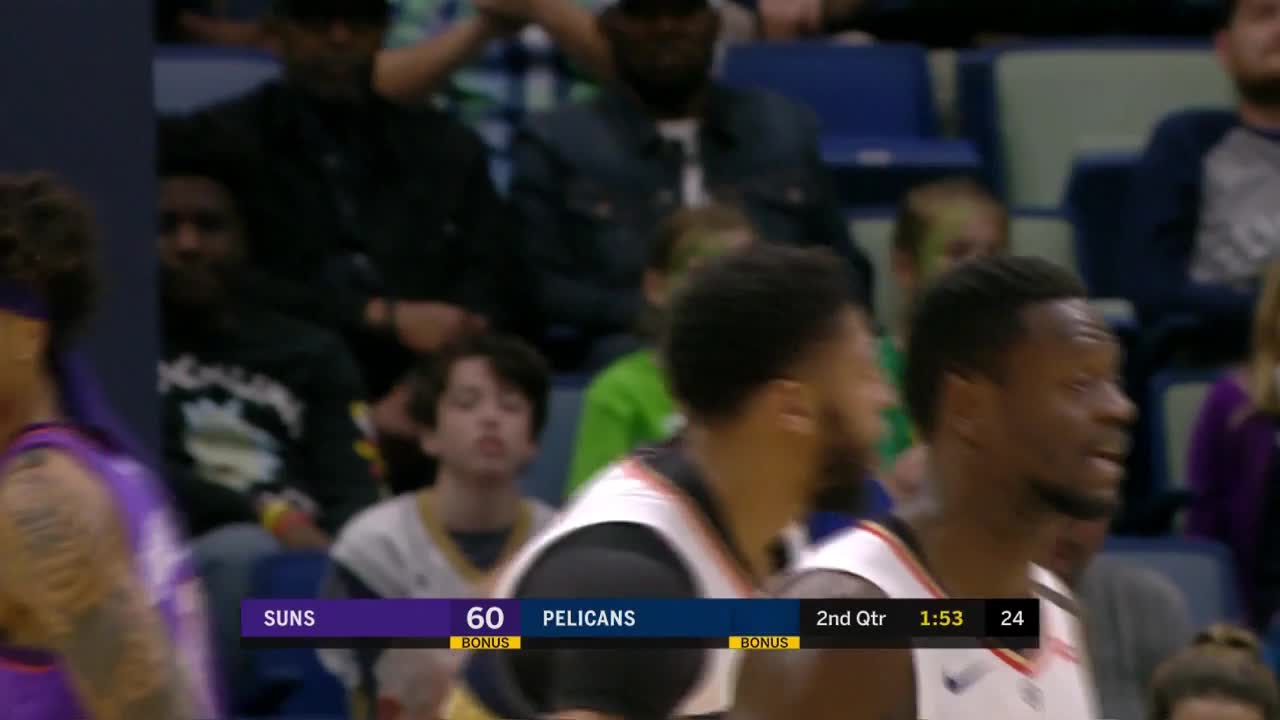 McCollum and the Blazers Snapped Postseason Losing Streak for "Jennifer"

Stars Invest in Plant-Based Food as Vegetarianism Sweeps NBA

The NBA Got Some Wild Techs This Season

Jarrett Allen Is One of the NBA's Hottest Rim Protectors

Wade's Jersey Swaps Created Epic Moments This Season

Westbrook Makes History While Honoring Nipsey Hussle

Devin Booker Makes History with Scoring Tear

29 Years Ago, Jordan Dropped Career-High 69 Points

Bosh Is Getting His Jersey Raised to the Rafters in Miami

Steph Returns to Houston for 1st Time Since His Moon Landing Troll

Lou Williams Is Coming for a Repeat of Sixth Man of the Year

Pat Beverley Has the Clippers Stealing the LA Shine

LeBron Keeps Shredding NBA Record Books

Young's Hot Streak Is Heating Up the ROY Race with Luka

LeBron and 2 Chainz Form a Superteam to Release a New Album

Wade's #OneLastDance Dominated February

Warriors Fans Go Wild After Unforgettable Moments with Steph

Eight Years Ago, the Nuggets Traded Melo to the Knicks

Two Years Ago, the Kings Shipped Boogie to the Pelicans

ASG Will Be Competitive Again If the NBA Raises the Stakes
As far as Davis is concerned, Shams Charania of The Athletic and Stadium reported Tuesday the big man's stance on wanting to be traded is still the same even after the Pelicans won the No. 1 pick.
The potential of Davis being traded to the Lakers dominated headlines in February. Los Angeles' young core of Lonzo Ball, Brandon Ingram and Kyle Kuzma were all included in talks, although a trade never materialized, and both teams missed the playoffs.
Landing the No. 4 pick in the draft changes the equation for the Lakers, though, and suddenly makes them more intriguing trade partners from New Orleans' perspective.
The Boston Celtics could offer Jayson Tatum, but he was inconsistent at best in the playoffs, including two games with five points or fewer. What's more, Kyrie Irving could leave with a player option for 2019-20, which could change Davis' motivation to re-sign with Boston with his own player option for 2020-21.
The New York Knicks are also potential suitors, but their No. 3 pick isn't much better than Los Angeles', especially in a draft with two marquee names in Williamson and Ja Morant. The Knicks don't have the young core of Ball, Ingram, Kuzma and Josh Hart either.
Los Angeles' 2018-19 season seemed like a worst-case scenario playing out. James and that young core missed significant time with injuries, head coach Luke Walton was fired, Magic Johnson stepped down as president of basketball operations with a stunning and impromptu announcement, and the team missed the playoffs to break James' streak of making the last eight NBA Finals.
Tuesday's surprising lottery results could help turn things around, though.
The Lakers have proven head coach Frank Vogel in place, an enticing draft pick to include in Davis trade talks and what figures to be a motivated James after missing the playoffs for the first time since his second season in the league. The possibility of the King and Davis playing together in 2019-20 is still alive.