Katelyn Ohashi Scores Perfect 10 in Floor Routine for Second Time in 2019
February 11, 2019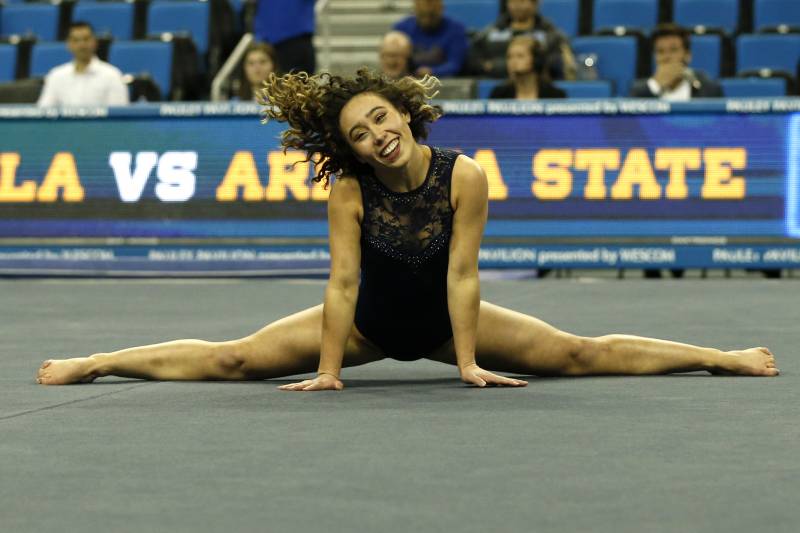 Katharine Lotze/Getty Images
UCLA gymnastics sensation Katelyn Ohashi chalked up her second perfect score of the season on Sunday.
The Bruins were up against Washington in Seattle and continued their brilliant start to the campaign with a 197.600-196.00 win, taking their overall record to 8-0 for the term. 
Once again Ohashi stole the show in her hometown, as she was graded 10 for her floor routine in front of a record 7,228 at the Alaska Airlines Arena.
Here's a look at the routine:
"I feed off the audience a lot, their energy," she said after another flawless performance, per Blake Richardson of the Los Angeles Times. "And so having a lot of it be my family was just amazing and very supportive."
As Richardson relayed, around 30 of Ohashi's family members were in attendance to watch her perform. She also scored 9.975 in an impressive effort on the beam.
Ohashi's first perfect score of the season proved to be a viral sensation, with more than 100 million viewing the clip online.
Here's a reminder of the vibrant performance that caught the imagination of so many:

In addition to Ohashi, UCLA watched another one of their stars pick up a perfect score, as Kyla Ross got top marks in the vault.
UCLA are the defending NCAA champions and are ranked third in the women's collegiate national rankings, with Oklahoma and Florida in first and second respectively, per Road to Nationals.