NBA Summer League 2017: Thursday Schedule, Latest Las Vegas Bracket and Stats
July 13, 2017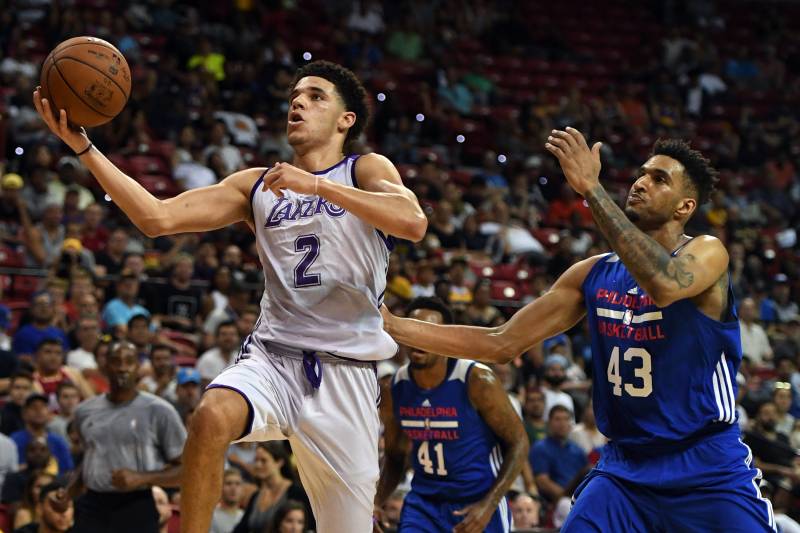 Ethan Miller/Getty Images
Thursday is the second day of bracket play at the 2017 NBA Summer League in Las Vegas, adding a bit more competitive juice to the games as the young players look to justify their status as bona fide NBA material.
Wednesday saw the likes of the Phoenix Suns melt the Utah Jazz 97-81—which unfortunately lacked the scoring and stealing exploits of Utah's Donovan Mitchell, who did not feature in the game—and the Los Angeles Lakers beat the Philadelphia 76ers 103-102 thanks to a frenzied push and great game by No. 2 overall pick Lonzo Ball. Yes folks, the Big Ball Brand summertime circus will continue.
There is plenty more action on tap in Sin City, which means tons of opportunities for these players to turn heads and get some recognition.
After Wednesday's games, here are your Las Vegas stat leaders in five key categories.

Points: Bryn Forbes, Sacramento Kings (29.3)
Rebounds: Matt Costello, Minnesota Timberwolves (12.3)
Assists: Lonzo Ball, Los Angeles Lakers (9.0)
Steals: Donovan Mitchell, Utah Jazz (6.0)
Blocks: Eric Griffin, Utah Jazz (4.0)
For complete summer league stats, head to NBA.com.
Thursday Schedule (tournament seeds in parentheses)
New Orleans Pelicans (24) vs. San Antonio Spurs (8),4 p.m. ET
Denver Nuggets (23) vs. Brooklyn Nets (7), 4:30 p.m. ET
Golden State Warriors (22) vs. Boston Celtics (6), 6 p.m. ET
Miami Heat (12) vs. Los Angeles Clippers (5), 6:30 p.m. ET
Phoenix Suns (13) vs. Memphis Grizzlies (4), 8 p.m. ET
Sacramento Kings (19) vs. Dallas Mavericks (3), 8:30 p.m. ET
Portland Trail Blazers (16) vs. Toronto Raptors (1), 10 p.m. ET
Los Angeles Lakers (15) vs. Cleveland Cavaliers (2), 10:30 p.m. ET
Bracket view can be seen here.

Wednesday Highlights
Jack Arent/Getty Images

Ball was everything for the Lakers in their come-from-behind win against the Sixers, finishing with 36 points, 11 assists, eight rebounds and five steals (plus six turnovers). While it was center Ivica Zubac's last-second free throws that iced the game for Los Angeles, the night no doubt belonged to the Nike-clad 19-year-old from Southern California.
Ball once again showed off his ridiculous court vision, finishing the first quarter with six assists and launching a couple of gorgeous outlet passes for easy buckets.
Here he is making life easy for his teammates, per SportsCenter and the Lakers' official Twitter account: 


While his three-point shooting was dreadful yet again (3-for-10), Ball showed that he can still score in other ways, and his ability to keep defenses on their heels waiting for the quick pass should help him create space for long-distance shots in the regular season.
A fine shooter in college (41.2 percent from three) despite an unorthodox shooting motion that perhaps only someone like Shawn Marion could truly love, Ball should be able to work out the kinks in his offensive game.

The Sixers coaxed fine performances from several players in a balanced scoring night. Five players scored in double figures, and Brandon Austin chipped in with nine, but the even display wasn't enough to take down the Lakers.
Still, encouraging performances from 2016 draft pick Furkan Korkmaz (19 points) and journeyman D-Leaguer Larry Drew II (15 points, eight assists) might be enough to satiate the process-trusting 76ers fans for the time being.
Bart Young/Getty Images
Torrey Craig might've been the talk of the town were it not for Ball. He had 27 points and 11 rebounds for the Denver Nuggets as they took down the Houston Rockets 87-81. A long shot to make an NBA roster, Craig has proved he has great competitive drive and some useful skills in his stint with the Nuggets.
The New Orleans Pelicans defeated the Atlanta Hawks 105-95 on Wednesday, behind Quinn Cook's 26 points and seven assists. Cook was mightily efficient in the game, getting his game-high 26 points on just 16 shots.
Here's a look at Cook's night, per NBA G League:
The Pelicans also coaxed 21 points each out of Cheick Diallo and Jalen Jones, while John Collins paced the Hawks with 25 points and nine assists. 
The lowest-scoring affair of the night was the Sacramento Kings 69-65 victory over the Milwaukee Bucks, which suffered because the Kings elected not to play rookie point guard De'Aaron Fox or sophomore shooting guard Buddy Hield.
However, Sacramento managed to pull out a slim win, thanks in part to the high-flying exploits of JaKarr Sampson, per the NBA G League: 
Sampson finished with just nine points, well behind teammates Skal Labissiere and Georgios Papagiannis, who notched 19 and 17, respectively.