NFL1000 Week 3 Scouting Notebook: Why Are Rookie Quarterbacks Succeeding?
September 29, 2016

James Lang-USA TODAY Sports
Welcome to Bleacher Report's NFL1000 Scouting Notebook, a weekly series where we'll use the power of the 16-man NFL1000 scouting department to bring you fresh insights into the game and explain some of the more interesting (and potentially controversial) grades we give players every week.
Let's start this week with a little film study and conceptual analysis on this class of young quarterbacks and why they're doing so well despite their lack of professional experience.
Friends to Foes, Ex-UGA Teammates Meet in Super Bowl

Cooks Gave a Super Gift to This Rams Employee

Mahomes Loves Ketchup as Much as Torching Defenses

Bears Hoping to Ride Club Dub to the Super Bowl

The Worst Fantasy Football Punishments for Last Place

NFL Players Bring Soccer Traditions to the NFL

JuJu Is a Man of the People

Bills Superfan 'Pancho Billa' Continues to Inspire

Happy 26th Birthday to OBJ 🎉

Mahomes Is 'Showtime' Off the Field Too

Thielen's Ride from Underdog to Record-Breaking WR

Shanahan and His Son Carter Are Hyped for Carter V

Browns Winning Off the Field with Community Service

Conner's Journey from Beating Cancer to Starting RB

Does Hines Ward Deserve Your 2019 Pro Football Hall of Fame Vote?

B/R Fantasy Expert Matt Camp Gives His Picks for Keep or Release After Week 2

Luck Recommends His Favorite Reads in Virtual Book Club

Shaquem Griffin Starting for Seahawks in Week 1

Does Donovan McNabb Deserve Your 2019 Pro Football Hall of Fame Vote?

The Best Moments from NFL Training Camps
The All-22: Wentz, Brissett Set Up for Success
"I'd argue that a good offensive coordinator is more important [than a quarterback] nowadays. We've got plenty of guys with smarts and arm talent in the league today. We don't need more 'franchise quarterbacks.' We need guys who can actually coach them."
My B/R colleague (and former NFL quarterback) Chris Simms said that this week, and given the current landscape of young quarterbacks in the NFL, I couldn't agree more. The marriage between quarterback and play-caller has always been important, but I'd posit that at no time in the league's history can a team do more to help a rookie quarterback succeed in a hurry.
The evidence is clear. Not only are Dak Prescott and Carson Wentz succeeding efficiently in their systems, but there's Jacoby Brissett—a third-round rookie from North Carolina State—who helped the Patriots beat the Texans in Week 3. Moreover, this is no fluke. The game's smartest game-planners are finding creative ways to maximize the talents of their young quarterbacks.
It seems like the most obvious possible idea, but the best coaches don't try to force their young quarterbacks to do things they're not ready to do.
Think about the amazing quarterback class of 2012: Bruce Arians fit a vertical passing attack perfectly to Andrew Luck's mobility, deep arm and processing speed. Mike Shanahan merged his preferred zone-running system with option concepts to take advantage of Robert Griffin III's mobility and ability to throw on the run.
I remember asking Russell Wilson in his rookie season about the offenses he ran in college and how they fit with Seattle's. Wilson ran a West Coast offense passing game at NC State, and the run game at Wisconsin was heavy two-back power. And he landed with an NFL team that had a WCO passing game with heavy two-back zone power. Wilson told me that many of the play designs were the same, and even some of the terminology matched up.
It's up to NFL coaches to make sure their young quarterbacks have the conceptual edge. Let's look at how it's happening this season.

Eric Hartline-USA TODAY Sports
Carson Wentz
Before the Eagles took him with the second overall pick, it was a common mistake to assume that because Wentz played at a smaller school, he'd have trouble moving from a simplistic offense to the complexities of the NFL.
Not true at all—in fact, the North Dakota State offense was one of the more multiple I saw in college football last season. The Bison ran everything from pure WCO routes to full-house backfields in which there were heavy option concepts. Wentz had stages of play where he'd stand in the pocket and throw but just as many where he'd roll out on designed scrambles. And there were times when he'd stress the defense with the option mesh point and read the defenders to decide the best course of action.
New Eagles head coach Doug Pederson, a former NFL quarterback himself, came from Kansas City, where he had a mobile quarterback in Alex Smith and some interesting formation ideas.
Here, we're at 14:13 left in the second quarter of Philadelphia's 34-3 win over the Pittsburgh Steelers in Week 3, and I just love the design. Pre-snap, running back Darren Sproles motions left to right, and when nobody follows him, Wentz knows he's facing zone defense. Pederson has drawn up a double zone-beater to the right side.
Watch how after the motion, the Eagles have a stack formation to the right, with Sproles behind tight end Brent Celek. Linebacker Lawrence Timmons, who moved over a bit to match Sproles' positioning and cover the stack, is about to guess wrong whichever way he goes.

Greg M. Cooper-USA TODAY Sports
Timmons is stuck in the middle between Celek, who takes the deeper route, and Sproles, who sits underneath. Wentz has his choice. Safety Mike Mitchell, who makes the tackle, pauses at the snap to see what running back Wendell Smallwood is doing out of the backfield—he's going to run a quick out, but he's not the target. He's the decoy to draw coverage from the front side, and it works like a charm. The result: an easy 15-yard completion to Celek.
Here's Wentz's 73-yard touchdown pass to Sproles with 13:08 left in the third quarter. This is a great example of Wentz's command of mechanics and field vision within improvisation. I compared Wentz to Ben Roethlisberger before the draft, and standing on the sideline watching this play, Big Ben might have seen himself to a point. Steelers defensive end Stephon Tuitt beats left guard Allen Barbre on a great stunt for the pressure, and Wentz has to get rolling.

Jamie Squire/Getty Images
Wentz finds the gap between linebacker Jarvis Jones and end Cameron Heyward, and that's where he really bears watching. He's not running just to run here—right from his escape point, he has it in mind to complete a pass. He rolls away from the front pressure, waits for Sproles to clear linebacker Ryan Shazier's coverage and turns his shoulders to the target to make the accurate throw. The touch he puts on this pass as he's running? That's something quite a few veteran quarterbacks can't do consistently.
Wentz's physical tools are obvious and impressive. His coaches have praised his preparation and decision-making to the hilt on Brett Favre's SiriusXM radio show (h/t Matt Lombardo for NJ Advance Media). But Pederson and his staff also deserve a ton of credit for playing to Wentz's strengths and avoiding the trap of trying to make him something he's not.

Elsa/Getty Images
Jacoby Brissett
In New England's 27-0 thrashing of the Texans last Thursday night, Brissett completed 11 of 19 passes for 103 yards and no touchdowns. Most of his passing yards were gained after the catch; it was the standard operating system for a relatively inexperienced quarterback who's directed to play mistake-free football.
What was more interesting was the quarterback-run concepts the Patriots put in place for Brissett, who gained 899 yards and scored nine touchdowns on the ground in two seasons for the Wolfpack. Bill Belichick, Josh McDaniels and the Patriots coaching staff installed the kind of things you'd see more from the 49ers under Jim Harbaugh and Greg Roman than anything ever run with Tom Brady (or even Jimmy Garoppolo) under center.
The Texans were dealing with front-side cut blocks, pulling guards and quarterbacks getting out to the numbers far too quickly for their taste, as happened on this 13-yard run with 5:46 left in the first quarter.

Otto Greule Jr/Getty Images
When cornerback Kareem Jackson follows receiver Julian Edelman into the backfield, the Texans tip off that Jackson will follow Edelman wherever. Watch how Brissett takes Jackson out of the play with the pitch fake to Edelman to the left.
Meanwhile, right tackle Marcus Cannon crashes in on J.J. Watt, nose tackle Vince Wilfork gets caught up in traffic, guards Shaq Mason and Joe Thuney pull to the right, center David Andrews is there to catch Watt and Brissett gets a nice gap on the cutback.
Texans linebackers Benardrick McKinney and Max Bullough cooperate by overpursuing to the pulling guards and the fake pitch to running back Brandon Bolden, thinking the play's going outside, and all Brissett has to do is read the linebackers.
Like I said, you never saw Brady do that. Here's a similar concept on Brissett's 27-yard touchdown with 2:01 left in the first quarter.

LM Otero/Associated Press
Brissett's big runs were based on misdirection; the first time around, one motion look and two fake pitches sent defenders where the Patriots wanted them to go. In this case, the fake pitch to LeGarrette Blount sends every single defender near the point of attack running Blount's way, and Brissett has an easy opening plus the wide side of the field to make people miss.
It's been said that no other coach is better at designing one game plan for one game than Belichick, and he proved that to be true once again by making his quarterback comfortable and the defense decidedly uncomfortable. Moreover, the Patriots staff designed a game plan for Brissett that really didn't resemble anything else they'd done for any other Pats starting quarterback…and they did it in the four days from New England's win over Miami the Sunday before.
And that, as they say, is coaching. It's why responsive play design is so very important. In next week's Scouting Notebook, we'll take a look at how Prescott and Denver's Trevor Siemian are optimized for success by their coaches.
Now, let's dive into the efforts of a second-year cornerback who's making his case as the best in the NFL. Ian Wharton, the AFC Cornerbacks Scout for NFL1000, has this to say about how Marcus Peters is more than the sum of his interceptions.
Scouting Spotlight: Marcus Peters
The prestigious title of the NFL's top cornerback in Week 3 belongs to Kansas City Chiefs playmaker Marcus Peters. The second-year star earned an overall grade of 87 based on his excellent coverage skills, ability to read and react to passes, versatility and run defense. His two interceptions added to his quickly growing highlight reel of forced turnovers.
Through 19 games, the 23-year-old has established himself as the most dangerous secondary player in the league by forcing 12 interceptions. His production is off the charts in terms of turnovers created, but Peters has proved himself to be a well-rounded cover corner in addition to a ball hawk. His habit of being in the right place at the most opportune time is not purely luck, but more a result of his innate field awareness and technical prowess.
At 6'0" and 198 pounds, Peters has great size and good athleticism. He's a talented press cornerback when asked to be physical at the line, as he's forced two interceptions in press this season in 11 targets. He's also broken up four passes in press with his combination of length and timing when the ball is in the air.
Peters can at times be overaggressive to a fault, but it's also what makes him a deadly defensive asset for the Chiefs. His ability to redirect receivers and pin them to the sideline, like he did with Texans receiver Will Fuller V in the above clip, is why the Chiefs often use safety Eric Berry in man coverage and trust Peters to shut down his side of the field. It's a responsibility few are trusted with across the league for good reason.
Where Peters creates the majority of his big plays is in off coverage. Despite being reliable in press, keeping Peters off the line of scrimmage maximizes his elite skill set—and not just in terms of interceptions. Peters has allowed just four receptions on 10 targets and forced one interception this season in off coverage.
His ability to stay square with the receiver to read the route and quarterback's eyes is second to none in the NFL. Running a curl route is one of the safer options in terms of completion rate, but attempting to beat Peters on anything underneath 15 yards on a comeback or inside-cutting route is risky, if not outright foolish. His quick trigger from backpedal to explosion downhill is instantaneous.
This past week, Peters again showed his tremendous ball skills and physicality on his first interception of Ryan Fitzpatrick. His ability to find and play the ball can at times get him beaten in coverage, but the payoff is something the Chiefs will gladly trade off. Even when Peters loses, it's not because of his technique, which is above-average in terms of footwork and efficiency.
Of his 21 targets this year, nine have been "shutdown," meaning Peters was in perfect position to play the ball and did not allow a reception. Only two targets have been the result of blown coverage, where he simply lost the play to the receiver. His consistency over the first two seasons of his career projects well for his long-term production and continued success. If he continues to play at the All-Pro level he's established already, single-season and career interception records could come into play for Peters.
Scouting with Schofield: Marvin Jones
Each week, NFL1000 receivers and tight ends scout Mark Schofield will break down a particular aspect of the previous week's NFL action with in-depth play review on video. Here, he explains why the big day enjoyed by Marvin Jones of the Detroit Lions didn't put him at the top of the NFL1000 receivers list.
Marvin Jones had a monster day statistically against the Green Bay Packers, as he was targeted eight times for six receptions, 205 yards and a pair of touchdowns. But did the results on the field translate to high marks in the traits being scouted in the #NFL1000 project? He ranked second among receivers, behind T.Y. Hilton of the Colts.
In this video, I break down two of Jones' plays against Green Bay—the 73-yard touchdown pass and a 23-yard gain to start off the second half. As the film illustrates, Jones was impressive at the catch point and after the catch, particularly on the long TD where he needed to contort his body to make the catch and then had to shake the defender to break free for the long run. But as both plays indicate, the coverage from Green Bay—particularly at the line of scrimmage—gave Jones an easy path into the secondary.
Ask the Scouts
Each week, our scouts post interesting grades in their comprehensive film study. While most are easy to explain, some deserve a closer look. We've posed questions on the following grades from Week 3 to give you a more detailed look into our process.
Question: Josh Norman has been all over the place on your grading scale—from 12th to third to 90th (!) in Week 3. Is this spikiness because he's in a new system? What's going on here, and why did he drop so much versus the Giants?
Kyle Posey, NFC Cornerbacks Scout: Norman is a much better matchup for a Dez Bryant type of receiver who, as great as he is, isn't going to beat you with blazing speed or explosiveness. Norman was able to stay in Bryant's pocket last week and beat him to the spot on passes.
This week against Odell Beckham Jr., arguably the most explosive player in football, Norman was no match. He surrendered five of eight catches for 88 yards. Three of those catches went for first downs, and one was over 20 yards. Norman also missed two tackles and had a penalty as the cherry on top.
At NFL1000, we go well beyond just being targeted for a cornerback. Just because the quarterback didn't throw it your way doesn't mean you're let off easy for getting beat. Norman was beaten seven times in this game. He happened to give up five catches. So the stats might not reflect just how poorly Norman did play. If not for a pass breakup and a stop against the run, he would've ranked lower.
Beckham is a terror to guard one-on-one, but these are the types of performances top-tier cornerbacks live for. Norman did not live up to the hype Sunday.
Question: Kelvin Benjamin fell off in a big way from the WR12 in Week 2 to the WR120 in Week 3. The Panthers had a tough matchup against the Vikings defense. What did you see from Kelvin specifically that dropped him 108 spots this week?
Mark Schofield, NFC Receivers Scout: Kelvin Benjamin struggled all afternoon to find any room to operate against the Minnesota defense, and it showed both in the box score (one target and zero receptions) as well on the film.
There were times that the Vikings rotated safety help toward him, but if you look at this route, he is running a deep in-cut against a Cover 3 look. He rounds the route off, drifting downfield and bringing him closer to the safety help over the top. Cam Newton wants to throw to him, but he is forced to pull the ball down and exit the pocket.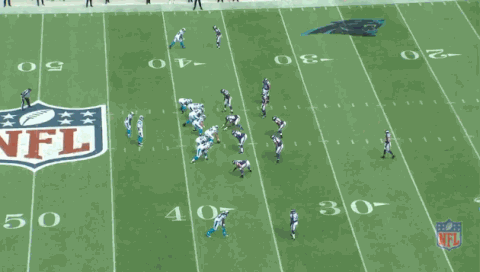 On this play, he is aligned as the middle receiver in the trips formation, and he is running a quick in route at a depth of five yards. He's working against zone coverage, and he can find open grass here against underneath defenders. But he is very slow on the route here with wasted steps and movement, which allows the underneath coverage to flow to him.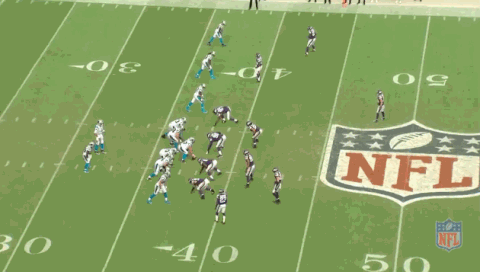 On Benjamin's one target of the afternoon, there appears to be some route confusion. He stays vertical, and Newton throws what looks to be a curl route and the pass is nearly intercepted.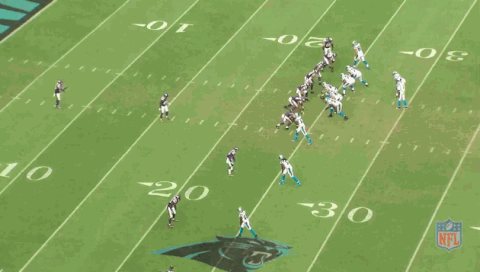 There were several examples of Benjamin's inability to separate from coverage throughout the game. 
In addition, Benjamin did not consistently contribute in the blocking phase. He had some good blocks and is generally eager to help in that aspect of the game, but I had to deduct for a few missed blocks. Also, he drew a holding penalty in the first quarter on a Ted Ginn end-around that cost the Panthers what would have been a first down. On a Fozzy Whittaker 56-yard catch-and-run for a touchdown, he threw an illegal block in the back that took a touchdown off the board. The Panthers were forced to punt on that drive.
Question: Much has been made about "The Awakening" in Christine Michael, and he finally has the starting role to himself with Thomas Rawls out with an injury. Michael rose from RB38 to RB9 this week after a 106-yard, two-touchdown performance against the 49ers. What have you seen from Michael this season and where he's trending?
John Middlekauff, Running Backs Scout: Seattle's offense had been stuck in neutral until Sunday's game against the 49ers. Once the passing game finally clicked, running lanes for Christine Michael opened right up. He really showed it all: vision, burst, top-end speed, balance/body control and the ability to finish runs with power.
He opened the first drive with a big 41-yard TD run—displaying top-end speed to be a home run threat. He was decisive all day, playing downhill, not dancing around and finishing runs with a violent nature. Michael is an explosive player who looked to be at a different speed than the San Francisco defense.
The threat that Russell Wilson would keep the ball on zone-read looks would often freeze the defense and enable Michael to take advantage of unsure outside linebackers. This was evident on his second touchdown of the game on a nice goal-line run. If Jimmy Graham and Doug Baldwin are able to be productive, it should continue to open running lanes for this running back who looks to be gaining confidence every week.
I see no reason why Seattle's offense shouldn't become one of the most balanced in the NFL, and Michael should play a major role in that success.
Question: Carson Wentz seems to be the media darling of rookie quarterbacks, but you were more impressed with Dak Prescott this week. What have you seen from the two in this three-week stretch, and how would you juxtapose their seasons so far?
Cian Fahey, Quarterbacks Scout: Both Wentz and Prescott played well in Week 3, but Prescott had to do more. Wentz had that one incredible play to Sproles, but outside of that, he was mostly executing relatively simple plays. Prescott's accuracy was much better in Week 3 than it had been in the previous two weeks. That opened up the offense for Jason Witten, Dez Bryant and Terrance Williams on throws further downfield.
Prescott hit Witten for what should have been a touchdown early in the game, but Witten went out of bounds just short of the end zone. He then got his touchdown to Bryant with a perfectly timed and placed ball. His most impressive play of the game was a throw to Williams running a post route, though Williams inevitably fumbled the ball at the end of the long reception.
Wentz has had more spectacular plays than Prescott so far, but Prescott's consistency and comfort in tougher situations play in his favor. Both guys are exceeding expectations, but we've yet to see either player face a truly tough test.