Stephen Curry Comments on Finals Loss, Kevin Durant and More
September 3, 2016
Nathaniel S. Butler/Getty Images
Golden State Warriors point guard Stephen Curry is currently on an Under Armour-sponsored tour of China, but he recently took time to reflect on his team's crushing 2016 NBA Finals loss, the addition of Kevin Durant and his mindset upon entering a fresh campaign. 
Speaking to ESPN.com's Darren Rovell, Curry disclosed that, while he wasn't at full strength in the Finals after suffering ankle and knee injuries in the first round of the playoffs, he can't use those ailments as excuses when evaluating his performance. 
"I wasn't 100 percent, but who cares? I was playing," he said. "I was out there trying to help my team win and that's all that really matters. I've taken advantage of the summer to get right and I still have a little bit of work to go." 
The NBA's reigning MVP also told Rovell that while he avoided watching Golden State's Game 7 loss that sealed Cleveland's comeback from 3-1 down, he recently watched the final two minutes of the game and used it as motivation to prepare for the 2016-17 season. 
"I was a little mad at myself and getting back into the grind of working out for next season," Curry said. "I think it was a good motivator to get back into the gym and keep working."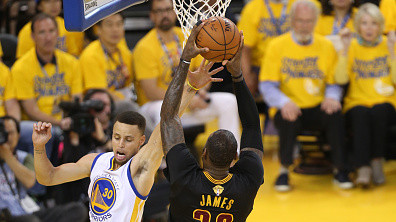 McCollum and the Blazers Snapped Postseason Losing Streak for "Jennifer"

Stars Invest in Plant-Based Food as Vegetarianism Sweeps NBA

The NBA Got Some Wild Techs This Season

Jarrett Allen Is One of the NBA's Hottest Rim Protectors

Wade's Jersey Swaps Created Epic Moments This Season

Westbrook Makes History While Honoring Nipsey Hussle

Devin Booker Makes History with Scoring Tear

29 Years Ago, Jordan Dropped Career-High 69 Points

Bosh Is Getting His Jersey Raised to the Rafters in Miami

Steph Returns to Houston for 1st Time Since His Moon Landing Troll

Lou Williams Is Coming for a Repeat of Sixth Man of the Year

Pat Beverley Has the Clippers Stealing the LA Shine

LeBron Keeps Shredding NBA Record Books

Young's Hot Streak Is Heating Up the ROY Race with Luka

LeBron and 2 Chainz Form a Superteam to Release a New Album

Wade's #OneLastDance Dominated February

Warriors Fans Go Wild After Unforgettable Moments with Steph

Eight Years Ago, the Nuggets Traded Melo to the Knicks

Two Years Ago, the Kings Shipped Boogie to the Pelicans

ASG Will Be Competitive Again If the NBA Raises the Stakes
Curry also discussed how he believes the Warriors will be perceived after they recruited Kevin Durant and signed him to a two-year, $54.3 million deal in July. 
"I honestly don't think there could be any more pressure than we had last year," he told Rovell. "Coming off a championship, winning 73 games and being expected to win another [title], obviously it didn't happen.
"It's going to be a different vibe because it's a different team and different dynamics with different players with KD joining us. ... We have probably six or seven new guys."
Curry also dispelled the notion that the Warriors have morphed into the NBA's villains after acquiring Durant. 
"All that narrative around our team, how people view us, doesn't really matter to us," he said. "We are who we are, and we're championship contenders going forward."
Given the team's track record over the past two seasons and the firepower it has assembled in advance of the 2016-17 season, disputing the Warriors' title credentials remains a futile pursuit. 
Curry and Durant give Golden State the NBA's most dynamic one-two scoring punch, and they should open the floor up for Klay Thompson and Draymond Green with new pick-and-roll wrinkles throughout the season. 
So even with a potential transition period, the Warriors should continue to throttle opponents as they seek revenge for their Finals collapse.