Adam Silver Comments on Kevin Durant's Signing with Warriors, Superteams in NBA
July 13, 2016
Bob Donnan-USA TODAY Sports
While NBA Commissioner Adam Silver supports Kevin Durant's decision to sign with the Golden State Warriors under the confines of free agency and the rules as they stand, he does not believe the coalescing of talent is best for the league.
"Just to be absolutely clear, I do not think that's ideal from a league standpoint," Silver said at a Tuesday press conference, per Tim MacMahon of ESPN.
Silver also refuted the notion that the NBA prefers to have a few so-called superteams and a league otherwise filled with also-rans.
"I don't think it's good for the league," Silver said. "I will say, whoever's the prohibitive favorite, try telling that to the 430 other players who aren't on those two teams. ... I'm not making any predictions, but there's no question when you aggregate a group of great players, they have a better chance of winning than many other teams."
Durant's offseason move to Golden State has indeed created a perception that 28 teams are competing for third and fourth place. The Cleveland Cavaliers have faced zero competition in the Eastern Conference since LeBron James' return and are the runaway favorites for a third straight conference title. Their best competition is the Toronto Raptors and Boston Celtics, teams they should steamroll from a talent standpoint.
The Western Conference has regressed into Golden State and everyone else. Title chances for the Warriors' greatest potential rival, the Oklahoma City Thunder, died the moment Durant bolted town. The San Antonio Spurs are in mourning following the retirement of Tim Duncan.
"I think it is critically important that fans in every market have the belief that if their team is well managed, that they can compete," Silver said. "It's certainly important to me that markets in this league—those that are perceived as small as those that are larger—all feel that they have an equal chance.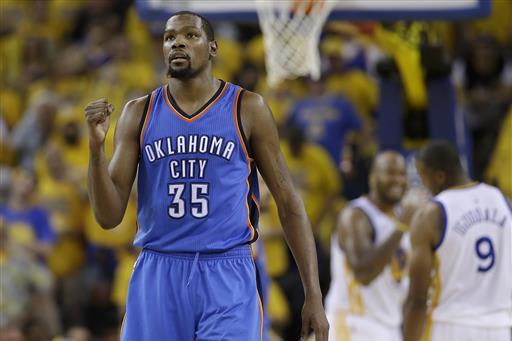 McCollum and the Blazers Snapped Postseason Losing Streak for "Jennifer"

Stars Invest in Plant-Based Food as Vegetarianism Sweeps NBA

The NBA Got Some Wild Techs This Season

Jarrett Allen Is One of the NBA's Hottest Rim Protectors

Wade's Jersey Swaps Created Epic Moments This Season

Westbrook Makes History While Honoring Nipsey Hussle

Devin Booker Makes History with Scoring Tear

29 Years Ago, Jordan Dropped Career-High 69 Points

Bosh Is Getting His Jersey Raised to the Rafters in Miami

Steph Returns to Houston for 1st Time Since His Moon Landing Troll

Lou Williams Is Coming for a Repeat of Sixth Man of the Year

Pat Beverley Has the Clippers Stealing the LA Shine

LeBron Keeps Shredding NBA Record Books

Young's Hot Streak Is Heating Up the ROY Race with Luka

LeBron and 2 Chainz Form a Superteam to Release a New Album

Wade's #OneLastDance Dominated February

Warriors Fans Go Wild After Unforgettable Moments with Steph

Eight Years Ago, the Nuggets Traded Melo to the Knicks

Two Years Ago, the Kings Shipped Boogie to the Pelicans

ASG Will Be Competitive Again If the NBA Raises the Stakes
"In the case of [Durant], I absolutely respect his decision, once he becomes a free agent, to make a choice that's available to him," Silver continued. "He operated 100 percent within the way the system is—and same with Golden State."
Silver did, however, allude to a desire to further alter said existing system to prevent similar situations from happening in the future.
"I think we do need to re-examine some of the elements of our system and so that I'm not here next year or the year after again talking about anomalies," Silver said. "There are certain things, corrections we believe we can make in the system."
Silver went on to say his ideal NBA would have a collective bargaining agreement that "encourages the distribution of great players throughout the league."
"The good news is that we are in a collective bargaining cycle," Silver said, "so it gives everybody an opportunity—owners and the union—to sit down behind closed doors and take a fresh look at the system and see if there is a better way that we can do it. My belief is we can make it better."
The NBA and the Players Association each can opt out of the current collective bargaining agreement after the 2016-17 season. It's widely expected one or both parties will do so, creating the potential for a work stoppage before 2017-18.
Follow Tyler Conway (@jtylerconway) on Twitter.