Cameron Wake, Dolphins Agree to New Contract: Latest Details, Comments, Reaction
May 8, 2016
Weston Kenney/Associated Press
The Miami Dolphins made sure premium pass-rusher Cameron Wake wouldn't entertain thoughts of walking in free agency when he was eligible to do so next offseason.
On Saturday, Wake put pen to paper on a new contract that spans two years and is worth $15 million, including $10 million guaranteed at signing, per ESPN's Adam Schefter. The Houston Chronicle's Aaron Wilson confirmed Wake's new deal.
Provided he plays to his considerable abilities, it's almost guaranteed Wake will finish out his NFL career playing for only one team. The 34-year-old played in only seven games last season due to a torn Achilles, yet he still managed seven sacks in that span.
Despite his age, there's reason to believe he can still be a prominent contributor for Miami in the coming years, provided he's healthy coming off an admittedly severe injury. Retaining Wake was also key in light of Olivier Vernon's departure to the New York Giants this offseason.
Defensive end Mario Williams was brought aboard to help absorb Vernon's loss, though, like Wake, he's also nearing the end of his prime.
Former first-round pick and likely bust Dion Jordan deprived the Dolphins of a possible dynamic depth option in terms of pass-rushers, but it certainly helps to have the likes of Ndamukong Suh causing disruption in the trenches.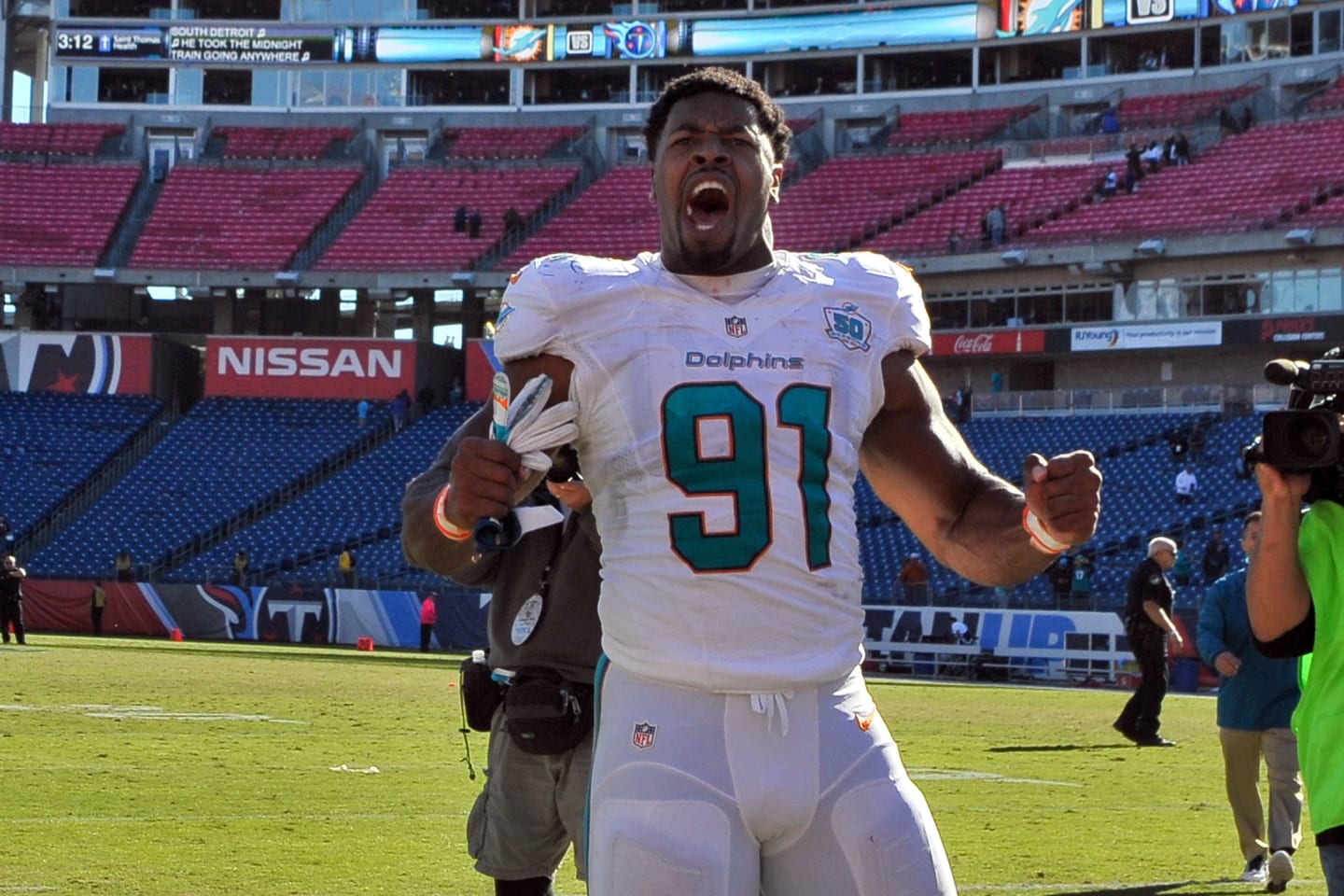 OBJ's Trade to Cleveland Has the Browns Hyped

Le'Veon's Power Move Pays Off After Signing Massive Deal with Jets

Friends to Foes, Ex-UGA Teammates Meet in Super Bowl

Cooks Gave a Super Gift to This Rams Employee

Mahomes Loves Ketchup as Much as Torching Defenses

Bears Hoping to Ride Club Dub to the Super Bowl

The Worst Fantasy Football Punishments for Last Place

NFL Players Bring Soccer Traditions to the NFL

JuJu Is a Man of the People

Bills Superfan 'Pancho Billa' Continues to Inspire

Happy 26th Birthday to OBJ 🎉

Mahomes Is 'Showtime' Off the Field Too

Thielen's Ride from Underdog to Record-Breaking WR

Shanahan and His Son Carter Are Hyped for Carter V

Browns Winning Off the Field with Community Service

Conner's Journey from Beating Cancer to Starting RB

Does Donovan McNabb Deserve Your 2019 Pro Football Hall of Fame Vote?

B/R Fantasy Expert Matt Camp Gives His Picks for Keep or Release After Week 2

Does Hines Ward Deserve Your 2019 Pro Football Hall of Fame Vote?

Shaquem Griffin Starting for Seahawks in Week 1
New head coach Adam Gase has to be thrilled to have an exemplary leader like Wake secured for the future as he tries to change the culture in Miami and help the Dolphins legitimately challenge the New England Patriots for AFC East supremacy.
Amid the turbulence the Dolphins have endured in recent years, Wake has been a rare constant with his production on the gridiron and professionalism.
Part of that loyalty and conduct has to stem from the fact that the Dolphins revived his NFL dreams after he spent two strong seasons in the CFL.
Wake has evolved into a legitimate franchise player, and his extended stay in Miami ensures the team will have one of the most terrifying defensive lines in the league in the coming years.
But with Wake near the end of his career, the Dolphins could stand to improve at his position to prepare for when he eventually does retire. Although Wake and Williams make a dynamic tandem, it's imperative for Miami to upgrade the talent behind those two studs.